Philadelphia Eagles vs. Washington Redskins Pick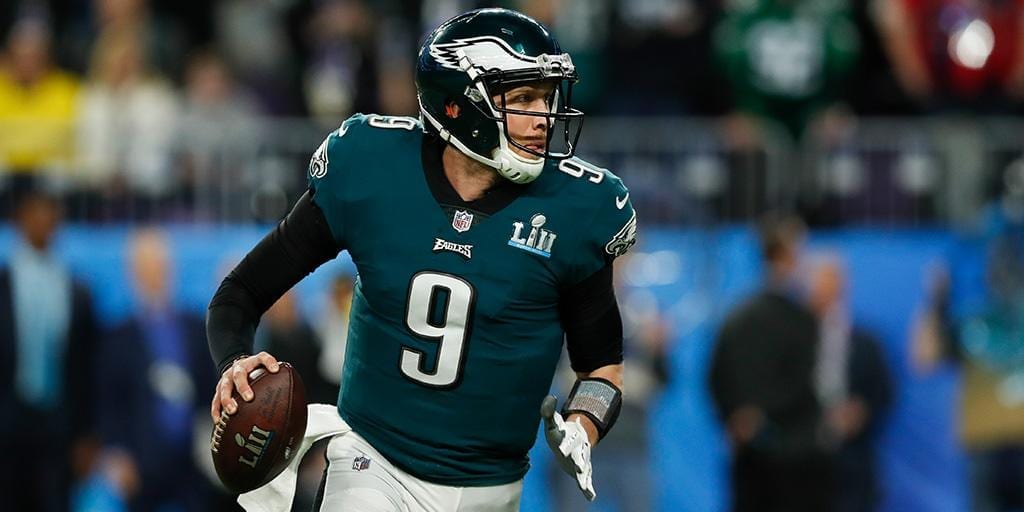 Philadelphia Eagles (8-7 SU, 6-9 ATS) vs. Washington Redskins (7-8 SU, 9-6 ATS)
NFL Week 17
Date/Time: Sunday, December 30, 2018 at 1PM EST
Where: FedEx Field, Landover, Maryland
TV: Fox
By Loot Levinson, Expert Football Handicapper, Predictem.com
Point Spread: PHI -6.5/WAS +6.5 (Bovada Sportsbook)
Over/Under Total: 41.5
The Philadelphia Eagles take on the Washington Redskins in a week 17 NFC East battle at Fed Ex Field on Sunday. For the Redskins, the season has ended on a sour note, with misfortune spoiling what looked to be a good year not too long ago. The Eagles, meanwhile, have seen a reversal of fortune after a 4-6 start to their Super Bowl defending season. And on Sunday in a back-and-forth battle with the Texans, they scored the dramatic win to keep their hopes alive. If they win and the Vikings lose to the Bears, they go to the playoffs.
A Few Weeks Back…
These NFC East teams played on December 3, with the Eagles taking a 28-13 win at home. A lot has changed, with Carson Wentz no longer behind center, with Eagles' Super Bowl MVP Nick Foles back in there. The Redskins were able to hang in there the first half, before Philly held them scoreless in the second half, cruising to a fairly routine win. Other than a 90-yard run by Washington running back Adrian Peterson, the Redskins didn't have many highlights on offense, as they haven't had many in recent weeks, either.
Can the Redskins be Resuscitated?
Since losing Alex Smith in a crushing injury, the Redskins have slipped pretty badly. Other injuries on both sides of the ball have also added up. Their only win in their last 6 weeks was a three-point win over another demoralized franchise in the Jaguars. Not long ago, they were in control of the division and to plummet to this spot has to be upsetting. On one hand, you would think that maybe they can do what a lot of teams in similar situations do and play the role of spoiler. And at least they aren't getting blown out, having still covered 3 of their last 6 spreads. But suffice to say this isn't a team that is riding high mentally coming into the final week of the season.
Colts vs Titans: Sunday Night NFL Pick!
In the last four games, the Redskins have scored 16 points three times and 13 points in the other game, that one being against this very Eagles team. They basically have Adrian Peterson on offense, something that a year or two ago would have been hard to believe. With all respect to Josh Johnson who has really hung on to still even be in the picture, it says a lot about a team's injury problems when your fortunes are on the shoulders of a quarterback who hadn't thrown a pass in an NFL game since 2011.
The Heart of a Champion
Sure, the Super Bowl hangover applies this season, as the Eagles never looked anything close to their form last season, especially late. But we have seen some of the same heart as they responded to the late-season urgency. With four wins in five games, they have at least given themselves a chance. And it's also who've they beaten that adds a layer of quality to it, beating the Rams on the road, before a big comeback against a really good Houston team last Sunday. Nothing against Wentz, but the magic of Nick Foles can't be disputed. The Eagles' backup has the magic touch. He threw for 471 yards and four touchdowns in the big win over Houston. He hit Nelson Agholor for a long TD pass and helped commandeer the offense for a game-winning FG with time running out for the win.
With the Eagles flying high once again, it's hard to not be pessimistic of the Redskins' chances in this game. On one hand, you have a team that has gone from division-leader to an afterthought, as the entire Redskins' sideline might be relieved to get to the finish line of this season. Then you have a team that still needs help to get in, but has something to play for and has responded to the urgency of the season accordingly. Conversely, the Redskins were in the division-lead and melted when hit with adversity. Personnel has a lot to do with that, as things are a lot easier when your backup QB is a defending Super Bowl MVP, but reasons are less compelling than results. The Eagles responded and the Redskins didn't.
Too Obvious?
When the mind ponders this game, it's hard to not think of certain things. Sure, this isn't the same Eagles team that won the Super Bowl last season. But like last season, they are playing their best football late and they are in fact champions. On the other sideline is a team in the midst of a downward spiral, led on offense by Josh Johnson for goodness' sake. Their leading receiver is a tight end in Jordan Reed (558 yards) who isn't even available. One anomaly is that no opponent has recovered a fumble from the Redskins' offense this season.
Again, the Redskins haven't really been laying down on the job, covering the spread each of the last two weeks. Against other teams with a lot to play for, they are holding their own when a different analysis would suggest they should be dog-meat. So there's a certain scrappiness that needs to be accounted for, including a playmaking defense. Ryan Kerrigan, Jonathan Allen, and Matt Ioannidis have comprised a big part of a nice pass-rush. And led by a playmaking secondary that features DJ Swearinger and Josh Norman's seven picks, they register a lot of positive developments, including 25 overall turnovers and a plus-eleven in turnover-margin. In other words, this might not be the walkover one would suspect.
Lay the Points on the Road Favorite
With the stakes a lot higher, I do see the Eagles looking better than they did earlier this month when they beat the 'Skins at home by 15. I see the Redskins playing hard and even making some things happen. Still, after playing the Rams and Texans in recent weeks and coming out ahead, the going should be easier this week against a Redskins team that is a cut or two below what the Eagles have been seeing. I see Foles and Company navigating their way to a fairly-conclusive win on Sunday. I'll take the Eagles.
Loot's Pick to Cover the Point Spread: I'm betting on the Philadelphia Eagles minus 6.5 points.