Pittsburgh Steelers vs. Buffalo Bills Pick ATS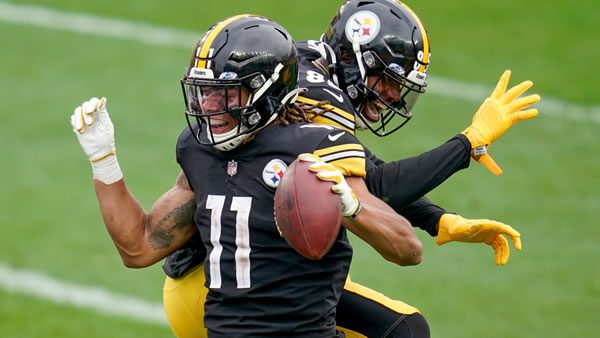 Pittsburgh Steelers (12-4 SU, 10-6 ATS) vs. Buffalo Bills (13-3 SU, 11-5 ATS)
Date/Time: Sunday, September 12, 1:00 PM EST
Where: New Era Field, Orchard Park, NY
TV: CBS
Point Spread: Buf –7 /Pitt +7 (SportsBetting.ag - Awesome NFL Props!)
Over/Under Total: 48½
Football 2021 kicks off on Sunday in Western New York with the Pittsburgh Steelers visiting the Buffalo Bills. Both teams are defending division champions, but Buffalo is a super bowl contender while the Steelers are considered pretenders. The hype on the Bills has moved the line at Betanysports to making the Bills 7 point favorites, with the game total sitting at 48½. The play is to take the Steelers and points. Here are 3 reasons
.
Pittsburgh's Defense Can Contain the Bills
Buffalo comes into 2021 after their wide-open offense turned the NFL world on its side in 2020. The Bills averaged over 30 points per game last year after notching less than 20 per game in 2019, led primarily by Josh Allen taking a big step from completing less than 60% of his throws in 2019 to right at 70% last year. The pundits are sure that Allen has it all figured out and will take another step this year but look for the Steelers to make that difficult in week 1. Mike Tomlin's D will line up last year's No. 3 ranked defense in points allowed and yards per play opposite Allen's. The new version of the Steel Curtain led the league in sacks and was 2nd in turnovers last season. T.J. Watt is still trying to renegotiate his contract but should be on the field as the heart of the stop unit and one of the premier edge rushers in the league. He'll look to build on a 2020 season that included 15 sacks and two forced fumbles. Watt, along with Alex Highsmith and newly acquired Melvin Ingram, should be able to get pressure on Allen and make him uncomfortable. The Steelers will be without tackle Stephon Tuitt which will hurt their run defense, but that is insignificant against a Bills squad that shows little interest in running the ball. Tuitt's interior pass rush will be a bigger impact than his run-stopping.
These teams met in December last year, and Allen completed only 55% of his passes for a paltry 5.5 yards per attempt and also threw one pick. Allen will be looking for his favorite receiver Stephon Diggs early and often in this contest. Diggs averaged over ten targets per game last year and recorded ten catches on 14 targets last year against the Black and Gold. Pittsburgh's best corner Joe Haden didn't suit up for that contest but will line up across from Diggs this week. Haden isn't the player he used to be, but with the strong pass rush and scheming help should be able to keep Diggs from repeating last year's performance. Allen can also target Cole Beasley or newly acquired Emmanuel Sanders, so we shouldn't expect Buffalo to be shut out, but it's fair to expect the Steelers to keep Buffalo under the 26 points they allowed last year.
Big Ben Will Keep the Game Close
Pittsburgh's offense was hard to watch in 2020. Their offensive line was horrible, they had no running game to speak of, and the passing game became a quick-passing inefficient mess. The team that started the year 11-0 trotted out an offense that looked like a bad mid-level college offense. Pittsburgh should look a lot different in Buffalo this week. The Steelers selected Najee Harris in round 1 of the 2021 draft, and the offense this year will run through Harris. Harris is a bell cow three-down back that can carry the ball 20 times and catch five balls out of the backfield every week. Pittsburgh was dead last in rushing yards and yards per attempt last year, which is unheard of for a steeler squad. Harris will still be running behind a questionable O-line, but he will be able to provide a balance that will allow Ben Roethlisberger to utilize some play action and have more time to throw. Big Ben has a stellar wide receiving corps that will find holes in the Bills D. The trio of Chase Claypool, Diontae Johnson, and JuJu Smith-Schuester are as good as any in the NFL, and with Harris out of the backfield and tight end, Eric Ebron will make the Bills cover the whole field. Roethlisberger's body is breaking down, so he may not make it through the whole season, but he has looked strong this summer, so he should be ready to go for week 1.
More Picks: Get Keith's Browns at Chiefs Point Spread Winner >>>
Buffalo's defense is a good opponent for an offense looking to get on track. They were middle of the pack in 2020, finishing 16th in the league in scoring allowed against a fairly weak schedule and 23rd in yards per rushing attempt. The Bills' defensive line is the weakness of their defense, which is just what the Dr. ordered for a Steeler O-line that needs some time to gel. In 2021 rushing is just a complementary part of the offensive equation, but having a rushing attack this week should give Roethlisberger enough time to throw the ball downfield and possibly even take some deep shots to Claypool. Pittsburgh's offense is a proud unit with a lot to prove. I look for them to come to play in week 1.
Tomlin as an Underdog is a Must Play
Mike Tomlin is famous in the betting world for two outcomes – losing when a double-digit favorite and covering as an underdog. Tomlin's Steelers have been underdogs 17 times in the last three seasons and have covered in 14 of those games. Tomlin is undoubtedly preaching to his club that nobody is giving them a chance this week – a team that won its first 11 games last year is now full touchdown underdogs. Tomlin will have a game plan to counter the Bills offensive passing attack and be able to control the ball and put points on the board. Buffalo's offense wasn't efficient at all in last year's match against the Steelers, but the inept Steeler offense was only on the field for 25 minutes, putting too much pressure on the Black and Gold defense. This year Tomlin will have the offense keep his defense off the field so they can stay fresh while getting points. Tomlin is one of the great motivators in sports today, and this Week 1 spotlight is made for him.
Take the Steelers and the Points in Week 1
Getting 7 points with Mike Tomlin's Steelers should be considered a gift to start the season. The public is loading up on the Bills, making Pittsburgh +7 an automatic play. Note: Many football bettors will reload their betting accounts and receive NOTHING for doing so. Don't make this mistake! There are LOTS of sportsbooks out there that will give you a 100% bonus to try them out! Double your bankroll by taking advantage of one of these offers by signing up at one of the rock solid books on our best sportsbook bonuses list! Doing so also helps our mom and pop business stay afloat so we can continue to bring you good stuff every day, which we HUGELY appreciate! 
Football Betting Guide
New to football betting? NFL point spreads can be confusing at first, but our how to bet on football article help you bet like a seasoned pro! You'll also learn how to wager on teasers, parlays, over/unders, prop bets, futures and how point buying works.