Pittsburgh Steelers vs. Cleveland Browns Pick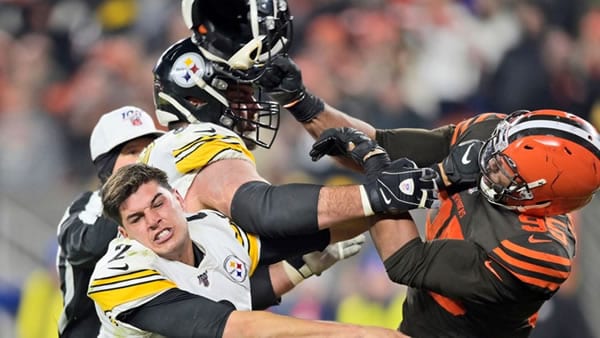 Pittsburgh Steelers (12-3 SU, 9-6 ATS) vs. Cleveland Browns (10-5 SU, 6-9 ATS)
Week 17 NFL
Date/Time: Sunday, January 3, 2021 at 1PM EST
Where: FirstEnergy Stadium, Cleveland, Ohio
TV: CBS
Point Spread: PIT +10/CLE -10 (Find the best teaser odds >>>)
Over/Under Total: 42
The Pittsburgh Steelers take on the Cleveland Browns on Sunday in a key AFC matchup with major ramifications. In many ways, Pittsburgh saved their season last week, coming from off the pace to beat the hot Indianapolis Colts, 28-24. It put an end to a disconcerting slide that had the Steelers looking ragged after an 11-0 start. However, Cleveland suffered a potentially devastating loss to the 1-13 Jets on Sunday, putting their playoff standing in peril, despite having ten wins and there being an extra wild card spot. Who can end the regular season on a positive note?
Playoff Ramifications
The Steelers are in the three-seed and could move up to number two if the Bills lose, and they win. But in a season where the two-seed doesn't mean much with only one team getting home field throughout, it doesn't seem like the Steelers are all that interested in making a push in week 17. The announcement that Mason Rudolph will start in place of Ben Roethlisberger attests to that. Division rivals notwithstanding, this has the looks of a potential week 17 phone-in from the Steelers. The question is whether a Browns team that couldn't get the job done against the Jets last week can do anything about it.
Losing to the Jets with a chance to lock down a playoff spot was quintessential Cleveland in many ways. A team that was playing so well has now lost two of three and put themselves in jeopardy. The good news is that they can win their way into the playoffs. And to do so, they'll be taking on a team that does not share the same urgency starting their backup QB. They can also get in if the Colts lose, but Indy is playing the Jaguars. If Indy wins and the Browns lose, they can still get in, but the Titans have to lose with the Ravens, Colts, and Dolphins all winning on Sunday. It gets pretty muddled, but suffice to say the best road into the postseason is to beat the Steelers on Sunday. Otherwise, they need a lot to go right, not all of it terribly-feasible.
Pittsburgh Without Big Ben
It's a strange juncture in the season for a team that seemed like a real contender less than a month ago. The wheels came off, but a 21-point comeback against the Colts restored order. Still, it's just one good half of football in the last several weeks, and just as they hit a groove, they're starting Rudolph. Big Ben was key to the comeback win over the Colts, and we saw for much of last season what the Steelers are without Roethlisberger. And what does it say about their urgency to win this game? Granted, Big Ben is aging and banged-up, and it makes sense to rest him for the playoff push. It just makes you wonder if the Steelers will be in the mindset to beat a team on the road that is playing for their future.
Cards vs. Rams Predictions >>>
Have the Wheels Come off for Cleveland?
At the very least, you can say they aren't peaking at the right time. After winning 9 of 11 games, they were looking primed for a nice run. To lose, and not all that competitively, to the Jets, is a damning indictment. Part of you wants to defer to the urgency of the last game where a team seems in a winnable spot to get to the playoffs, but what wasn't urgent about last week when they couldn't respond? Maybe now, with their predicament completely crystallized, they can find another gear, but it makes you wonder. And suddenly seeing their receiver corps largely sidelined with virus issues is just another layer of doubt on their late-season prospects.
Then again, that same mindset would have caused people to lose money betting against the Steelers last week, as these teams can sometimes turn things around on a dime. And you see this a lot this season where even teams that are deemed to be contenders play with a wide range where they're barely recognizable in a given week. The Browns are one of those teams, as clear-cut success can be elusive for a team that has been mired in the dumps for so long. And we saw the low part of that range the first time they played the Steelers this season, a demoralizing week two 38-7 defeat. Part of being a team on the rise is that some weeks you look like a contender and other weeks you look anything but.
Week 17 Issues
Those who have bet on football for a while will tell you that the final week of the regular season is no picnic. You would think it is sometimes. The situations are all spelled out. And in games like this, it seems like a real slam-dunk. One team is playing for its future, and the other is starting a backup. But the urgent team is in an urgent spot for reasons that don't enhance their chances of winning a football game. And how hard of a phone-in can it really be for Pittsburgh? Sure, key starters might be rested, but guys are still out there trying to make a good impression, fight for more playing time, and the like. And even that version of the Steelers might surpass what the Jets bring to the table, a team that beat the Browns last week.
Take the Points
These are the types of bets that might seem absurd in retrospect. If Cleveland got it together and laid a beating on a disinterested Steelers team, it would register as no major surprise. There are just a few things I'm not sure about, and one is that the Steelers are going to just roll over to their division rivals. Another is that laying ten points on the Browns team seen in recent weeks seems counterintuitive on a just a very basic level. I could be off my rocker on this, but I see this being more of a grind for the Browns than some may think. I'll take the points.
Loot's Prediction to Cover the Point Spread: I'm betting on the Pittsburgh Steelers plus ten points. Bet your NFL playoffs picks for FREE by scoring a HUGE 100% real cash bonus on your first deposit of $100 to $1000 at BetNow!
Football Betting Guide
New to football betting? NFL point spreads can be confusing at first, but our how to bet on football article help you bet like a seasoned pro! You'll also learn how to wager on teasers, parlays, over/unders, prop bets, futures and how point buying works.