Cardinals vs. Rams Odds & Picks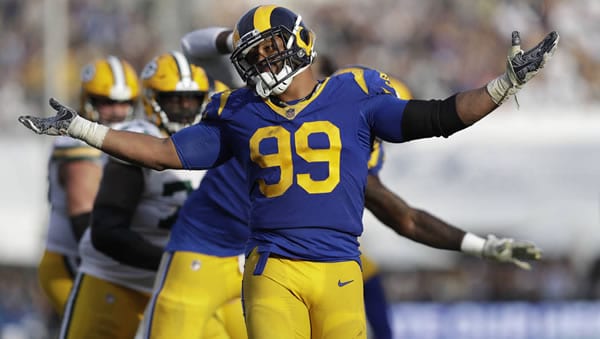 Arizona Cardinals (8-7 SU, 7-8 ATS) vs. Los Angeles Rams (9-6 SU, 8-7 ATS)
Week 17 NFL
Date/Time: Sunday, January 3, 2021 at 4:25PM EST
Where: SoFi Stadium, Inglewood, California
TV: CBS
Point Spread: ARI pk/LAR pk (BetNow - Bet your NFL playoffs picks for FREE! This book will match your first deposit with a 100% real cash bonus up to $1000! Biggest bonus ever from a legit book!)
Over/Under Total: 39
The Arizona Cardinals come to SoFi Stadium in Inglewood for a big week 17 showdown with the Los Angeles Rams. Last week, the Rams lost to Seattle, 20-9. With the Cardinals falling to the 49ers, 20-12, both teams have put some doubt around their playoff hopes. About a month ago, these two teams played in Glendale, with the Rams scoring a 38-28 win. The stakes will be higher this time. Who can come out ahead on Sunday?
Playoffs at Stake
At 9-6, as opposed to 8-7 for the Cardinals, the Rams' chances are better. They can just win their way in with a win against the Cardinals on Sunday. If they lose, they can still get in if the Bears lose to the Packers. But for the Cardinals, losing four of their last six after a 6-3 start has been costly. They now need a win here with no other scenario getting them in. But they might have caught a break with some recent injury woes for the Rams.
Can the Rams Overcome the Loss of Goff?
Making the Cardinals' prospects considerably rosier is that Rams' starter Jared Goff will miss at least this week with a thumb. In his place, John Wolford will start a former Wake Forest product who has never taken a snap in his NFL career. Obviously, head coach Sean McVay thought highly enough of him to make him the backup. But it's also curious that such a high-dollar franchise would be so dicey in this area, despite Goff having been a durable starter.
More Picks: Get Zman's Titans vs. Texans Pick >>>
But maybe it's not the lost cause some might think. Obviously, Goff is the more-robust talent at quarterback, despite some wildly-uneven performances this season, including the last one in the loss to Seattle. Either way, starting an undrafted QB in a game this big is not in any way desirable. Wolford isn't a big guy at 6'1″, and he wasn't a ballyhooed prospect out of college. But he does have talent, including some great speed for a QB. He's very nimble and downright fast. It's going to be hard, being that he doesn't share a lot of similarities with Goff, and it might be difficult transitioning to a completely different-styled quarterback in such quick order.
What the Rams Can Fall Back On
One might not say that the Rams is a team that doesn't rely on good quarterback play. Because when Goff plays poorly, they typically lose. But there are other aspects of which make the Rams thrive. A burgeoning run-game is a big part of the equation. It took a while to get it cranked up in the post-Gurley era, but they made it work with Darrell Henderson, Jr., Cam Akers, and Malcolm Brown. Receiver Robert Woods is also used effectively. With Akers out, it puts a hurt on their run-game. And not having Cooper Kupp in the finale is another loss the offense can ill afford. Still, some might find it surprising that the Rams have the tenth-rated run-offense in the league.
Where the Rams can really thrive is their defense. Only two teams have allowed fewer points this season than the Rams. They are number one against the pass and number three against the run, a stellar unit that is stout and makes a lot of plays. Against an Arizona offensive line that hasn't thrived in recent weeks, guys like Aaron Donald can do a lot of damage. They get after the QB like nobody's business and are adept at inducing game-changing mistakes. And against a version of Kyler Murray who has thrown more picks of late, this secondary could really make an imprint on this game. He had one in their last game, and it was costly, as Troy Hill returned it for a TD.
Can the Cardinals Thrive This Week
The highlights over the last six weeks have been few and far between for the Cardinals. They've lost in their own division three times, losing ground and allowing others to gain ground on what seemed to be a sure thing not long ago. Lately, they have been struck by this stubborn case of mediocrity that has been hard to shake. The offense has been so-so, and the defense has followed suit. Still, there have been some minor positive signs in recent weeks, things they can build on in an effort to hit their crescendo at just the right time. That run-game can be a monster with Murray, along with backs Kenyan Drake and Chase Edmonds. DeAndre Hopkins has added a nice dimension to the aerial game, and with Christian Kirk, Larry Fitzgerald, and blossoming tight end Dan Arnold, this should work a lot more often than it has lately.
This is a time when an Arizona defense that has been pretty average for much of the season could really earn its keep. And there have been good signs in the midst of all the losses, namely a surging pass-rush. That's something that could really pay off this week against the LA backup. But that run defense, something that didn't serve them that well the first time around, can sometimes be a real problem.
Take the Home Team
On the surface, the thought of an undrafted quarterback beating a team with the top pick from the same draft is far-fetched. Murray is also listed as questionable, though one has to imagine he will go. One almost wants to defer to the more-intact team, which is the Cardinals. The Rams are a bit battered, and they're probably even more-capable of hitting really low depths. Something just tells me that whatever discrepancy is suffered by the LA offense can be made up by the defense, which has the ability to pick up the slack on an Arizona offense that has been off-key more often than not over the last month or so. I'll take the Rams.
Loot's Prediction to Cover the Point Spread: I'm betting on the Los Angeles Rams in a pick-'em. Did you know that you could be wagering on games at -105 odds? Make -110 a thing of the past! Stop wasting the money you work so hard for! Start enjoying a better wagering experience at Betanysports!