Pittsburgh Steelers vs. Tampa Bay Buccaneers Pick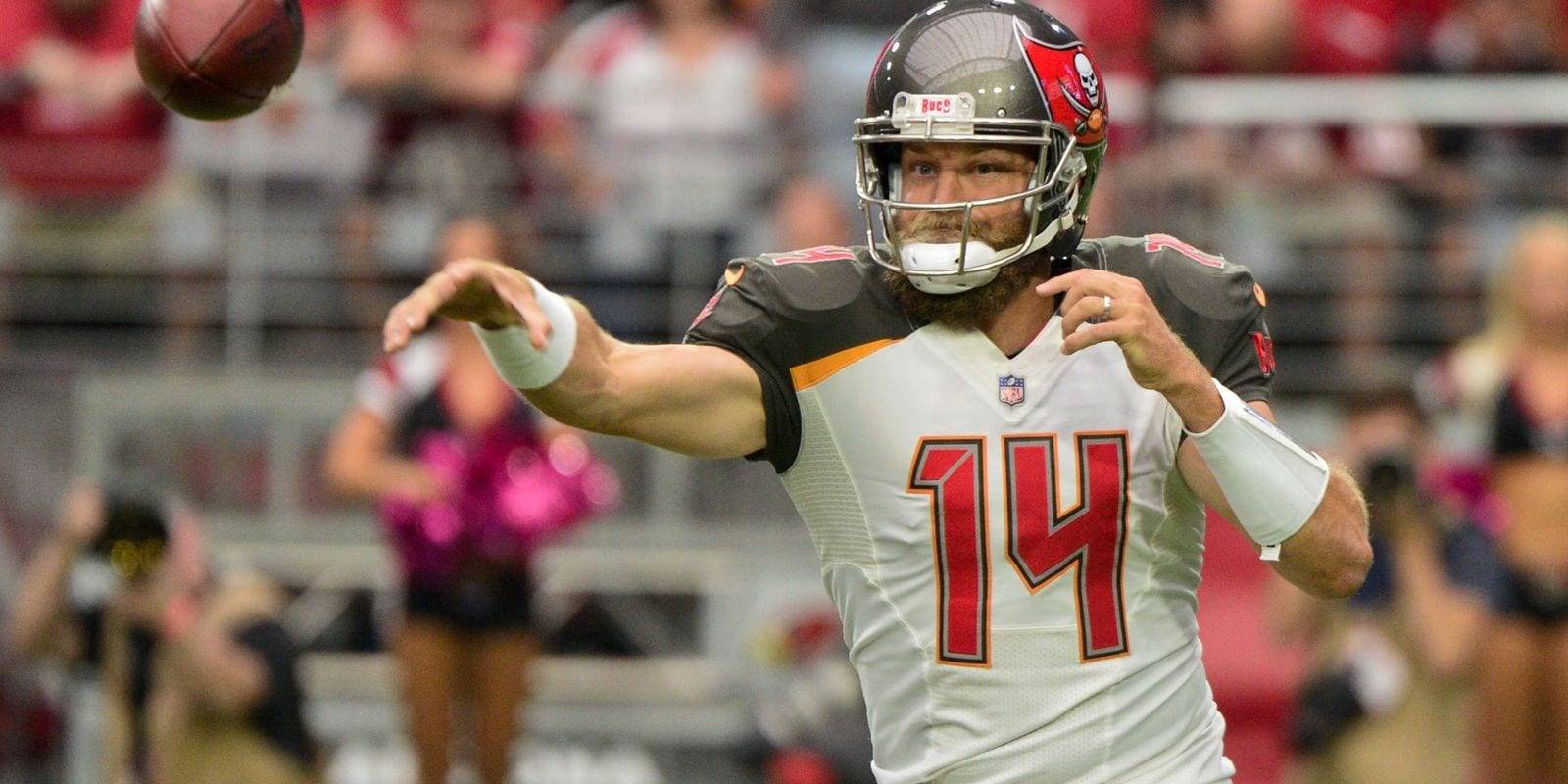 Pittsburgh Steelers (0-1-1 SU, 0-2 ATS) vs. Tampa Bay Buccaneers (2-0 SU, 2-0 ATS)
When: Monday Night Football, September 24th, 8:15 PM EST
Where: Raymond James Stadium, Tampa, Florida
TV: ESPN (DirecTV 206)
By: Kevin West, NFL Football Handicapper, Predictem.com
Point Spread: Pit -1.5/TB +1.5 (Pit opened at -2) 
Over/Under: 54 (opened at 50)
Power Ratings: Bucs -7

Takeaways From Week 2
What resonates with me most about last week's Steelers game is that Ben Roethlisberger might possibly be the biggest home/road splits quarterback I've ever seen. This guy plays with the utmost confidence at home and looks like absolute garbage on the road. Does the guy not like to travel? Does he get homesick? Does his giant frame not do well on hotel beds? It could be a number of things, but the bottom line is that this guy sucks on the road.
Another notable is that Antonio Brown was seen barking at offensive coordinator Randy Fichtner. Brown claims that he was frustrated with the play-calling and felt that Pittsburgh wasn't trying to win, not that he wanted the ball more. They basically translate to the same though. i doubt it's a big deal as sometimes guys get heated during games. Brown is uber competitive and it's unlikely that there will be lingering issues moving forward. The issue is that the dumbass media got ahold of it and spent days trying to create drama that doesn't exist. That has to wear on a guy. Why? Because it's negative. Negativity saps positive energy.
Who'd have thunk that Ryan Fitzpatrick would follow up his stellar week 1 performance with more incredible play vs. the World Champion Philadelphia Eagles? NOT ME! All "Fitzmagic" did was complete 81.8% of his passes and drop 402 passing yards and 4 touchdowns on a defense that was projected to dominate the game. So this leaves one to wonder….Could it happen again? Sure it could! It's now "a thing" and guess what? Pittsburgh's secondary is crap, so we're likely to see the unthinkable happen once again. In fact, it's probable, as the TB run game is putrid.
Being overshadowed in the Bucs improbable start has been WR Mike Evans and WR DeSean Jackson. Neither had a great season last year so have fallen off the radar a bit with fans. Both are running great routes and showing incredible chemistry with the veteran QB.
TIRED OF YOUR CREDIT CARD NOT WORKING AT SPORTSBOOKS? IT WILL AT BOVADA + GET A 50% BONUS!
How the Public is Betting the Steelers/Buccaneers Game
People usually love to hammer the Steelers and the over in prime time action, but to my surprise (and the bookmakers too), Tampa Bay who opened at +2 has been bet down to +1.5 and will likely be a pick'em by kickoff. Not only are the squares betting Tampa Bay, sharp bettors alike are jumping on board (albeit the money line). One bookmaker I know has stated that he's scared to death of the one sided action coming in on this game and that he's laying it all off so he has no exposure to what he believes will be a Buccaneers win. Even scarier, a 6 point teaser makes Tampa +7.5 which crosses the 7, a key number in NFL football betting (common final score margin).
The Historicals
With the Steelers being in the AFC and Buccaneers being in the NFC, these teams don't face off often and haven't played each other since 2014 making the head to head matchups irrelevant. In case you're wondering, the Bucs won that game 27-24 (at Heinz Field).
Injury Concerns (As of Friday afternoon)
Steelers T Marcus Gilbert is questionable with a hamstring. G David DeCastro missed last week with a hand and is ?. CB Joe Haden is questionable with a hamstring. RB Le'Veon Bell is still holding out.
Buccaneers CB Brent Grimes is questionable with a groin. Safety Chris Conte left last week's game with a knee issue is questionable. DT Vita Vea has been fighting a calf injury and is ? for MNF. CB Vernon Hargreaves was placed on the IR with a shoulder.
When the Steelers Have the Ball
The Bucs secondary is beat up so Pitt. would be crazy not to try to attack. They'll likely force TB to respect the run by starting off with a few token hand-offs to James Conner. After that, they'll attempt to turn up the volume but I don't see the success that most would expect. Roethlisberger just isn't the same QB away from home. I believe he'll have success, but not enough to put up the stats necessary to win the game.
I also expect the squeaky wheel to get greased. Don't be surprised if Antonio Brown gets 15-20 targets in this game.
When the Buccaneers Have the Ball
"If it ain't broke, don't fix it!" Tampa's run game sucks and their passing game doesn't. Nothing has changed here, so expect more of the same. I'm not going to waste your time with fluff or text characters to build up my word count here. This team is one conventional and is going to live or die by the pass.
Fitzpatrick is likely to have a ton of pass attempts and fat stats again. Don't you dare go to your fantasy football league's free agent wire and put in a claim for this guy. His run ends THIS WEEK as his next four contests are much more difficult matchups and he's not only likely to struggle, we'll all have to listen to how the team is looking to make the move to Jameis Winston. Don't do it! It's coming!
Betting Trends (For Entertainment Only)
The Steelers are 1-8 ATS in their last 9 games.
The Steelers are 2-5 ATS in their last 7 Week 3 games.
Pittsburgh is 1-5 ATS in their last 6 games following an ATS loss.
Pitt is 0-6-1 ATS in their last 7 games after scoring more than 30 points in their previous game.
Pittsburgh is 0-4 ATS in their last 4 games vs. a team with a winning record.
The Steelers are 0-7 ATS in their last 7 games on a grass field.
The Buccaneers have won their last 5 games ATS.
The Bucs are 4-1 ATS in their last 5 home games.
Tampa Bay is 7-3 ATS in their last 10 games following a win.
The OVER is 23-7 ATS in Pitt's last 30 road games.
Weather Report
Reports are showing possible afternoon storms and/or drizzle. Temperatures are supposed to be around 80 with winds around 9mph. Great football weather!

Kevin West's Pick to Cover the Spread
I'm betting the Bucs heavily at +1.5. Tampa Bay is Red Hot and Rollin'! Yeah, It's bizarro to believe in Ryan Fitzpatrick but it's a real thing right now. Tampa's strength is the pass, which just happens to be the Steelers weakness on D. The Le'Veon stink still surrounds this team and there's rumors that Mike Tomlin has lost control of the team. More importantly than all of this is that Ben Roethlisberger always seems to struggle on the road. Lots of positives here for Tampa and not much for Pitt!
Please consider following us on Twitter @PredictemPicks where you'll find me live tweeting during NFL Sundays and providing useful nuggets of betting information during the week! Good luck! - Kevin