Rams vs. Seahawks Week 5 Pick ATS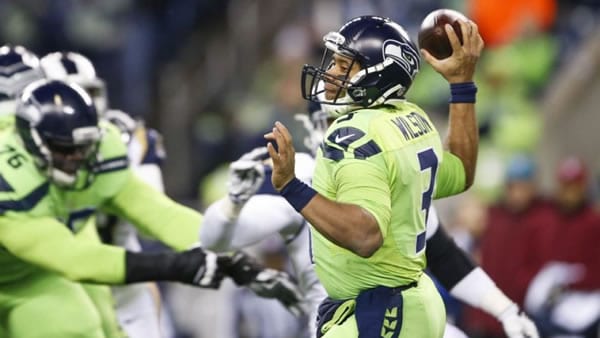 Los Angeles Rams (3-1 SU, 2-2 ATS) vs. Seattle Seahawks (2-2 SU, 2-2 ATS)
Week 5 NFL
Date/Time: Thursday Night Football, October 7, 2021 at 8:20PM EDT
Where: Lumen Field, Seattle, Washington
TV: Fox/NFL Network
Point Spread: LAR -1/SEA +1 (Betanysports.eu - Home of -105 odds that WILL-SAVE-YOU-$!)
Over/Under Total: 54
The Los Angeles Rams come up to Lumen Field for a Thursday Night Football showdown with the Seattle Seahawks in week five. This NFC West battle is important to both teams, but from a W-L standpoint in this top-heavy division, the 2-2 Seahawks would like to get this one at home. They managed to even their record at 2-2 on Sunday with a 28-21 road win over the 49ers. The Rams, meanwhile, dropped to 3-1 after seeing their run of dominance end against the Cardinals on Sunday, 37-20. Who can emerge in this divisional battle in the northwest?
Are the Rams OK?
Losing once to the Cardinals after beating them so many times in a row isn't a cause for panic. The Rams were 3-0 with a win over the Buccaneers, so it's not like they were exposed. But we did see a Rams' defense look as vulnerable as it has since coordinator Brandon Staley jumped ship to the Chargers. And Seattle does have some similarities to Arizona with a mobile QB and an offense that can do damage a number of different ways. But against the Cardinals, the Rams were against a team that was tired and wasn't going to take it anymore. It's hardly cause to force a reevaluation.
There are still some issues that could give some hope betting against the Rams this season. And one is that the defense does, in fact, look a bit diminished. Through four games, we've seen some issues we didn't see last season. Against the Bears, Colts, Bucs, and Cardinals, they've allowed 99 combined points, and that seems about two TDs more than they would have allowed last season. On Sunday, Arizona ran on the Rams, completed long pass-plays, and generally made the Rams' defense appear less formidable than we've become accustomed to seeing.
A fast start to the season and how good QB Matthew Stafford looked perhaps shielded us from some harsh realities that might come into clearer view as they get into the meat of their schedule. That O-line has been serviceable, but it's not infallible, and Stafford needs a clean pocket. It also ties into a hit-and-miss running game, led by injury-prone Darrell Henderson, Jr. The aerial game has a ton of variety, with a lot of mouths to feed. But with a defense that is less iron-clad and an offense that is not without issues, these spots are hardly slam-dunks for the Rams.
Will Seattle's Issues Surface Here?
Seattle did well on Sunday, albeit against a Niners' bunch that is starting to wilt under the crunch of injuries. In those kinds of spots, they can camouflage some of their shortcomings, namely on the defensive side of the ball. On Sunday against a depreciated Niners' offense, Seattle allowed the first good NFL game from RB Trey Sermon while letting Deebo Samuel go nuts but otherwise held it together to enough of an extent that the Seattle offense had the final say on the day. They got a recovered fumble and a pick from Quandre Diggs to help the cause. Wilson connected well with DK Metcalf, but Tyler Lockett was a little banged up. We saw Chris Carson and Alex Collins fail to get the run game started.
With the Rams coming off a loss and looking to atone for that, one wonders if the things we didn't see last Sunday against Seattle come more into play this week. Whereas the Seahawks benefitted from a compromised San Fran offense last week, they might be up against it versus a fired-up and stocked Rams' group. That Rams' defensive front is always a threat to run over the Seattle offensive line and put a big hurt on their run-game. Not that Wilson can't find success moving around and working with two good receivers like Metcalf and Lockett. It's just that the Seattle offense might be operating under more duress than the Rams' offense.
Matchup Issues for Seattle
The Seahawks have containable weaponry. Not that Wilson won't do damage at some point with his talented receivers, but the Seahawks lack the variety of the Cardinals' offense that troubled the Rams so deeply last week. Seattle can get a run-game fired up from time to time, but it's not something you can count on even in this spot against a Rams' defense that been more exploitable this season. And while guys like Greg Everett, Freddie Swain, and others can step up with good games here and there, they are pretty thin outside of their top two targets. After being pelted from all different angles on Sunday against Arizona, this might set up for a decent bounce-back week for the Rams' defense.
Still, this is a divisional game, and it means a lot to Seattle. They don't want to start falling behind where they're trying to get to .500 in a division this strong where it's easy to get buried quickly. Even against the better Rams teams, we've seen over the last several seasons, the Seahawks at home almost always show up in this spot. Despite what has seemed to be innumerable matchup issues they have to overcome, this is never an easy spot for the Rams.
Lay the Short Number
Any Rams' backer forecasting an easy-breezy cover in this spot could and likely will be in for a rude awakening. This has the looks of a struggle for both teams where the fate of the game could come to the very end. It's strange that a lack of success last week would bolster the Rams' chances, but I think it puts a little more urgency in their bones, as another loss here would take a lot of wind from the sails of a highly positive start to the season. I think the combination of a better defense and more offensive variety will be enough to get the Rams to the finish line a nose ahead in this tough divisional battle. I'll take the Rams.
Loot's Prediction to Cover the Point Spread: I'm betting on the Los Angeles Rams minus 1 point. Bet your Sea/LAR pick and ALL your Week 5 NFL picks for FREE by taking advantage of a 100% REAL CASH bonus on your first deposit of $100 to $1000 at Betnow Sportsbook!
Get $60 of FREE member picks & predictions
(NO commitments. NO Credit Card. NO Salesman.)
100% REAL CASH up to $300

USE BONUS CODE:
PREDICT100