Saints Undervalued in Season Win Bet Lines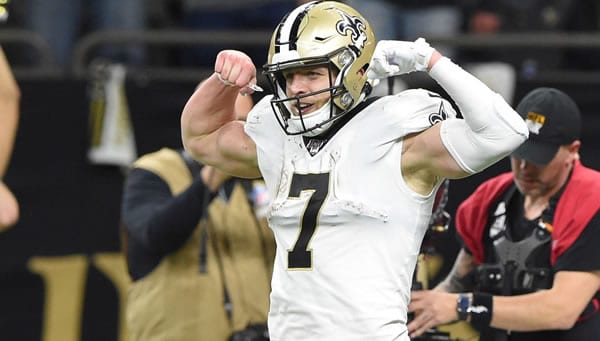 New Orleans Saints Season Wins Total Over/Under
The New Orleans Saints are coming off consecutive 13-win seasons. Going 1-2 in the playoffs the last two years has been a letdown, but in a regular-season assessment, they loom as a threat to post a formidable won-loss record once again. In fact, a lot of people are expecting a successful, high-urgency season for the Saints. Drew Brees is another year older and can't go on forever. The current recipe for success is also not a permanent one, and if the Saints are going to be a serious contender, this is really the season to make that happen.
Still, in a complex equation such as this, there is a lot to take into consideration. What about the teams in their division? What about the conference in general? What changed for the worse or better? How tough is their non-division schedule? Sure, it's fair just to take a look at the surface and assume the Saints will be good this season. But to extract the most from this bet, we need to get into it and figure out where the best value is for this wager.
A Look at the Odds
NOR regular season wins over 11.5 +160
NOR regular season wins under 11.5 -185
NOR regular season wins over 11 +133
NOR regular season wins under 11 -153
NOR regular season wins over 10.5 +100
NOR regular season wins under 10.5 -120
NOR regular season wins over 10 -141
NOR regular season wins under 10 +121
NOR regular season wins over 9.5 -187
NOR regular season wins under 9.5 +162
NOR regular season wins over 9 -272
NOR regular season wins under 9 +232
NOR regular season wins over 8.5 -327
NOR regular season wins under 8.5 +267
Odds Explanation: At 5Dimes, they offer a variety of different win-totals where you can either play the standard wins total, where the odds are the most even on either side of the bet, or take a more extreme stance if you either think the Saints will surpass or not meet their general expectations for the 2020 season. The standard line is 10.5 wins, with over at +100 and under at -120.
Picks
I definitely like the "over" on the standard 10.5-win line at +100. This looks like a playoff team in all respects. You have a proven commodity at quarterback in Brees, a guy who still has the skills and might even have more of a fire this season. He is surrounded by major contributors in Michael Thomas and Alvin Kamara, even adding a valuable piece in Emmanuel Sanders in the offseason. They spent a first-round pick on offensive lineman Cesar Ruiz, bolstering an already terrific line. And with Taysom Hill and Jameis Winston in tow, it's not a lost cause in the event that something unfortunate were to befall Brees.
Their defense is more problematic, though it has been an area of emphasis the last several years and the improvement on this side of the ball is a big part of their recent winning formula. Their pass-defense, long a sticking point, was bolstered in getting Malcolm Jenkins and bringing back Janoris Jenkins. They're a pretty solid group, and with this offense, they needn't be spectacular. They just have to be pretty good for the Saints to do really big things.
Their division is a big X-factor in this equation. Carolina is looking pretty vulnerable. Atlanta has slipped in the last few seasons, though those games are still pretty tough for the Saints. With Brady, a rising Tampa team stands out as a dangerous foe they will see twice this season. The Saints will be the Raiders' first opponent in their new home in Vegas in week two, as they play the whole AFC West and NFC North this season, with some tough road games in the mix. It's a tough schedule with a lot of land-mines, and that's a big part of the reason why trying to go above the standard betting line in this bet could prove to be problematic.
All signs are not completely positive. Their offense is powerful, but outside of Thomas, Kamara, and maybe Latavius Murray and Jared Cook, they aren't very deep in the area of proven difference-makers. The offense would appear to be vulnerable to an injury bug if that were to surface, or in today's day and age, something viral perhaps. After not missing more than one game in a season for 16 years, Brees missed five last season, and with Bridgewater gone, such a loss could be tougher to overcome this year, even with Hill and Winston. They spent their entire draft on offensive picks, as their "D" lacks a real up-and-coming youth movement.
In other words, the Saints could have a wide range. On paper and with anything resembling a best-case scenario type of season, this could very well be a Super Bowl contender that puts that 10.5-win total in the rearview with several weeks to go. But a surging conference packed with contenders, some tough patches in the schedule, a key injury or two, or just a tweak in the chemistry and winning recipe could send the Saints a bit sideways.
BOOKMARK THE FOLLOWING LINK AND GET FREE NFL PICKS EACH WEEK OF THE SEASON FROM EXPERT FOOTBALL HANDICAPPERS!
Final Verdict
While I would tend to agree more those who are overly-optimistic to those being a New Orleans naysayer this season, I sense the need for moderation. I think taking a stance at +100 for the Saints to win at least 11 games (Over 10.5) this season is the limit of where I would want to push this. And even then, you're really hoping they only get upset like once. But between the lack of proven strength in their own division and some of their other opponents this season, they should be able to squeak out enough wins to get to 11. Let's say they go 4-2 in the NFC South and get wins over the Lions and the Bears. They would then need to go just 4-4 against the Raiders, Packers, Chargers, 49ers, Broncos, Eagles, Chiefs, and Vikings. Not a slam-dunk by any means, but pretty good value at +100. Bet on the first couple weeks of the NFL season on the house by depositing $300 and getting an extra $300 added to your betting account FREE! Find this limited time offer at MyBookie Sportsbook! Free bets are good bets!
Football Betting Guide
New to football betting? NFL point spreads can be confusing at first, but our how to bet on football article help you bet like a seasoned pro! You'll also learn how to wager on teasers, parlays, over/unders, prop bets, futures and how point buying works.