San Francisco 49ers vs Los Angeles Chargers Pick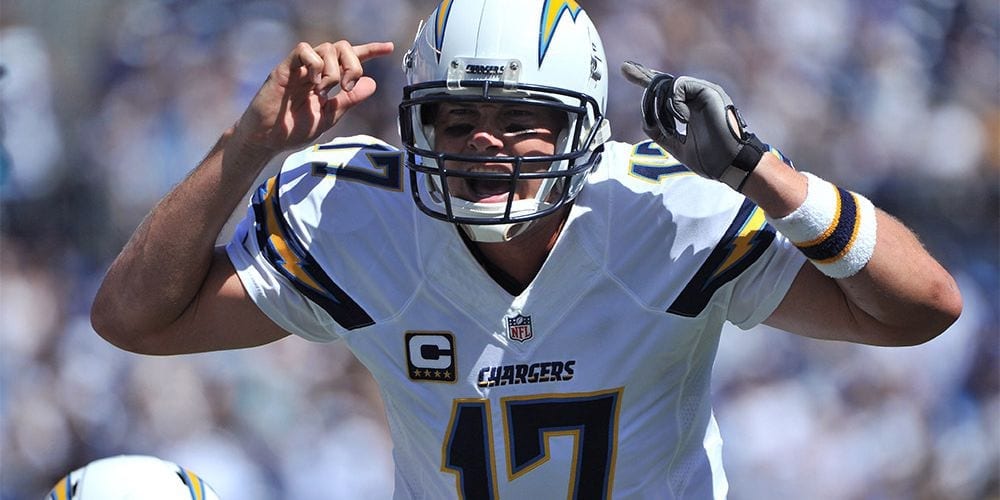 San Francisco 49ers (1-2 SU, 0-3 ATS) vs. Los Angeles Chargers (1-2 SU, 1-2 ATS)
NFL Week 4
Date/Time: Sunday, September 30, 2018 at 4:25PM EDT
Where: StubHub Center, Carson, California
TV: CBS
By: Loot Levinson, Expert Football Handicapper, Predictem.com
Point Spread: SF +10/LAC -10
Over/Under Total: 47.5
The San Francisco 49ers take on the Los Angeles Chargers on Sunday in a battle of 1-2 teams in Carson. The spread is big, but we're taking the Chargers. For those of us who remember what the Niners looked like before Jimmy Garoppolo showed up, however, it seems like the right move. The Chargers are at home and eager to push their record to .500 after a rough loss to a tough Rams team. Here's why we like the Chargers, while also noting some potential hazards.
The Chargers in This Role?
For a problem-laden franchise like the Chargers, assuming good things will happen doesn't really work out well. This is a better team to count on in surprise-mode, not when expectations are sky-high. A lot of people liked them in the preseason and we see a lot of the same problems exist. They will surprise as a dog from time to time, but when you start banking on big things, it can get a little screwy. They still have a lot of the same issues—mistakes galore, kicking issues, special teams snafus, and the like. They unquestionably have a lot of horsepower across all areas, but how frequently does that manifest in a way that is commensurate with their talent? Doesn't seem very often, does it?
MAKE THE SMART CHOICE! STOP LAYING -110 ODDS! START LAYING ONLY -105 TODAY AT 5DIMES SPORTSBOOK!
When you look at the Chargers' roster on both sides of the ball, it's a lot of firepower. Philip Rivers puts up numbers—that goes without saying. Melvin Gordon is a nice and versatile back and with Austin Ekeler getting a bigger role in this offense, the backfield has a lot of variety and sting. Receivers Keenan Allen, Mike Williams, Tyrell Williams, Virgil Green and even old-hand Antonio Gates give Rivers a lot of options. On top of that, they have a good O-line, though one that might need more time to congeal with some new pieces causing some reshuffling. And on defense, you see the best secondary the Bolts have fielded in years, with difference-makers in the front-seven. Not having Joey Bosa in there has hurt, though. The winning formula hasn't really taken form yet team-wide and they're hoping a depreciated Niners team will allow them to see some better things manifest.
Prospects of a Garoppolo-less Future
It's hard to overstate how bad it is for the Niners to have lost Jimmy Garoppolo for the season with a torn ACL. The way it happened too just makes it extra painful, with Garoppolo making an unnecessary stand on the sideline instead of just going out-of-bounds. Last season, the Niners were flat on their backs until Jimmy G showed up, immediately getting the Niners on the right track. Without him, it's only fair to wonder if we'll see the team we saw early last season.
Even with Garoppolo, the 49ers had been disappointing through three games. They didn't quite look like the team people expected to see. Perhaps last season painted too favorable of an image, with the Niners mopping up late on teams that were hurting or had nothing to play for late. Now, without him, they turn to CJ Beathard, the former Iowa product who started five games last season for San Fran before Garoppolo showed up to town. And let's face it—he hasn't shown himself to be up-to-snuff as far as being NFL starting QB material, with less than 55% completions, with 4 TDs and 6 interceptions in his limited time in this role. He can move nicely with his legs and has some upside perhaps, but they're certainly not better with him behind center.
Read: Kansas City Chiefs vs Denver Broncos Pick
Still, let's not get unrealistically down on the Niners and simply assume they'll revert to their first-half form of the 2017 season. Some things have turned upward for them, namely some weapons on offense and a developing youth-movement on the other side of the ball. With Matt Breida (questionable) becoming a nice weapon, along with TE George Kittle, and WR Marquise Goodwin, Beathard has some more firepower at his disposal than this time last season. On defense, Solomon Thomas, Rueben Foster, and some other youngsters are coming along nicely. It's just that Garoppolo isn't the only one hurting, with Breida, S Jaquisti Tartt, Jimmie Ward, Richard Sherman, and others out or questionable for this. They lost McKinnon in the preseason and injuries have threatened to derail their entire season.
San Fran Adrenaline Dump
Emotion figures into this game. One has to get into the SF mindset to really understand where they are heading into week four of a still-young season. After being 0-9 last season, they got wind in their sails with the arrival of Garoppolo. It gave them hope entering this season. But with one win and no covers, they found it was going to be harder than some thought. And then Garoppolo goes down and you wonder where that is going to spit out the Niners, as they head into a road game against a team that's going to be looking for a win in a big way.
Lay the Points on the Home Favorite
We hate making the obvious move. Morale on SF is so low now. The knee-jerk move is to bet against them, but I think it's the right move. Just the prospect that we'll see a San Francisco team that resembles last season's unit before they went on a spurt is alarming. I think the Chargers are better than they've been showing results-wise and ATS. And while they often leave something to be desired in this role, I see the Bolts sticking it to the Niners on Sunday.
Loot's Pick to Cover the Point Spread: I'm betting on the Los Angeles Chargers minus 10 points.
<h4 class="widgettitle">NFL Picks</h4><!-- [et_pb_line_break_holder] -->
<div style="width:340px; margin: 0 auto;"><!-- [et_pb_line_break_holder] --> <a class="twitter-timeline" data-width="340" data-height="500" data-link-color="#008156" href="https://twitter.com/PredictemPicks?ref_src=twsrc%5Etfw">Tweets by PredictemPicks</a> <script async src="https://platform.twitter.com/widgets.js" charset="utf-8"></script><!-- [et_pb_line_break_holder] --></div>