San Francisco 49ers vs. Los Angeles Rams Odds, Angles, Predictions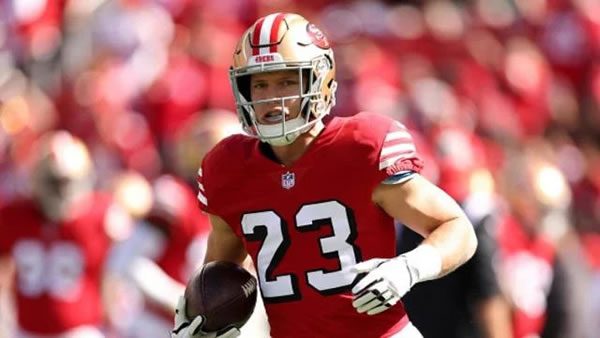 San Francisco 49ers (3-4 SU, 3-4 ATS) vs. Los Angeles Rams (3-3 SU, 2-4 ATS)
Week 8 NFL
Date/Time: Sunday, October 30, 2022 at 4:25PM EDT
Where: Sofi Stadium, Inglewood, California
TV: Fox
Point Spread: SF -1.5/LAR +1.5 (BetNow)
Over/Under Total: 43.5
The San Francisco 49ers battle the Los Angeles Rams at SoFi Stadium on Sunday afternoon in NFC West action in week eight. Both teams can really use a win in this spot, with the division falling into a knotted-up state of parity. The Rams are coming off the bye week, following a 24-10 win over Carolina that got them back to .500. They now face Christian McCaffrey in consecutive games, as he is now part of a Niners squad that lost their second in a row on Sunday in a 44-23 loss to the chiefs. Needing a win, can they give the Rams a run for their money? Or have the Rams gotten it together? Let's break this one down.
Takeaways from Week Four
The 49ers beat the Rams at home a little under a month ago, 24-9. We've seen these divisional teams alternate home/away wins in a season before, so maybe that's not revealing. Also, it's not like they caught a Rams team that was in good form that week, so relying on that might prove to be shaky. Still, the Niners keeping the Rams out of the end zone for the balance of the game was notable. The Rams had a few turnovers, and even though Matthew Stafford connected well with Cooper Kupp and Tyler Higbee, it never amounted to much. Meanwhile, Jimmy Garoppolo was his normal non-flashy efficient self, connecting well with Deebo Samuel (questionable) and getting a late pick-six from the "D" to put that win in the bag. The score maybe made it look worse on the Rams than it really was, especially with an LA defense that played very well.
Fargo's NFL Thursday Star Attraction (28-15)
Will McCaffrey Make a Difference?
Following a pretty good showing from Jeff Wilson, Jr. against this Rams bunch in the first game and some of the erratic defensive showings we've seen from the Rams so far this season, how much will the McCaffrey factor resonate? He looked pretty good in more of a cameo performance last week, but does he give this offense a real boost? Is this where we see him take the 49ers up a notch on the ground and through the air? Or does the production just get spread out more now? On the surface, you'd think it could work with a good back in there, one who is presumably fresh and healthy—at least for now. They have a tight end in George Kittle, who can still make an impact and came alive last week. Throw in good receivers like Deebo and Brandon Aiyuk, and it's not hard to see it working better moving forward—even with a QB they were trying to get rid of in Garoppolo. Let's also keep in mind, though, that the Rams can make life hard on a featured back, though you have to think the aerial nature of McCaffrey's profile will eventually open things up for the rest of the SF pass-catchers.
More Picks: Get Ted's Sunday night's Packers at Bills game 10/30/22 >>>
Will the Rams Find Answers
While the Rams might end up becoming one of those Super Bowl champions where the hangover is real, and the recipe just goes sour, it might be premature to cast them aside. First off, 3-3 is hardly the end of the world, especially in this season's NFC West. The cause for alarm is certainly justified, with Stafford looking a bit off, along with an offensive route to success that is sometimes narrowed down to just Cooper Kupp. Seeing Allen Robinson get a TD in their last game and the impending return of Van Jefferson should aid an offense that can't really run the ball. Their strength in their title run was the variety of their aerial attack. And while Kupp is doing his thing, along with Higbee, not getting reliable contributions from others has hurt. And not that they were great on the ground last season, but seeing their run game not even be an X-factor anymore has really made this offense one-dimensional and a bit flat.
Still, with the potential that they're getting better aerially, in addition to the presence of a defense that hasn't done bad despite being hung out to dry, the Rams might not be far off. Allowing a combined 61 points in their last four games, the Rams' defense is still a factor. And even though they came up short in game one against the 49ers, the Rams' defense still was controlling this SF offense for most of the game. Now rested and at home, maybe they can kick it up a notch. It's a defense that can still turn the screws on Garoppolo while putting a hurt on the run game. All they need is some help on offense, and while this seems like a bad matchup in terms of igniting a suffering offense, one shouldn't rule out the possibility that it snaps back into shape at some point.
Take the Small Home Dogs
While I can see the rationale, laying points on the Niners on the road against a Rams team coming off the bye seems a little on the optimistic side. Granted, McCaffrey gives their offense a theoretical boost. However, it seems the spread is making an allowance for that when in fact, the Niners' offense didn't really thrive at home against this same Rams' team that might have been in worse form than you could expect with them now being at home and rested. While this has the sneaking vibe of being almost a betting test to see if you're late reading the writing on the wall with the decay of the Rams and the imminent surge of the Niners, I'm going to go with the Rams getting a little this week.
Loot's Prediction to Cover the Point Spread: I'm betting on the Los Angeles Rams plus 1.5 points.
Get $60 of FREE member picks & predictions
(NO commitments. NO Credit Card. NO Salesman.)