San Francisco 49ers vs. New York Jets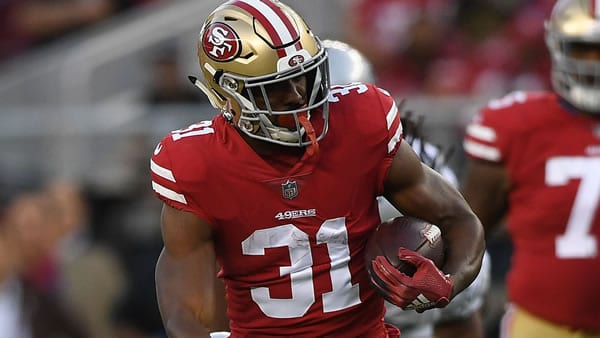 San Francisco 49ers (0-1 SU, 0-1 ATS) vs. New York Jets (0-1 SU, 0-1 ATS)
Week 2 NFL
Date/Time: Sunday, September 20, 2020 at 1PM EDT
Where: MetLife Stadium, East Rutherford, New Jersey
TV: Fox
Point Spread: SF -7/NYJ +7 (Find Best Sportsbooks )
Over/Under Total: 42.5
The San Francisco 49ers come into MetLife Stadium for a Sunday afternoon showdown with the New York Jets. Neither team was able to get off to a fast start. San Francisco, the defending conference champions, took a loss at home to the upstart Cardinals, when a big Arizona fourth quarter spoiled the Niners' opener. They look to avoid an 0-2 start, and their prospects look rosy against a Jets' team that really looked rough in a 27-17 loss to Buffalo on Sunday that wasn't even as close as the score indicated. Who can register their first win of the season and cover the spread in East Rutherford?
First Impressions
For the Jets, it wasn't a good look. A lot of the same problems persist. Sam Darnold is struggling to make it work behind this offensive line and with a lack of real premier weaponry. Whether it's him specifically or the stuff he has around him; success has proven to be elusive. The addition of Le'Veon Bell might never come through, as he's a shadow of the monster we saw in Pittsburgh. That leaves guys like Frank Gore, Jamison Crowder, Breshad Perriman, and Chris Herndon—not exactly an electric cast at this level.
The Jets' defense was pretty decent up-front on Sunday, applying pressure on Josh Allen and not letting the strong Bills' run-game get untracked, though Allen peeled off some nice runs. But a retooled secondary looked pretty bad, with Allen going for 312 yards. Still, after a rough first half, the "D" stood up and allowed just 6 points for the rest of the game, though the result was never really in doubt. But two FGs of production allowed in the second half wasn't too bad for this defense last week.
It's hard to tell if Sunday's loss to the Cardinals was more a case of Frisco being a little flat to open the season or if the Cardinals are maybe on their way up quickly. Truth be told, the Cardinals looked pretty good. But the San Francisco defense wilting late was a big part of that equation. A defense that is really loaded to the gills just couldn't get the key stops late. For the purposes of this game, it would have been better for the Jets if the 49ers just went ahead and won in week one, as the defending NFC champs should be urgently looking to avoid an 0-2 start.
After all, the 49ers have mostly the same stuff they had last season when they went to the Super Bowl. The offense is loaded with talent, both on the ground and through the air. Getting Jerick McKinnon into the fold after two years of injuries was nice, and he gives them another versatile option to go with Raheem Mostert and Tevin Coleman. If anything, losing Emmanuel Sanders leaves them a little thin at receiver, where they depend largely on backs and TE George Kittle. They just don't really have any game-changing receivers on the field right now—quite odd for a contender. Still, Jimmy Garoppolo has a lot to work with, bolstered by one of the best offensive lines on football.
How the Jets Match Up
On offense, not so well. The Jets don't have a ton of weapons, which is only magnified against a defense that is complete in all phases. They may have collapsed in week one, but the Jets lack any of the dynamic play that Kyler Murray and the Cardinals are capable of. The Jets' O-line can't be expected to hold up against Nick Bosa, Arik Armstead, and Solomon Thomas. And with the vast playmaking potential of that back-seven of Frisco's defense, Darnold will need to take a lot better care of the ball. This is a defense that can really strangle you, especially if you're undermining yourself in the process.
The variety of the San Fran offense could potentially have the Jets' defense in knots. It's a big part of the 49ers' strength on offense. They can get you in so many different ways with a bevy of backs who are also gifted ball-catchers, one of the best tight ends in the biz, and a QB who is a proven winner. Some injuries on offense have robbed them of some of their fire, but not all of it. Now coming off a loss, the Jets have to contain an irritated group. They lost their best piece on defense in Jamal Adams in the offseason, and they simply don't have the horses to contain all the things San Francisco does well.
Sunlight for the Jets?
While San Francisco's loss in week one can be cited as cause to forecast a more-urgent 49ers' team this week, how sure are we that this is the same team? They caught fire last season, but there is something that makes one a little dubious of their chances this season, like maybe that formula for success is a delicate one, and judging from week one, it didn't really look the same as it did last season, especially as San Fran started the season 8-0. The Jets are at home, and maybe Darnold can spray the ball around a little and keep the Jets in this thing. Taking a week one result too much to heart can send you on the wrong path, but it's not crazy if the 49ers' flat performance in week one is used as ammo for a Jets' backer. Maybe they're not the same team. I just don't see that surfacing this week, and if the 49ers are, in fact, a dilapidated squad, that's something that will materialize down the line.
Lay the Number on the Road Favorite
San Francisco being without Deebo Samuel and their first-round receiver draft pick Brandon Aiyuk has left them a bit deflated aerially, and it showed against Arizona. Injuries could hurt if they continue, but I'm inclined to look at week one as more an aberration that came against what really is a rising team in Arizona. The Jets are bad. And that doesn't mean they can't be dangerous at home, especially from just an ATS standpoint. But I see the 49ers showing up in an urgent state-of-mind and laying a conclusive enough beating on the Jets to cover the spread and get in the win-column.
Loot's Prediction to Cover the Point Spread: I'm betting on the San Francisco 49ers minus 7 points.