Seattle Seahawks vs. Arizona Cardinals Betting Odds, Insight, Free Pick ATS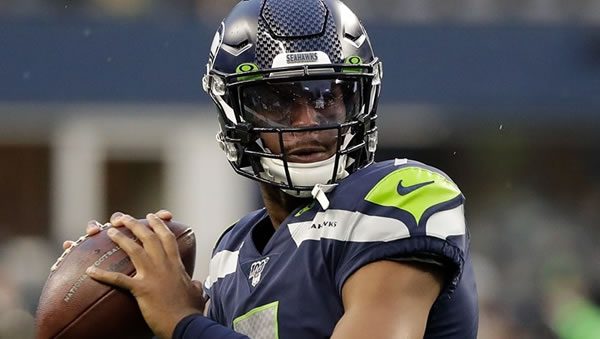 Seattle Seahawks (5-3 SU, 5-3 ATS) vs. Arizona Cardinals (3-5 SU, 4-4 ATS)
Week 9 NFL
Date/Time: Sunday, November 6, 2022 at 4:05PM EDT
Where: State Farm Stadium, Glendale, Arizona
TV: Fox
Point Spread: SEA +2/ARI -2 (BetNow – They'll give you a 100% real cash bonus up to $500 if you use bonus code PREDICTEM)
Over/Under Total: 50.5
The Seattle Seahawks battle the Arizona Cardinals in a key NFC West showdown from State Farm Stadium on Sunday. A 27-23 win over the Giants on Sunday gave the Seahawks another good win, sending them to 5-3 and making them an unlikely division-leader as we approach the midway point of the season. The Cardinals are still within reach, even after a disappointing 3-5 start to the season that includes a 34-26 loss to the Vikings this past Sunday. They return home and should be pumped up to score a win that would lend a lot of credibility to their sagging season. Who can get us the cover in Glendale on Sunday?
A Brief Look Back
When a divisional series unfolds within a few week period, those games can serve as a sort of road map, whereas it wouldn't really apply if the games are 14 weeks apart. An October 16 win in Seattle for the Seahawks by a 19-9 score was so recent that you can't help but look at it. Despite 200+ yards aerially and another 100+ on the ground, Kyler Murray could not generate points with this offense, with a FG and a fumble recovery in the end zone their only scoring on the day. The Seahawks weren't exactly on fire, relying on a slew of Jason Myers field goals and a late TD from RB Kenneth Walker, Jr. Key on the day were six Seattle sacks, while the Cardinals had five in a game more controlled by defense. This one is in Arizona, which should help the Cardinals, as will having a few guys they didn't have a few weeks ago in RB James Conner and WR DeAndre Hopkins.
Different Arizona Offense?
It might not seem right to tout an offense following a loss, but since Hopkins came back, there has been more life on this side of the ball. With a combined 68 points in their last two games, we've seen a drastic turnaround from an Arizona offense that was stuck in mud for much of the opening 6 games of the season. With 326 yards and three TD throws on Sunday, we see Murray getting more out of this unit, even starting to run the ball more like he did in his earlier years in Arizona. The return of Hopkins gives them more than just a genuine number-one target, as his presence seems to have an overlaying effect on the whole offense.
The Flip Side of the Coin
After giving up 34 points in consecutive games, one wonders if the Arizona "D" will undermine the progress seen on the other side of the ball. This side of the ball has taken a pronounced step back this season and through 8 weeks, only two defenses in the league have allowed more points. They aren't able to generate much pass-rush, while flashing minimal big-play potential. Easily exploitable against the opposing aerial attack, some occasional rigidity against the run is the only asset they appear to have. While they were able to generally curtail a home Seattle offense a few weeks ago, even with their offense hanging them out to dry, they could still be in trouble with a more in-tune Seattle offense this week.
More Picks: Get Jay's Seattle at Arizona Week 9 betting analysis and free O/U play >>>
Can Seattle Offense Deliver?
Strangely, the only time this Seahawks offense hasn't shined in recent weeks was at home against this Arizona defense. That's the way this season has gone, where things sometimes don't make a ton of sense. One could say there's just something that allows this Cardinals' defense to match up well against this Seattle offense. Walker has really filled in nicely at running back and Seattle looks forward to another good game from him this week. With their aerial targets now healthy with Tyler Lockett and DK Metcalf, Geno Smith can sling the ball around, also working with a sneaky cast of secondary targets who can step up and deliver on a given week.
A lot of people seem to believe there's a smoke-and-mirrors aspect to this Seattle squad. It had been a while since we saw Geno Smith, much less seeing him do anything good. He has been able to mask some inadequacies with the offensive line, using his legs well, and really making it work the first half of the season. You see a Seattle "D" that struggles to stop the run, with a secondary that isn't much better and it's easy to go against them when looking at all this. But it's important to note when teams are coming up with that special unseen formula that allows them to shine despite some damning details and numbers that don't seem to shake out in their favor. When looking at Seattle, the situation almost calls for a different type of analysis. A conventional approach could certainly lead you astray.
Lay the Short Number on the Home Favorite
Playing the "it's due" angle can be hazardous, especially in this season's NFL. I just can't shake this sneaking suspicion that the Arizona offense is poised to explode a little bit. It hasn't really happened with any level of reliability through nearly half a season, and for it to happen against a team where they only managed a FG's worth of offensive scoring last time would seem dicey on the surface. But between the quick rise of Hopkins in this offense upon his return and the possibility of a returning James Conner, I sense the Arizona offense can gain the type of variety and horsepower that might be a tough matchup for a Seattle "D" that could revert to poor form on a dime. I like Arizona this week.
Loot's Prediction to Cover the Point Spread: I'm betting on the Arizona Cardinals minus 2 points. Did you know that you can get a FREE half point every time you bet your favorite team AND receive a 125% real cash bonus up to $400 simply by using bonus code PREDICTEM at GTBets Sportsbook? They have a sweet rewards program too!
10* CONF CHAMP TOTAL - 7-3 (70%) NFL PLAYOFFS
AAA Sports has hit BOTH their Wildcard Round and Divisional Round TOTAL OF THE YEAR, meaning you simply CAN NOT afford to miss out on their CONFERENCE CHAMPIONSHIP TOTALS WINNER! Now an ABSOLUTELY ELECTRIC 7-3 (70%) in the NFL Playoffs, this is TRULY the BIG PLAY that you've been waiting to just UNLOAD on!