[et_pb_dcsbcm_divi_breadcrumbs_module hide_homebreadcrumb="off" homebreadcrumbtext="Home" separator="sep-raquo" hide_currentbreadcrumb="off" homebreadcrumborientation="left" _builder_version="3.8″ fontsbreadcrumbs_font="Lato||||||||" fontsbreadcrumbs_text_color="#000000″ fontsbreadcrumbs_font_size="15px" fontsbreadcrumbs_line_height="16px" fontsseperator_font="||||||||" fontsbreadcrumblinks_font="||||||||" fontsbreadcrumblinks_text_color="#2567cf" custom_margin="25px|||" custom_margin_phone="30px|||" custom_margin_last_edited="off|desktop" custom_css_main_element="font-family: Helvetica Regular;" global_module="3641″ saved_tabs="all" /]
Seattle Seahawks vs Denver Broncos Pick – Week 1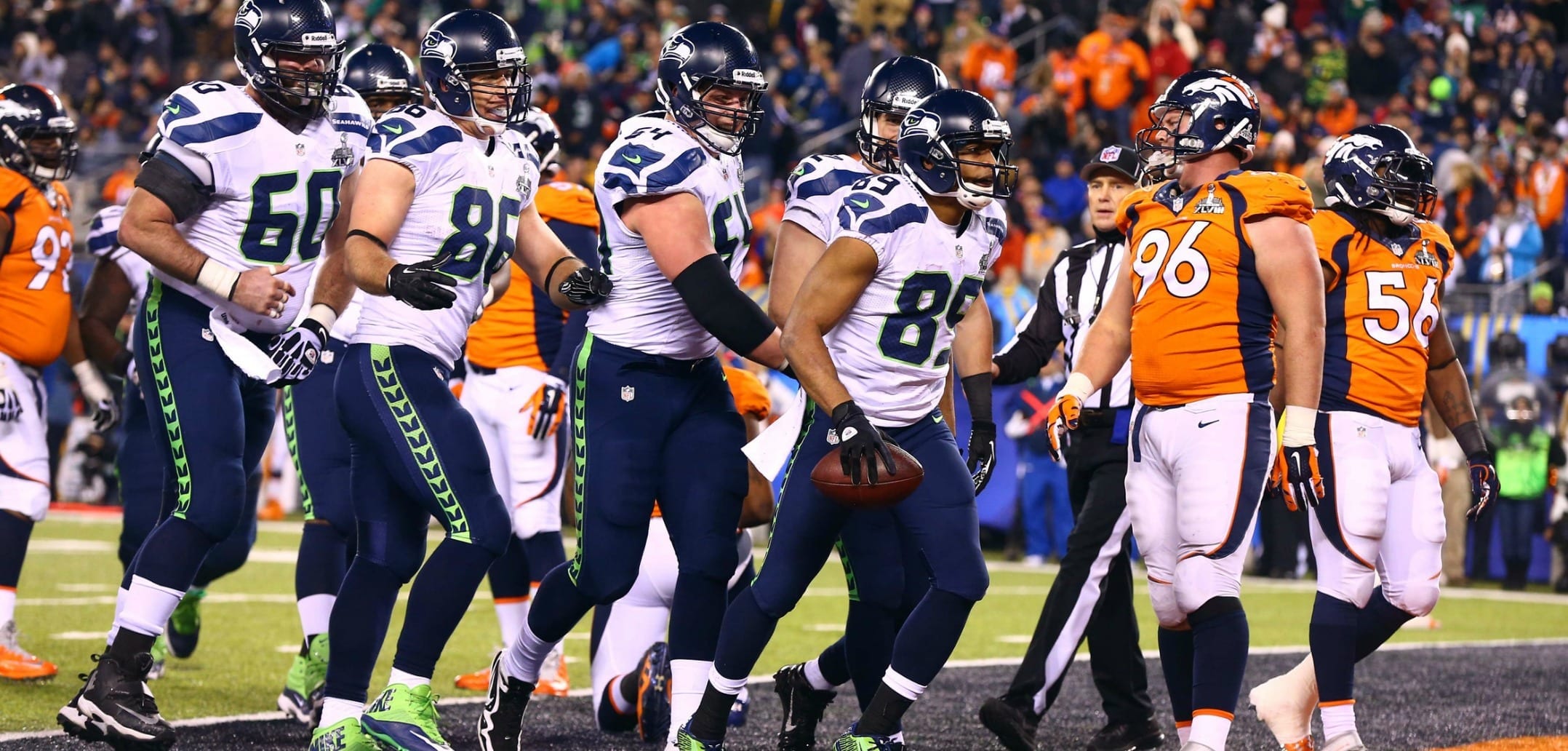 NFL Week 1
Date/Time: Sunday, September 9, 2018 at 4:25PM EDT
Where: Broncos Stadium at Mile High, Denver, Colorado
TV: Fox
by Loot Levinson, Expert Football Handicapper, Predictem.com
Point Spread: SEA +3/DEN -3 (5Dimes)
Over/Under Total: 42
The Seattle Seahawks come to Mile High on Sunday to take on the Denver Broncos in week 1 action. It wasn't long ago these two teams sat atop their respective conferences, with the general consensus being that each franchise is squarely on the down-cycle. In Super Bowl XLVIII, Seattle notched their lone title at the expense of a hapless Denver bunch, 43-8. Other than being former division rivals, that would be the only real connection between these teams and even that is dicey at this point.
The common read on Seattle is that they had a nice run, it was fun, and it's a wrap. Sure, there's the outside chance that new stars could manifest and that there's somehow enough of a core to hang in there. In a season where not a lot went right, they still won 9 games in '17. But this year even Predictem caps them at losing more games in 2018. The Broncos, however, fell to an unmemorable 5-11 last year in Vance Joseph's first season at the helm. And that was after a 9-7 season where you could sense their gravy-era was waning—similar to Seattle's current predicament. Will this play out according to the general consensus read or will one or both teams break character this season?
Is it All So Bad?
These are teams you would tend to not rate highly, while still reserving full-judgment. Seattle has proven to be winners and maybe they can stumble upon the right formula. That also goes for Denver, who can maybe get on the right track ahead of schedule. Out of the last ten teams to make the Super Bowl, four of them were one of these teams, including two champions. The track record for winning is there.
Redskins vs Cardinals Week 1 Breakdown
One can understand the lukewarm reception of Denver going with Case Keenum as the main man behind center. A lot of those types of moves, namely when a longtime backup/spot-starter shines in one season and get a big deal, don't work out that well. Keenum's success with the Vikes last season may have been more a systemic marvel than an ironclad indication that he suddenly morphed into an upper-tier starter in this league. That doesn't mean he's not a significant upgrade over whoever they had in there last season and a lot smarter people than me work in the Denver front-office, so maybe Keenum turns out to be a real gem. The Broncos may have also lucked out in the draft, with some nice backs including Royce Freeman. TE Jake Butt comes back from injury, and rookie fifth overall pick LB Bradley Chubb joins a still-respectable defense.
The Seahawks have been hollowed out by the inevitable affects of age and departing players.  Sure, maybe the message has grown stale or their delicate overall formula for success isn't built for the long-haul. Whatever the case, Russell Wilson is still the real deal, having led the league in TD strikes last season. The receiving crew isn't bad, with Doug Baldwin having developed into a solid number-one, with Tyler Lockett (questionable), and newly-added Brandon Marshall. Maybe they can finally re-establish a solid running game between Chris Carson and rookie first-rounder Rashaad Penny.
Teams Looking for an Identity
Seattle is looking for the right balance on offense, while tinkering with a lot of new pieces on defense. It's not just that they lost so many pieces over the years, but even some of their remaining menace on "D" is out, with KJ Wright out indefinitely and Earl Thomas still in the midst of a holdout. All of a sudden, it's the Griffin twins, Bobby Wagner, Frank Clark, a possibly rejuvenated Dion Jordan, and nothing left from the Legion of Doom. The defense was key to Carroll's magic touch and unless some pieces slide in easier than anticipated, they might be more in the mode of having to beat teams in track meets.
Denver needs a lot to go right for their offense to be a major factor this season. Preseason is nice, but they're counting on a lot of lower-end running back draft picks and guys who haven't panned out yet to lead that part of their offense. And the duo of Demaryius Thomas and Emmanuel Sanders certainly isn't getting any better, unless they've just been waiting for the right QB to arrive. They are going to rely a lot on a defense that has a lot of the right pieces in place, but will need to be close to their ceiling this season.
Lay the Points on the Home Favorite
Denver has the look of a competent team coming out of the gate. With Seattle, especially on defense, but on offense too, we don't know at all. The recipe on "D" could surprise and a newfound spurt on the ground on offense gives even more credence to a growing aerial attack. The most bankable part of this whole equation just might be the Broncos' defense. Keenum will peck away on a Seattle defense that looks a little different than it recently did. The altitude factor, a played-out sample at this point, could have some early-season mojo. Whatever the case, I like the Broncos to get the home-win in week one.
Loot's Pick: I'm betting on the Denver Broncos -3.
<div class="widget105"><!-- [et_pb_line_break_holder] --><h4 class="parlays">Best Parlays</h4><!-- [et_pb_line_break_holder] --><!-- [et_pb_line_break_holder] --><table id="parlay"><!-- [et_pb_line_break_holder] --> <tr><!-- [et_pb_line_break_holder] --> <th><span class="team"></span></th><!-- [et_pb_line_break_holder] --> <th>2 Team Parlay</th><!-- [et_pb_line_break_holder] --> <th>3 Team Parlay</th><!-- [et_pb_line_break_holder] --> <th>4 Team Parlay</th><!-- [et_pb_line_break_holder] --> </tr><!-- [et_pb_line_break_holder] --> <tr><!-- [et_pb_line_break_holder] --> <td><a href="https://affiliates.sportbet.com/tracking/Affiliate.aspx?idBook=2&mediaTypeID=220&AffUrlID=80&LandingPageID=55"><img src="https://www.predictem.com/wp-content/uploads/2018/06/sportbet-sm.png"></a></td><!-- [et_pb_line_break_holder] --> <td>2.74 to 1</td><!-- [et_pb_line_break_holder] --> <td>6.24 to 1</td><!-- [et_pb_line_break_holder] --> <td>13 to 1</td><!-- [et_pb_line_break_holder] --> </tr><!-- [et_pb_line_break_holder] --> <tr><!-- [et_pb_line_break_holder] --> <td><a href="https://record.bettingpartners.com/_5vfuDOH_H2wWPf2JTsWUjGNd7ZgqdRLk/1/"><img src="https://www.predictem.com/wp-content/uploads/2018/06/bovada_sm.png"></a></td><!-- [et_pb_line_break_holder] --> <td>2.64 to 1</td><!-- [et_pb_line_break_holder] --> <td>6 to 1</td><!-- [et_pb_line_break_holder] --> <td>12.3 to 1</td><!-- [et_pb_line_break_holder] --> </tr><!-- [et_pb_line_break_holder] --> <tr><!-- [et_pb_line_break_holder] --> <td><a href="https://record.webpartners.co/_jGZUKO3JWgwmunhzcKAZ62Nd7ZgqdRLk/1/"><img src="https://www.predictem.com/wp-content/uploads/2018/06/mybookie-sm.png"></a></td><!-- [et_pb_line_break_holder] --> <td>2.64 to 1</td><!-- [et_pb_line_break_holder] --> <td>6 to 1</td><!-- [et_pb_line_break_holder] --> <td>12 to 1</td><!-- [et_pb_line_break_holder] --> </tr><!-- [et_pb_line_break_holder] --></table><!-- [et_pb_line_break_holder] --><div class="widget-footer"><a href="https://www.predictem.com/best-sportsbooks/parlays-odds/">See all Sportsbook Parlays</a></div><!-- [et_pb_line_break_holder] --></div><!-- [et_pb_line_break_holder] --><!-- [et_pb_line_break_holder] --><!-- [et_pb_line_break_holder] --><style><!-- [et_pb_line_break_holder] --> #parlay {border-collapse: collapse;<!-- [et_pb_line_break_holder] --> width: 100%; border: 0px;<!-- [et_pb_line_break_holder] --> font-size: 14px!important;}<!-- [et_pb_line_break_holder] --> #parlay td, #parlay th {<!-- [et_pb_line_break_holder] --> border: 0px;<!-- [et_pb_line_break_holder] --> padding: 8px;<!-- [et_pb_line_break_holder] --> text-align: left;}<!-- [et_pb_line_break_holder] --> #parlay th {<!-- [et_pb_line_break_holder] --> padding-top: 5px;<!-- [et_pb_line_break_holder] --> padding-bottom: 5px;<!-- [et_pb_line_break_holder] --> font-weight: bold;<!-- [et_pb_line_break_holder] --> line-height: 14px;<!-- [et_pb_line_break_holder] --> text-align: center;<!-- [et_pb_line_break_holder] --> color: #000;}<!-- [et_pb_line_break_holder] --> #parlay tr {border-bottom: 1px solid #edeef0;}<!-- [et_pb_line_break_holder] --> .team {font-size: 16px;}<!-- [et_pb_line_break_holder] --></style>
<!-- [et_pb_line_break_holder] --><aside><div class="new-cta"><!-- [et_pb_line_break_holder] --> <img src="https://www.predictem.com/wp-content/uploads/2018/06/5Dimes-logo.png" alt="5Dimes" /><!-- [et_pb_line_break_holder] --> <p style="margin-top: 5px; font-size: 22px; line-height: 30px;"><!-- [et_pb_line_break_holder] --> -105 Reduce Pricing<!-- [et_pb_line_break_holder] --> </p><!-- [et_pb_line_break_holder] --> <hr class="cta-divider"><!-- [et_pb_line_break_holder] --> <p style="padding-bottom: 20px; font-size: 15px; line-height: 20px"><!-- [et_pb_line_break_holder] --> Pay less per bet & <br>get largest betting menu<!-- [et_pb_line_break_holder] --> </p><!-- [et_pb_line_break_holder] --> <a href="https://www.predictem.com/betting-sites/5dimes/"><button class="btn-widget-cta"><!-- [et_pb_line_break_holder] --> See Review<!-- [et_pb_line_break_holder] --> </button></a><!-- [et_pb_line_break_holder] --> </div></aside>
<div class="new-cta"><!-- [et_pb_line_break_holder] --> <img src="https://www.predictem.com/wp-content/uploads/2018/06/youwager-sm.jpg" alt="Youwager" /><!-- [et_pb_line_break_holder] --> <p style="margin-top: 5px; font-size: 22px; line-height: 30px;"><!-- [et_pb_line_break_holder] --> Create Your Own Prop Bets<!-- [et_pb_line_break_holder] --> </p><!-- [et_pb_line_break_holder] --> <hr class="cta-divider"><!-- [et_pb_line_break_holder] --> <p style="padding-bottom: 20px; font-size: 15px; line-height: 20px"><!-- [et_pb_line_break_holder] --> 100% Free Play Offer<br>Create Your Own Wagers<!-- [et_pb_line_break_holder] --> </p><!-- [et_pb_line_break_holder] --> <a href="https://www.predictem.com/betting-sites/youwager/"><button class="btn-widget-cta"><!-- [et_pb_line_break_holder] --> See Review<!-- [et_pb_line_break_holder] --> </button><!-- [et_pb_line_break_holder] --> </div></a>
<div class="new-cta"><!-- [et_pb_line_break_holder] --> <img src="https://www.predictem.com/wp-content/uploads/2018/04/bovada.png" alt="Bovada" /><!-- [et_pb_line_break_holder] --> <p style="margin-top: 5px; font-size: 22px; line-height: 30px;"><!-- [et_pb_line_break_holder] --> 50% Cash Bonus<!-- [et_pb_line_break_holder] --> </p><!-- [et_pb_line_break_holder] --> <hr class="cta-divider"><!-- [et_pb_line_break_holder] --> <p style="padding-bottom: 20px; font-size: 15px; line-height: 20px"><!-- [et_pb_line_break_holder] --> Friendliest Sportsbook &<br> Best Betting Software<!-- [et_pb_line_break_holder] --> </p><!-- [et_pb_line_break_holder] --> <a href="https://www.predictem.com/betting-sites/bovada/"><button class="btn-widget-cta"><!-- [et_pb_line_break_holder] --> See Review<!-- [et_pb_line_break_holder] --> </button></a><!-- [et_pb_line_break_holder] --></div>