SNF Pick: Rams vs. 49ers 10/18/20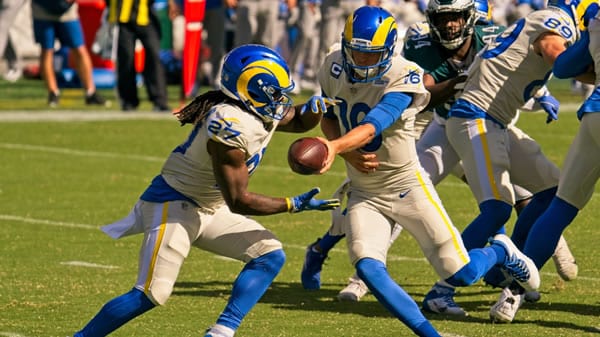 Los Angeles Rams (4-1 SU, 3-2 ATS) vs. San Francisco 49ers (2-3 SU, 2-3 ATS)
Week 6 NFL
Date/Time: Sunday Night Football, October 18, 2020 at 8:20PM EDT
Where: Levi's Stadium, Santa Clara, California
TV: NBC
Point Spread: LAR -3.5/SF +3.5 (BAS - 5Dimes is gone but you can still bet on games at -105 here! Same exact betting platform/wagering menu!) 
Over/Under Total: 50.5
The Los Angeles Rams come up north for an NFC West showdown with the San Francisco 49ers on Sunday Night Football. The Rams have seen a surge this season, suffering only one setback in 5 games, as they come off a nice 30-10 road-win over Washington on Sunday. San Francisco, meanwhile, dropped their second in a row on Sunday, and this one was the most alarming, as they were battered 43-17 at home by the Miami Dolphins of all teams. At 2-3, the defending conference champions, decimated by injuries, really need a positive development. Who can cover the spread at Levi's Stadium on Sunday Night Football?
San Fran in Trouble
They're playing a team they beat twice last year while looking nothing like the team we saw last season. We are looking at a time of the season where the Niners were supposed to be putting together wins, recipients of a stunningly-easy schedule. But it hasn't gone that way, upset at home by the Cardinals to open the season, wins over the lowly Jets and Giants, before getting beaten at home by a previously-winless Philly team and then the beating to the Dolphins at home last week. With this being their third straight game at home and with some difficult road spots coming up, it's imperative they get back to the .500 mark this week.
But in the end, you need the horses. When you have 6-7 starters on defense out of action, it's hard to make it work. They were keeping it together pretty well until last week, likely the result of playing some struggling offenses to start the season. Against Miami, it really started to show, and it wasn't pretty. Looking at the injury report, it becomes clear what the problem is, with most of their big-name players on this side of the ball out of action, with a lot more being questionable for this game.
The Niners' offense looks like it's getting some of its main pieces back in the rotation. When we look on the field, we see a lot of players coming back after injuries, and as of now, they have George Kittle, Deebo Samuel, Raheem Mostert, Jerick McKinnon, and budding rookie receiver Brandon Aiyuk. And last week, with the return of Garoppolo, one could think that maybe this is where they start getting it together. But Garoppolo was pulled after one half looking rickety and under siege. And we know what backups CJ Beathard and Nick Mullens can do and what they can't do. With Garoppolo taking a long time to reclaim his form after a high ankle sprain, combined with an offensive line that has taken a pronounced step back, we're seeing a very different-looking unit from last season.
Why the Rams Could be Tough in this Spot
First of all, while it is a road game, there will be no crowd to really worry about, and the Rams are accustomed to this venue as divisional rivals. They're also in a much better spot mentally, seeing things they've tried start to re-manifest after a down 2019 season. Their only loss was a narrow loss to Buffalo in a game where they erased a 25-point deficit, with Buffalo nipping it at the wire. After watching how hard SF was struggling against Ryan Fitzpatrick and the 'Fins, one bristles a bit at the thought of a surgical Jared Goff and his weapons picking apart this 49ers' "D."
We're starting to see some of the things we saw in 2018 from this Rams' offense. We're seeing a run-game add balance, and even with Gurley gone, they can make it work with Malcolm Brown, Darrell Henderson, Jr., and Cam Akers. Goff works behind a good offensive line, which gives him time to connect with a great 1-2 receiver duo in Cooper Kupp and Robert Woods, along with his backs, TE Tyler Higbee, WR Josh Reynolds, TE Gerald Everett, and WR Van Jefferson. And when they get clicking, it's really a scary thing for opposing defenses, particularly ones that are missing a lot of key guys.
And it doesn't get rosier for the Niners when we look at the other side of the ball. Coming off a pass-rushing extravaganza against Washington where Aaron Donald had four sacks, and Troy Reeder added three of his own, that doesn't portend great things for a beleaguered SF offensive line, with iffy QB play taking place. Only two teams have allowed fewer points this season than the Rams. And with their secondary making plays and allowing very little, it's just another bad matchup component for the Niners.
Intangibles
Sometimes, in this league, things aren't as stark as the images suggest. We see a surging Rams team on a nice roll, doing a lot of the things that got them to the Super Bowl a few years ago. On the other sideline, we see a slip-sliding 49ers' team, ravaged by injuries and starting to plummet. Still, Garoppolo could shake it off and get back in there and play well. We could start to see the heart of a champion surface, and you can never rule out the element of urgency in this situation. The Niners really need this, as dropping three straight at home in consecutive weeks would really put them in a bad spot, with the Rams and Seahawks already far out in front.
Lay the Points
I don't rule out the possibility that the Niners can respond to urgency a little bit and see some things go better for them in this game. It's just hard not to favor the more-intact team. The Rams look good, and the 49ers don't. Often, we get caught up in analysis that can take us away from some of the more obvious pieces of evidence. And after getting blown out at home by Miami, I'm not sure what can happen in a week to flip this script so dramatically. Though I smell hints of a rat, I'm going to not over-question myself and take the Rams in this one.
Loot's Prediction to Cover the Point Spread: I'm betting on the Los Angeles Rams minus 3.5 points. Bet your Week 6 NFL picks FREE by cashing in on a 50% real cash bonus on your first deposit of $100 to $500 at Bovada Sportsbook!