[et_pb_dcsbcm_divi_breadcrumbs_module hide_homebreadcrumb="off" homebreadcrumbtext="Home" separator="sep-raquo" hide_currentbreadcrumb="off" homebreadcrumborientation="left" _builder_version="3.8″ fontsbreadcrumbs_font="Lato||||||||" fontsbreadcrumbs_text_color="#000000″ fontsbreadcrumbs_font_size="15px" fontsbreadcrumbs_line_height="16px" fontsseperator_font="||||||||" fontsbreadcrumblinks_font="||||||||" fontsbreadcrumblinks_text_color="#2567cf" custom_margin="25px|||" custom_margin_phone="30px|||" custom_margin_last_edited="off|desktop" custom_css_main_element="font-family: Helvetica Regular;" disabled="on" global_module="3641″ saved_tabs="all"][/et_pb_dcsbcm_divi_breadcrumbs_module]
Sportsbooks Release Super Bowl 54 Odds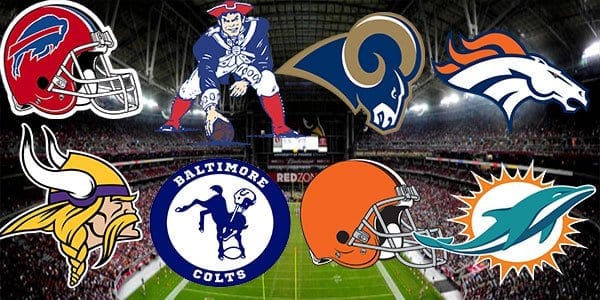 Talk about wasting no time—the smoke hasn't even cleared from the Super Bowl and already we're looking toward Super Bowl LIV? Well, it's never too early. And for those who are disciplined enough, now is a great time to lock in on an advantageous price if you are willing to line shop at the top online betting sites. These numbers are exploitable now, being that there isn't a ton of information available. In some cases these are as much bets on a team's front office as they are bets on the teams on the field. You can pounce on something nice and lock it in before it becomes common-knowledge and the value is sucked out of it. These numbers get a lot less-exploitable when the online sportsbooks have more information and especially when these teams start talking about strengths and weaknesses for 2019-2020.
Still, it takes a real enterprising mind to take the leap-of-faith in February. There is still a draft upcoming and a long period for free-agency or other player-moves that could throw a current analysis into a tailspin. But there is still some information—new coaching hires and just how teams may have changed subtly at the end of the season, offering some promise of a new year. Let's take a look at the current odds from 5Dimes on who will win Super Bowl 54 in 2020. Following will be mini-breakdowns of each team, with analysis on how likely it is that they can achieve Super Bowl glory in 2020 and if the odds make it worth a tickle. Note: Holding futures positions is the same as playing the stock market. It is about value over the long term and holding more than the rest of the market. It is crucial that bettors shop all of the top bookmakers in an effort to get the best line. 
Sportsbook Odds to Win Super Bowl 54
Kansas City Chiefs +740
New England Patriots +775
New Orleans Saints +925
Los Angeles Rams +1000
Los Angeles Chargers +1800
Chicago Bears +1900
Dallas Cowboys +2500
Indianapolis Colts +2000
Minnesota Vikings +2000
Philadelphia Eagles +2000
Green Bay Packers +2200
Pittsburgh Steelers +3000
Cleveland Browns +3000
Houston Texans +3000
Baltimore Ravens +3300
Atlanta Falcons +3300
Seattle Seahawks +3500
Jacksonville Jaguars +5500
New York Giants +4000
San Francisco 49ers +4000
Carolina Panthers +6000
Tennessee Titans +8000
Denver Broncos +8000
Tampa Bay Buccaneers +8000
Detroit Lions +10000
New York Jets +10000
Washington Redskins +12500
Oakland Raiders +15000
Buffalo Bills +15000
Cincinnati Bengals +15000
Arizona Cardinals +20000
Miami Dolphins +20000
Kansas City Chiefs +740: The leading choice and it's easy to see why. Patrick Mahomes, in his first season at the helm, was the league MVP and he's only going to get better. Next season, when they get off to a fast start, you won't find even +700 anywhere, so this could be the best value you see all year. Issues still exist, namely a defense that did not seem up-to-snuff at the top levels. They might need to find a long-term answer for the loss of RB Kareem Hunt to give their offense a little more balance. But with a few added pieces on defense, they should be right in the thick of it again. Let's not forget, they got awfully-close this past season.
Los Angeles Rams +1000: They have to get a hard look after making it this past season and coming oh so close. They fell flat in the Super Bowl and for all their offensive flair; they can't find answers when the offense hits a wall. Getting Cooper Kupp back and maybe another piece in the draft or free agency could lend some new-life to that side of the ball. Their big-money defense really showed its teeth in the postseason after an uneven regular season. Still, they have to reduce the depth of Goff's valleys, though he usually hit his peaks this past season—just not in his biggest spot. They're right there and will be there again next season. A definite contender.
New England Patriots +775: It's strange because when Brady was younger, they were usually overhyped in these types of wagers. But as the defending Bowl champions are the third choice on the board, 5dimes Sportsbook has offers Pats with one of the best values and they have seen their value go up the last few seasons. Waiting for them to fall off has been a losing proposition for those putting money on other AFC teams. All indications point toward Brady being back and there's no reason to think they won't return to the spotlight next season. After holding one of the best offensive teams in the league to three points in the Super Bowl, it's hard to call their "D" out, even if they struggled at times in the regular season. Some of their offensive tools might be growing a bit stale and they could use a deep-threat, something they can perhaps procure in the draft or free-agency.
New Orleans Saints +925: It's hard to not think they may have been unfairly denied a shot at it this season after they lost to the Rams so controversially in the NFC title game. They should return with Brees, dishing the ball to a vast cast of runners and ball-catchers. Another reliable receiver to help top-dog Michael Thomas could help. That secondary looms as a major championship-barrier, though it should have been enough to get them to the Bowl this past season. The defense is tough and makes plays, but better coverage is something for them to shoot for to become a more-legit threat to not only get to the Super Bowl, but to win it.
Los Angeles Chargers +1800: Now, we get to what you could call the second tier of contenders and leading that mini-pack are the Los Angeles Chargers. Last season offered great promise, with good things coming together on both sides of the ball along with veteran rock QB Philip Rivers having a strong season. On offense, they have a strong backfield led by Melvin Gordon and a nice group of receivers with Keenan Allen and a growing force in Mike Williams. Getting TE Hunter Henry back will give them another dimension. While their O-line graduated to the ranks of "serviceable" last season, it's hardly what one could call a good one and that's a need that will just have to be addressed to make the Bolts a reliable force at the highest levels. One of the better defenses the Chargers have fielded was seen last season, but one that still needs work to get this team over the hump. Against New England in their playoff-exit, they were handled through the air and on the ground and could use a few more pieces in those areas to become a legit Super Bowl contender. Winners of 12 games in 2018, they are not far off and at some point next season, we have a feeling +1400 will be looking pretty good.
Chicago Bears +1900: Chicago made a strong forward-move last season under first-year coach Matt Nagy. With some better kicking, they could have made a deeper playoff run after a signature 12-4 NFC North-winning season. That area needs to be addressed, as bad kicking in the postseason can really cost, as they well found out. It's hard to say much bad about a defense that allowed the fewest points in the league. That part of their team really flourished last season. The run-game is solid, though they may need to add some personnel. Aerially, you'd like to see a little more firepower in that area. They have some nice pieces without really having that featured ball-catcher upon which Trubisky can rely. That defense lent a big hand in the scoring department and was as big in the playmaking department as it was in overall stoutness. If they can keep adding pieces and not lose too many of the ones they already have, the Bears will be right in the thick of the NFC picture again in 2019.
Pittsburgh Steelers +3000: After not making the playoffs last season in a year where there was a lot of drama and ups and downs, what will we see next season? The Antonio Brown issue still needs to be worked out, but there is a lot upon which they can build another Bowl contender. Big Ben Roethlisberger still has weapons, with James Conner and JuJu Smith-Schuster coming off career seasons, along with that big O-line that is the envy of many quarterbacks. Still, the run-game needs more overall production and a nice back to help Conner would be huge. And with a balanced defense, they have to find a way to extract better bottom-line results and more clutch from that side of the ball. Another good DB wouldn't hurt, either. This team has a pretty wide range for where they will end up next season. Don't rule out something big, as they should be hungry to make people forget this past season.
Dallas Cowboys +2500: Winning seven of their last 8 to make the playoffs last season and winning their division, the Cowboys appear to be a team on the rise. Late in the season, they added Amari Cooper, as they addressed a dearth of talent in the receiving corps. A little more help in that area could help Dak Prescott, who played well to close the 2018 season. Ezekiel Elliott is a monster and one of the best in the NFL at running back. Getting that O-line back close to its prior form of a few years ago would be a big help, as that part of the team is down-trending. And in cases where Elliott isn't running wild, it'd be good to have some other weapons on offense that can create production. Even with injuries, the front-seven on defense was strong most of the season, though the secondary struggled in spots and could probably use at least a small upgrade. Still, they stumbled upon something nice late last season and could be an interesting dark-horse.
Indianapolis Colts +2000: A lot came together for the Colts this past season in a division-winning return to relevancy in 2018. First of all, Luck is back entrenched as the quarterback, making them a ton better. Making it come together were different factors on offense. The running-game gelled nicely, with Marlon Mack having a big season. Jack Doyle and Eric Ebron give them a big 1-2 punch at tight end, with TY Hilton still doing his thing. What made it really take off was an offensive line that upgraded its play significantly and was actually one of the better fronts in the league this season. On defense, the front seven looked as good as it has in years, though the secondary was iffy much of the time. Against KC, they were beaten surprisingly-badly—exploited in all ways. They need another dimension on both sides of the ball, which would make them real contenders. Still, after winning nine of their last ten games to get in the playoffs and win the AFC South, the Colts are a rising commodity and not far from doing some big things.
Minnesota Vikings +2000: The price of +2000 is a lot better than the same time this past year, when the Vikes were fancied to make a deep playoff run. At 8-7-1 in 2018, they fell flat last season. While he had some decent stats, QB Kirk Cousins needs to make a more-consistent connection with his weapons, like Adam Thielen, Stefon Diggs, and Kyle Rudolph. He also needs to be a lot more clutch. They need a healthy year from Dalvin Cook and more overall running-production. The front line is an area where they need a lot of attention. With a team like the Vikes, the trenches need to be in good hands. In 2018, the front was just mostly-substandard, with the interior being among the worst in the conference. Another part of their team that fell off precipitously was their run-defense, which was no longer a real team asset. This is a pivotal season for a lot of people involved on this team and expectations are high. One could also expect an aggressive pursuit of some key pieces that will help the Vikings reclaim their spot among the top contenders in the NFC.
Philadelphia Eagles +2000: Pretty far down the list is the team that was crowned Super Bowl champions a few short years ago. A Super Bowl hangover lingered over the team for much of the season, before they finished very strongly and even won a playoff game. One could expect a more-complete season this time around. What will they do at QB, with the injury-prone Carson Wentz and former Bowl-MVP Nick Foles? They still have aerial firepower for whoever ends up behind center. But a dependable running back who is productive would lend the offense some variety. They have lost some steam in that area the past season and change. Some tweaks in the secondary failed to resonate, as they were exploited aerially on defense for much of the season. There is still a pretty strong core of talent present and some positive offseason moves could find Philly back in the spotlight next season.
Green Bay Packers +2200: At 22-1 and with some legit contender-types around them, one wonders if the Packers are really getting strong value. In their last 38 games, they are 17-21. Now led by new head coach Matt LaFleur, they look to turn the page and get back to winning in 2019. A healthy Aaron Rodgers gives them a leg up and the offseason should help him return to close-to-vintage form. WR Davante Adams being back will help, as he had a career season in 2018. Randall Cobb is no longer a big factor, with Jimmy Graham another aerial target on the downside of his career. Running back Aaron Jones had a few big games, but they've lacked a consistently-strong running game for years now. Some added weaponry to have at Rodgers' disposal would really help. The front-seven was pretty dicey on defense and they need to have a productive offseason to address some holes, as they were shabby against the opposing run. The secondary was strong in spots, but more depth would help. They have a lot of work to do and their bottom-line results over the past two-plus seasons will attest to that.
Cleveland Browns +3000: A 5-2 finish to the season and a growing cast of youngsters has the Browns in the top-half of this list for the first time in recent memory. Look for more growth from second-year players like QB Baker Mayfield, RB Nick Chubb, and WR Antonio Callaway. After the O-line took a bit of time to gel after some changes, we saw how good they looked in the second-half of the season. Over the years, some high draft picks have given them some playmakers on defense like Myles Garrett and they did get better over the last half of the season. But it's still an area of struggle, as they were the 30th ranked defense in the league in 2018. Still, you can't discount how much they improved and maybe under first-year head coach Freddie Kitchens, they can find the right recipe.
Baltimore Ravens +3300: An interesting choice at pretty long odds, the Ravens won 6 of their last 7 games to storm into the playoffs at 10-6, winning their division in the process. They found a new formula on offense with a run-heavy approach bolstered by QB Lamar Jackson and RB Gus Edwards—a pair of rookies who should be better to go along with RB Alex Collins. With serviceable receivers like John Brown, Willie Snead, and Michael Crabtree, they could use another piece or two to help bring more of an aerial flair out of Jackson. The top-ranked defense from last season, the challenge is now for the Ravens to keep their major pieces on that side of the ball. There were times coming down the stretch last season where it looked like the best defense in football. A few positive additions could have the Ravens back on the right track and right in the mix in 2019.
Atlanta Falcons +3300: A 7-9 season leaves the Falcons in a spit-or-get-off-the-pot spot in 2019. Are they a contender or are they receding? Matt Ryan was near 5000 yards and Julio Jones led the league in receiving, while receivers Calvin Ridley and Mohammed Sanu were both over 800 yards. The issues on this side of the ball are just about everything else. The run-game was in shambles with Devonta Freeman out of action. An offensive line that had high hopes left Ryan unprotected and was substandard due to injuries and some slippage in play in a few areas. On defense, injuries certainly played a role in them not being strong in any one area. And while they only really need their defense to be average, they were quite a ways from that last season and it's doubtful they can completely revamp in the offseason. Still, with some high urgency resonating this season, you can't completely write them off.
Houston Texans +3000: Just on principle, 30-1 odds aren't all that bad for a team that won 11 of its last 13 games after a tough start to win the division. A 21-7 loss to Indy in the wild-card round showed them to be painfully out of their element in the postseason, showing they have a lot to work out. Still, they're a team with a high ceiling if some stars align properly. Between Lamar Miller, QB Deshaun Watson, and Alfred Blue, they had a strong run-game. Could they make a big move in that area in the offseason (Le'Veon Bell)? Either way, they could use someone to make plays other than WR DeAndre Hopkins. They can also use some help at the tackle position, something that could really make the offense come together better. Their defense will always be a variable, with their top stars always looming as an injury-concern. They can make a lot of plays and are good against the run. The secondary took a distinct step back last season, ranked 28th in the league. Still, in recent seasons under Bill O'Brien, they've gone on strong runs and it's not always clear why. Those are teams you gotta watch out for—squads that get the most of what they have.
Seattle Seahawks +3500: After a 10-6 season, Seattle avoided the predicted downfall. Rather than rebuilding, they appear to have formed a new identity upon which to build something more. Russell Wilson is still a star at the quarterback position. They should try to keep their best pieces on offense, guys like Tyler Lockett, and add some more juice at receiver. While their O-line was as good as it had been in recent seasons with Duane Brown at LT and DJ Fluker fulfilling some of his former potential, it's still an area where they should build. When a mover like Wilson is sacked 51 times in a season, it means they still have a ways to go. The run game, with Chris Carson, Wilson, Rashad Penny, and Mike Davis, is a strong group that made the Seahawks the top-rushing team in the league this past season. Their defense isn't the monster of old, but with a lot of new pieces, they made strong progress this season. A few additions would make the Seahawks a very interesting darkhorse at this number.
Jacksonville Jaguars +5500: The wheels all but completely came off last season after a transcendent 2017 that saw them in the AFC title game nearly beating the Patriots. In a 5-11 season in 2018, not a ton went right. The offense was flat on the ground, with Leonard Fournette missing time. QB Blake Bortles seemed to hit a wall, with a crew of receivers who are all role-type guys completely devoid of a star. The line underperformed and needs to do a better job protecting the QB and springing a run-game. A defense that made plays left and right the season before saw their impact reduce on a major scale last season. Up-front on defense, they have not gotten better in the last few seasons and run-defense is a need that should be addressed. A lot is on the line for a lot of people on this sideline this season in what will be a crossroads year for the Jags.
New York Giants +4000: To project the Giants as a contender after a 5-11 season, a big leap-of-faith is required. At the top of the list is Eli Manning and while he played better in spots to end the season, it remains iffy if he's still capable of stringing together the type of regular season he would need to lead the Giants back to Super Bowl glory. He's done it twice before. His line also got better over the second-half of the season, but could still use another stud or two. There is a strong core with burgeoning second-year back Saquon Barkley, receivers Sterling Shepard and Odell Beckham, Jr. Still, they could use another good back and another short-pass threat. A defense that looked like it had gotten its act together a few years ago has experienced injury, chemistry, and execution issues the past couple seasons. Last year, they were decidedly below-average in most pertinent areas—the run, the pass, and with a sporadically-applied pass-rush. They can make plays, though, with three pick-sixes last year. They'd literally need all the stars to line up right to make a run next season. Just getting to the postseason would seem to be a reach.
San Francisco 49ers +4000: An interesting choice at long-shot odds. This past season, injuries to not only QB Jimmy Garoppolo, but across all areas, completely undermined their entire season. Their roster was decimated by injuries and other issues everywhere. You'd almost have to figure they're gonna get more breaks this season, in which case, they might even be better than the team that was getting a hard look this same time last year. And those were at a lot worse than 45-1 odds. All the injuries may have given them more depth than most teams, as everyone got to play last season. Maybe Jerick McKinnon can come back and make an impact, along with a healthy Garoppolo. They developed nice weapons in RB Matt Breida, RB Raheem Mostert, TE George Kittle, and rising receiver Dante Pettis. Another effective offensive lineman or two could really help, too. With the mass of injuries on the defensive side of the ball and lack of support from the other side, the "D" played over their heads at times. With those holes plugged up with a healthier defense, there's a lot of upside on this side of the ball. Granted, the Niners didn't look great even when Garoppolo was in there for three games last season, but something tells me this is one of the better values on the board.
Carolina Panthers +6000: A 6-2 start last season washed away into a 7-9 final record in what was a rough season for the Panthers. On offense, getting better begins behind center and Cam Newton needs to get back to close-to-vintage form for this team to stand a chance. In the second-half of last season, he wasn't very good. On the upside of things, Christian McCaffrey is a legit weapon who could threaten the 1000/1000 stat-line this season. They have some nice complimentary pieces in the receiving corps with DJ Moore, Devin Funchess, and Curtis Samuel. A real force as a ball-catcher could really help. When you think of a good Carolina squad, the defense always shines. Last season, it was solidly below-average, as they underperformed for most of the second-half of the season. At this price, you could do a lot worse than a team that at least showed signs of life last season. Maybe they can make it stick for a whole season in 2019.
Tennessee Titans +8000: On one hand, you have a team that always seems to get good value. Their odds are probably better than 66-1, but to picture them winning the Super Bowl pushes the imagination to its outer limits. At the same time, they had a winning record last season and were in the playoff hunt all the way to week 17. With Marcus Mariota, Derrick Henry, and Dion Lewis, they have a strong run-game. The line is not improving, however, and maybe a fresh face or two could lend that part of the offense more upside. They have some interesting youngsters at receiver who could blossom, but the whole offense lacks that real difference-maker. The whole defense did well under first-year head coach Mike Vrabel. Their secondary really came together last season and if the front-seven follows suit, they could be dangerous, especially at these odds.
Denver Broncos +8000: It will be up to new head coach Vic Fangio to turn this thing around, as the Broncos have settled into a down-cycle after a 6-10 season. In their favor is a run-game that seemed to get a big boost from rookies Royce Freeman and Phillip Lindsay. And their defense seemed to recapture some of their form in the second-half of the season. But will Case Keenum really be the long-term solution at quarterback? Can the line stay healthy and if not, will they have the depth to withstand it? And while Emmanuel Sanders and young Courtland Sutton are productive pieces, they would appear to lack a real game-changer in the aerial department. On defense, they have a nice pass-rush duo with Von Miller and rising Bradley Chubb. They still couldn't stop the run very well and need help in that area, along with a secondary that could use a real stalwart to give them more teeth. Barring a monumental draft and free agency period, the Broncos hoisting the Vince Lombardi Trophy is not easy to picture.
Tampa Bay Buccaneers +8000: A 5-11 season led to a new coach being brought in, with Bruce Arians taking over for Dirk Koetter. Looking at Arians' track-record, maybe the Bucs can tap into their potential. They had a vital aerial offense, with Mike Evans having a huge year along with a receiver crew that looked fairly well-stocked. But between Ryan Fitzpatrick and Jameis Winston, they threw 26 interceptions. Peyton Barber probably isn't a long-term answer at RB and they need more presence in that position. Only one defense allowed more points than the Buccaneers and if a big move is going to happen this season, it's an area that needs to be addressed. Sure, they had injuries, but the secondary fails to elicit confidence and the big boys up-front couldn't really make much of an impact. Jason Pierre-Paul was good in his first season in Tampa, but they need more horses. Teams have come out of nowhere before, but this would be shocking. To get even $800 on a $10 bet doesn't quite seem enough for calling this one right.
Arizona Cardinals +15000: The Cardinals went from contender to afterthought in pretty short order. In 2015, they were in the NFC title game, they hung in there at around .500 for a few years after, and then bottomed out at 3-13 last season, with head coach Steve Wilks lasting but a season. New face Kliff Kingsbury is now head coach and maybe he can turn Josh Rosen into a star. In order to do so, the right pieces will need to be around him. A good place to start would be the O-line, which was an unmitigated disaster last season even when they were healthy. They need to bring in a lot of studs up-front. That could also help RB David Johnson rediscover his old form. Still, they need some weapons for Rosen to use, as they lack a real difference-maker on offense. Their defense is not without hope. A secondary that has made good player-moves in recent seasons manifested into a top group in 2018, despite all the other issues team-wide. But other than Chandler Jones and his steady pass-rush, the front-seven didn't have a lot to be happy about in 2018. They couldn't stop much of anything up-front and need to get some beef on the line to stem the opponent's ground-game better. While they have more things in-place than some other teams with similar odds, they still have a long way to go.
Buffalo Bills +15000: After a 6-10 season where a lot of youth was on the field, it's not impossible to forecast an upturn if some of the right moves are made. QB Josh Allen should be better in his second year, with most of his weapons also hopefully having benefitted from last season's experience. Allen can also run he ball, but it's time to look for someone to replace a past-his-prime LeSean McCoy. At receiver, some youngsters like Robert Foster and Zay Jones offer promise, as well, though Allen could benefit from a true aerial weapon, along with a back or maybe a tight end who can also do damage. Also of great aid to a young QB is a line that can carry its weight and they need a few more pieces in that area. Some might not realize that they had the second-ranked defense in the league in terms of allowed yardage, with a secondary that really showed its teeth. A little more top youth up-front would really help make this defense a big factor. They were pretty good for the most part, despite sometimes not getting a lot of help from the offense. The Bills aren't as far off as some teams at the bottom of this list. With a strong defense and youngsters bound to get better on offense, they could be just a handful of moves away from being on the right track. But if I bet $10 and the Bills somehow won the Super Bowl, would $1000 be enough for my efforts? Doesn't seem like it.
Cincinnati Bengals +15000: The formula has fallen flat after they had become a reliable postseason presence. At 6-10, not a ton went their way in 2018, hence the departure of longtime coach Marvin Lewis. Former Rams' assistant Zac Taylor is now in and faces the tall task of getting this on the right track. It's not like they don't have good pieces in place, with rising talent on offense like WR Tyler Boyd and RB Joe Mixon. AJ Green and Andy Dalton aren't getting any better or at least any less injury-prone and need to have really good seasons. Jeff Driskel actually played better than Dalton the time he was behind center. They threw money at the O-line last offseason and it didn't work, as they were one of the worst units in the conference. On defense, DT Geno Atkins is still a force, as is LB Vontaze Burfict and SS Shawn Williams. Still, it was the last-ranked defense in the NFL and there are so many weak areas that it's hard to imagine the bulk of them being addressed in the offseason. They played a little better in the second-half, but so many issues exist team-wide that picturing them as a .500 team is hard enough. Never mind the Super Bowl.
Detroit Lions +10000: Matt Patricia's first season was a mixed bag, but mostly not good en route to a 6-10 mark. There seems to be a disconnect on offense and with the arm of Matthew Stafford and two productive backs, they could only manage getting ranked 24th overall on offense. An underperforming line was of no help, but they should be better. They have a decent nucleus of ball-catchers with up-and-coming Kenny Golladay leading the way. But the offense lacks a star to bring the best out of Stafford, whose stats never seem to lead to on-the-field results—an area in which he needs to work on with the money he's getting. Their defense was actually pretty stout and above-average against the run and pass. But like the offense, they lack a star to create game-changing plays. They were respectable without really making enough of an overall impact. A nice playmaker or two could really help, as it's still a mystery how the secondary made such few plays overall considering their track-record. There are a lot of things to get in order on this team before even thinking about the Super Bowl.
New York Jets +10000: The Jets are a work in progress that would not appear to be ready for primetime this season. Maybe Adam Gase can make it work in his first season at the helm, as he was 10-6 in his first season in Miami. Sam Darnold could be the man at quarterback, but some pieces need to be around him to really find out for sure. First item on the board is an offensive line that is of no help to a young QB trying to find his bearings. They need some fresh faces up-front—that much goes without saying. And when your top tools on offense are backs Isaiah Crowell and Bilal Powell, along with ball-catchers Robby Anderson, Chris Herndon, and Quincy Enunwa, it means you need a star or two to bring the best out of Darnold. The defense was solidly below-average across all areas. They could sometimes make plays, but need to be stouter against the run and pass. There just isn't much to like on this team, leaving them with a lot to address before the Bowl becomes even a halfway-realistic goal.
Oakland Raiders +15000: It became clear early that this wasn't going to be an overnight fix. I'm not sure it helps that they'll basically be a team without a real home in 2019, as their actual location is unknown as of press time. And with Gruden getting rid of a lot of valuable pieces, they now face a big rebuild across many areas. On offense, we'll see what they do with Derek Carr, but he's not the only issue. On their line, they saw everyone playing worse and no longer find that to be a team-strength. They don't have a game-changing back. Jared Cook at tight end is the only shining light in the pass-catching corps. Jordy Nelson has really fallen off and they lack anything resembling a dependable playmaker on offense. Any optimism really gets dim when looking on the other side of the ball. It's an area devoid of any legit difference-makers. Opponents scored four times as many sacks as the Raiders, who had an anemic 13 of them. They couldn't stop the run if their lives depended on it. And any success they had in the secondary may have been a result of teams running against them with such ease and not needing to take to the air. Part of you wants to defer to Gruden's magic touch, but a look at the roster shows why they're so far down the list.
Washington Redskins +12500: Injuries took a toll on the Redskins last season, including losing their starting QB Alex Smith. They were leading the NFC East until that happened, but finished at 7-9. It's hard to believe Smith will be ready by the start of the season, giving them a major issue at that position and it's not their only one. Adrian Peterson was a big plus at running back, showing off some still-lively legs, but when an aging back is your best offensive weapon, it doesn't speak highly. The receiver-package has completely fallen flat, with none of their player-moves in that area really working out that well. They also need more-reliable manpower up-front if this offense has any chance at a decent improvement. Their defense has some promise and isn't that far from being pretty good. They have a nice pass-rush and get a lot of turnovers, but another good DB or guy up-front could really help. Value-wise, this isn't horrible, as they would appear to be better than some other squads this far down the list. But a lot of things would have to align perfectly for the Redskins to emerge as contenders by next season.
Miami Dolphins +20000: If you're looking for good value, look no further than the Dolphins. At the time of this writing Bovada and a few other books join 5Dimes with a price north of +19000. You better believe that a Dolphins appearance in the Super Bowl would be earth-shattering, but it's still not entirely clear why they are more than two times a bigger underdog than the next-biggest long-shot. With the hire of Brian Flores from New England, maybe they can turn the page on a rough stretch. You just don't usually see a 7-9 team at the absolute bottom of this list. There are issues-galore—make no mistake. At the top is a QB issue, as it looks like Ryan Tannehill might not be the long-term solution. Their offense was the second-worst in the NFL last season. The run wasn't horrible with erstwhile Frank Gore and rising Kenyan Drake. But with Danny
Amendola leading all receivers with 575 yards, they need some viable pass-catchers, as well. Injuries rendered their offensive line moot and they need to make moves in that area. Then you look at a defense that couldn't stop the ru, and it becomes clear how many moves they would need to make to put this anywhere near the right track. The secondary wasn't great, but at least it made a lot of plays. There is some good stuff in place, but a lot of work to still be done. On one hand, they're not going to the Super Bowl. On the other hand, 300-1 is pretty tasty.
Who else wants $60 of FREE member picks & predictions?
(NO commitments. NO Credit Card. NO Salesman.)