Super Bowl LVI Prop Bet Picks and Predictions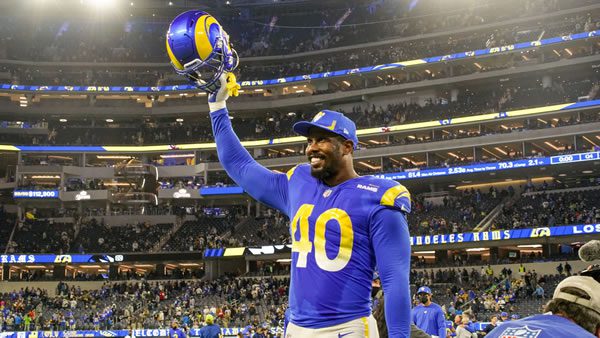 Each year, tons of novice NFL bettors flock to the sportsbooks to place proposition wagers to enhance their Super Bowl watching experience more enjoyable. Meanwhile, bookies are on Cars.com trying to decide which new exotic car they're going to purchase with YOUR money.
Truth be told, most bettors are throwing darts blindfolded. It doesn't have to be that way! You can still place prop wagers and come out ahead!
The first step to successfully picking prop bets is to handicap the game and get a firm grasp on which team is going to win. Once you have that decided, you start figuring out strengths vs. weaknesses, coaching style, and game flow, which will help draw a picture of what is actually going to happen.
In the case of Super Bowl 56, we've got a glaring issue with the Cincinnati Bengals offensive line. The C, RG, and RT are some of the worst in the league. Looking across the line to the Rams defense, we take a look at who lines up against this position of vulnerability and see that Von Miller has a path to success. It's pretty simple: Good player vs. bad player = potential domination. As you'll see below, we're taking a pop on him at 35/1 odds to win the Super Bowl MVP Award.
We've broken down a bunch more scenarios for you below. Many are not likely to happen, however, they ALL have a path to cashing, which is all we can ask for when looking at a fat odds payout.
Joe Burrow: An Escape Artist? McVay is an Analytics Guy (And Not Blind)
There's lots of ballyhoo about how the Bengals QB "is great at escaping the rush ."Yes, he was able to escape the pass rush of the Chiefs in the AFC Conference Championship Game. However, the Chiefs don't get to the QB much, and when they do, it's an easy proposition to run wild against them because their best sack-master is Chris Jones, who is 6'6 and 298 lbs. The guy is a defensive tackle who thrives on strength, not speed. The KC Chiefs had 31 sacks this season. The Rams had 50! As another comparison, the Titans sacked Burrow 9x, and they only had 43 for the season.
The Rams are a completely different monster. Aaron Donald is 6'1″ and 280 pounds. Von Miller is a linebacker. Miller is 6'3″ and 245. Leonard Floyd is a 6'5" 240 LB linebacker. These aren't big-fat linemen that fall into coverage sacks. These are quarterback killers who have a tremendous advantage vs. a very poor Bengals OL. Aaron Donald had 12.5, Miller 9.5, L. Floyd 9.5, Greg Gaines 4.5.
Joe Burrow's 40-yard dash time is a meager 4.9. Floyd's is 4.6, Miller's is 4.49, and Donald 4.68. All these guys are quicker and faster than Burrow.
Don't think for a second that Sean McVay hasn't watched the Bengals vs. Titans game a few times. With Aaron Donald and Leonard Floyd tied for the lead in playoffs pressures at 16 apiece, you can fully expect that number to increase substantially on February 13th.
The Pick: Over 3.5 Sacks by the Rams (-125). This wager can be found at Betonline under the "Added Game Props" tab.
You Can Throw All the Stats Out the Window
A typical square will tell you Ja'Marr Chase is FAST! He's oftentimes open and beats cornerbacks deep! YES! Correct! But how is he going to pull that off when Burrow will be limited (at times) to set up due to his offensive line being a wet paper bag?
A BIG mistake novice NFL handicappers make is they picture things happening in their minds but forget to assess a team's offensive line and insert a defense into their imagination. Rams defensive linemen and linebackers will be coming from all different directions! This should equate to less time for Burrow to throw and more short passes to the slot receiver (Tyler Boyd), the running back(s), and the tight ends.
Lastly, Chase will likely see a fair share of lockdown CB Jalen Ramsey. This is not a favorable matchup for Chase.
The Pick(s): Chase will NOT score a TD. This wager can be found at Betonline at -145. I also toyed with taking the UNDER 8 targets for Chase but backed off because of negative game flow (Bengals are likely to be behind and have to pass a lot to play catch-up).
Yes, Teams Have Been Able to Run Against the Rams
But what was the status of those teams' offensive lines? Saying the Rams have been vulnerable against the run has merit. However, each team is different, and the Bengals OL sucks! The right side doesn't block well, and the left side will have to deal with Aaron Donald and Greg Gaines. Not favorable any way you look at it! Joe Mixon may end up with decent numbers. However, it won't be due to a good offensive line. It'll be the result of sheer volume.
Furthermore, game flow favors the Rams. Theoretically speaking, if you believe Los Angeles is going to win, they'll run the ball more late in the game to kill the clock. The Bengals will be forced to throw more which limits Mixon's opportunities.
The Pick: Cam Akers to have to have more rushing yards than Joe Mixon. This bet can be found at MyBookie under the "Head to Head" tab and at -135 odds.
Pressure to the Bengals as is Kryptonite to Superman
A quarter of pressures against Joe Burrow have resulted in sacks (26%, to be exact). This puts them third-worst in football, only behind Baker Mayfield and Zach Wilson. In pressures not resulting in sacks, expect mistakes resulting in thrown away passes, incomplete passes, and MISTAKES. He's actually been great on the run when forced out of the pocket, but how many teams have FOUR legit QB killers like the Rams do? The Rams blitz the 8th most in the NFL. They've only called a four-man blitz around 2% of dropbacks. The common theme here is that the right side of Cincy's OL is so poor they might not need to blitz a ton to achieve success.
The Pick: Joe Burrow to throw an interception before Matthew Stafford at -120 odds. This wager can be found under "Passing Props" at Betonline.
Here's Your One Chance, Fancy Don't Let Me Down!
Unfortunately, only about 15% of our readers will understand that phrase (Reba McEntire – Country Music)! In this case, Fancy is played by Rams WR Cooper Kupp, who we're sending out to bring us back the money. In 40+ years of watching football, I've never seen a superstar get less attention for being what is quite possibly the best route runner of all time. This guy is uncoverable and usually has a full yard plus of separation. How many times have you seen Kupp catch a pass and wonder where the hell the defender is? The fact that he runs a 4.62 forty-yard dash makes this even more intriguing. He'll see a fair share of Mike Hilton, but he'll also see a bunch of burnt toast Eli Apple. The Rams have been feeding him HEAVILY over the past couple of weeks, and this won't change. An argument could be made that Kupp gets even more targets with Higbee looking doubtful. However, I don't put too much stock into this variable as Stafford looks comfortable throwing to young backup TE Kendall Blanton. Lastly, the Bengals have given up the most receptions in the league to slot receivers. The Bengals will surely scheme against Kupp, but it won't matter. Cooper Kupp is Road Runner – Everybody else is Wile E. Coyote.
The Pick: Cooper Kupp to have 109+ receiving yards at -114 odds. This prop bet can be found at MyBookie Sportsbook.
Cool Under Pressure
Matthew Stafford has a reputation for getting sacked and throwing interceptions. News Flash! He's not a Detroit Lion anymore! Different offensive line (a good one) and different team. Did you know that Stafford's TD to INT ratio this season is 15:1 when he's under pressure? Furthermore, let's not even waste our time talking about pressure, as the Bengals blitz the quarterback the second least in the NFL!
The Pick(s): Matthew Stafford to have a completion OVER 38.5 yards (-118). Stafford to have UNDER 0.5 interceptions (+110). Stafford to have more passing TDs than Burrow (-137). All these wagers can be found at MyBookie.
To OBJ or Not to OBJ?
With Cooper Kupp having such a great matchup, the Bengals sucking against the run, and game flow favoring the Rams to get out to a lead and kill the clock in the 4th quarter, I don't expect big things from Odell Beckham. He's also more likely to be lined up against Cinci's best cornerback. I believe all these factors will limit his output in SB 56.
The Pick: Tee Higgins to have more receptions than Odell Beckham -122. This wager can be found at MyBookie under "Head to Head."
The Bengals are 31st in Yards After Contact Against the Run
Lucky for them, Cam Akers, Sony Michel, and Darrell Henderson aren't big run after contact guys. I believe this lends to a lower-scoring game than most think. Stats backing the run game to be a struggle include the fact that L.A. has rushed for 75 yards or less in four of their last five games. The over/under opened at 50 and has been bet down to 48.5, despite 57% of the tickets coming in on the OVER. I would never bet a game solely on how the public is betting it, but it's a nice supporting variable.
The Pick: The game to go UNDER 42.5 points at +185 odds. This wager can be found at Bovada Sportsbook.
Super Bowl MVP Betting
While it's likely an offensive player wins the MVP, and that offensive player likely being a QB, the strengths vs. weaknesses in this game open the door to "other" players having a shot to cash in and at long odds. Let's investigate potential paths to success!
Von Miller +3500: This tenacious monster lines up opposite the worst right-side offensive line in football. With 9.5 sacks this season, Miller could feasibly grab 2-3 in Super Bowl LVI and possibly even a forced fumble. The weak offensive line gives this play a path to victory, and at 35/1 odds, it's worth a pop!
This wager can be found at Bovada.
Cooper Kupp +650: Kupp is the slickest route runner in the league and will be on the receiving end from a QB who will have ample time to find targets. Whether he gets the award or not, it's likely that he'll play the biggest role in a Rams Super Bowl win. The best odds on Kupp to win the SB MVP were at Betonline.
Kendall Blanton +15000: It's ridiculously unlikely that Blanton takes top honors. HOWEVER, he has a GREAT matchup against poor LB Logan Wilson. Stafford likes to pass to tight ends. Likely? Nooo! Could it happen? YES. The best odds I found on Blanton are at Betonline.
Leonard Floyd +15000: Who? Leonard Floyd, baby! The Rams LB that nobody talks about has freakin' 9.5 sacks and is a monster! Five bucks pays $750. It's improbable it hits, but you can't say that there isn't a path to victory here! The best odds I could find on Floyd to win the 2022 MVP award are at Bovada Sportsbook.
Notice no Aaron Donald on this list. He's GREAT. He'd be my shoo-in if he lined up on the other side of the line, but he doesn't, so I'm leaving him out.
There's So Many Paths to a Rams Victory
There are so many ways the Rams can win this game, and I'm going off the rails and placing proposition wagers that grossly deviate from the regular point spread (-4). Here's a line I'm betting that can be found at BetOnline Sportsbook: Rams -13.5 (+250)
Enjoy the Big Game!`
10* GAME OF MONTH **INSANE 75% NFL PLAYOFFS!
AAA Sports has gone 5-1 (83%) with their NFL Playoff picks over the L2 rounds and overall they enter the Super Bowl having gone an INSANE 75% (9-3!) with ALL of their NFL Playoff releases! AAA Sports is playing with HOUSE MONEY in BOTH the NFL and College Football this season and they're UNLOADING MASSIVELY in this year's Super Bowl with BOTH SIDE and TOTAL! BE THERE!