Tampa Bay Buccaneers vs. New Orleans Saints Pick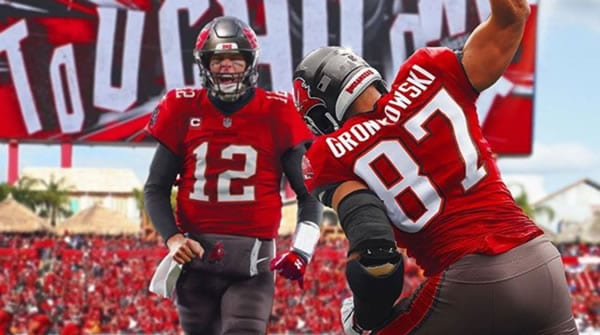 Tampa Bay Buccaneers (0-0 SU, 0-0 ATS) vs. New Orleans Saints (0-0 SU, 0-0 ATS)
Week 1 NFL
Date/Time: Sunday, September 13, 2020 at 4:25pm ET
Where: Mercedes-Benz Superdome, New Orleans, Louisiana
TV: FOX
Point Spread: TB +3.5/NO -3.5 (Bookmaker)
Over/Under Total: 49.5
There are a lot of unknowns heading into Week 1 of the NFL season. Preseason games might not be much of a predictor for the regular season, but the absolute lack of those contests has this opening week feeling a lot like Christmas, and we haven't even been able to shake some of the boxes to have a good guess at what is inside. Tampa Bay could be the most interesting team in 2020 with plenty of new faces in town, including Tom Brady and the freshly acquired Leonard Fournette. Rob Gronkowski and LeSean McCoy are also in town to see if their veteran presence can help a Buccaneer club turn the corner after a mistake-filled 7-9 campaign last season. The New Orleans Saints were remarkably efficient and consistent last season, even with Drew Brees missing time due to injury. Their roster remains virtually unchanged from a version that went 13-3 in 2019. If Brady and the other new Bucs are really going to be a factor this year, a game like this may give us an early indication that the NFC South is a wide-open division.
Trend Watch
With so many key changes for Tampa, it seems a bit irrelevant to look into recent Bucs betting trends, but New Orleans has some established trends that may play into this week. The Saints have not been good in Week 1, going 0-6 against the spread in the last six openers and are just 1-4 ATS in their previous five home games when favored. New Orleans remains one of the best home teams in the league, but what will the lack of fans do to their mojo in the Superdome? For the 2019 season, the Saints managed an 11-5 ATS record and won both contests against the Bucs, both straight up and ATS, moving their record against the spread to 5-2 in the last seven against Tampa Bay. The line for this game opened with New Orleans at -5.5, but that has been trimmed to -3.5 by mid-week, with 51% of the public money coming in on the Saints at that spread. The total could see a lot of action this week as the over was 12-4 in Bucs games in 2019 with the over at 9-7 when the Saints played.
Better? Or Just Older?
With so many greybeards in town, the window for Tampa Bay can only be open for a short time, but it may already be shut if Tom Brady can't fight off Father Time. Brady threw for just over 4,000 yards last season but only completed 60% of his passes and amassed a rating of 88 for what was arguably his weakest statistical season. He will certainly provide an improvement in the turnover department as Jameis Winston led the lead in interceptions last year, and Tampa led the league in total giveaways. With a more controlled approach, Tampa may fall back from being one of the top offenses in terms of yards gained, but they should see a net-positive in time of possession, field position and provide some rest for a defense that gave up the fourth-most points in 2019. How this backfield shakes out is really anyone's guess. Leonard Fournette was brought in for a reason, but Ronald Jones II was a 1,000 total yard back last season, and that duo should be able to improve on what was the 24th ranked rush offense last year. Brady is not in need of capable targets with Mike Evans and Chris Godwin on the outside. That duo combined for nearly 2,500 receiving yards and 17 touchdowns and is likely the most talented unit Brady has had at his disposal. Rob Gronkowski is looking to find his 2017-18 form as that was the last time the future HOF'er hit the 1,000 receiving yard mark. His presence further bolsters a loaded TE group that saw O.J. Howard and Cam Brate combine for 770 yards and five scores a year ago. I haven't seen a legitimate report suggesting that Tampa is anything but a top-5 offense in terms of weapons alone. Still, the question will be how quickly they can gain the chemistry and consistency to challenge the top of the NFC.
Steady March
The Saints just feel like one of the most consistent and organized teams in the NFL. Their product is fresh yet continually refined, but they are also looking to cash in now with Drew Brees near the end of his career. Brees missed five games in 2019 but showed no signs of rush upon return, hitting on nearly 75% of his passes and throwing for 27 touchdowns against only four interceptions. The stats are remarkable when you look at numbers like 81 receptions for Alvin Kamara and 149 catches for 1,725 yards for Michael Thomas. Even their gadgets are better than most teams, with Taysom Hill notching seven scores on just a few touches each week. New Orleans committed the fewest turnovers (8) last season and wound up 3rd at 28.6 points per game. They also know how to keep the QB upright, allowing the third-fewest sacks last season. This offense seems primed to do the very same things in 2020 with eyes on winning another division crown.
Does the Defense Decide?
With both offenses drawing the most attention, it could be that the best defense will ultimately swing the decision here. Both defensive units were top-4 in run-stopping last season, so we shouldn't project a significant ground effort for either. I think that gives New Orleans a bit of an edge considering Brees and Teddy Bridgewater racked up the best QB rating in the league. New Orleans also finished third in sacks on defense, and Tampa was a bottom-10 team in terms of sacks allowed, although I'm giving Brady the nod in terms of knowing when to throw it away more than Winston did. The pass defense looks to be the weak spot for New Orleans, and Tampa surely has the receiving weapons to test them. Still, the conventional opinion is that Brady will slow things down and manage the game as that full-throttle approach basically doomed the Bucs in recent years. Keeping the ball away from Brees, Kamara and Thomas is a great plan going in, and it will keep the game close if Tampa Bay can get a few stops early. The biggest trouble spot for New Orleans could be keeping Shaquil Barrett (19.5 sacks in 2019) off of Brees.
Home Favorite Gets the W
There are a lot of intangibles heading into this week for all NFL teams, so I really want to be on the side of consistency and organizational stability, and that is New Orleans in this matchup. Beyond that, a New Orleans offense that averaged 32.5 points in two meetings last season should have the edge over a Tampa defense that was 30th against the pass. Chris Godwin put up 172 yards and three scores in two games against the Saints last year, but Michael Thomas hit 296 yards and three scores. Call that a push going into this week. Brady and Brees are probably a push in most regards, too. So, I'm calling this one based on New Orleans having the better secondary offensive options, including a guy like Jared Cook, who had a touchdown in both games against Tampa in 2019. There are too many questions yet to be answered in Tampa for my liking, and while I think this one should be close, I'm looking for New Orleans to snap that 0-6 ATS opening day run with a 29-23 win.
Ted Walker's Prediction to Cover the Point Spread:
New Orleans