TNF Picks: New York Jets vs. Baltimore Ravens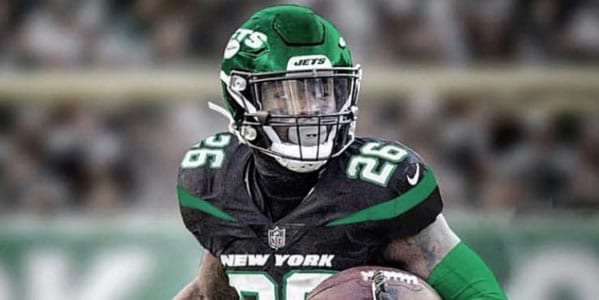 "New York Jets (5-8 SU, 5-8 ATS) vs. Baltimore Ravens (11-2 SU, 8-5 ATS)
NFL Week 15
Date/Time: Thursday Night Football, December 12, 2019 at 8:20PM EST
Where: MT&T Bank Stadium, Baltimore, Maryland
TV: Fox/NFL
Point Spread: NYJ +14.5/BAL -14.5 (MyBookie - Get a 100% bonus up to $300 FREE!)
Over/Under Total: 45
The New York Jets come into MT&T Stadium for a Thursday Night Football matchup with the red-hot Baltimore Ravens. The Jets have come around in recent weeks in a low-key way, winning four out of five and marching down the field for a late FG to beat the Dolphins on Sunday, 22-21. The Ravens maintained their torrid pace, winning their ninth in a row on Sunday with a nice 24-17 road-win against the Buffalo Bills. Who will have the ATS upper-hand in this one?
Jets Quietly Improving
It may be under the radar of the bulk of the general betting public that the Jets have won four of their last five games. It's easy to understand, with those four wins coming against Miami, Oakland, Washington, and the Giants. And recent losses to Miami and Cincy were ugly enough to allow people to still be sour on the Jets. Yet, despite some clunkers here and there, it's hard to not notice some significant progress on both sides of the ball.
The Jets were able to run the ball without Le'Veon Bell (questionable), as Bilal Powell (questionable) and Ty Montgomery did some nice work on Sunday. But it's the work of QB Sam Darnold as the season carries on that offers the most promise. His performances have been getting better and more consistent. On Sunday, he connected with Robby Anderson, who was over 100 yards, and Demaryius Thomas with scoring strikes. And we've seen some clutch play as of late in close games, seeing it again on Sunday. Granted, this modest spike in production has come at a certain level, and a road-spot in Baltimore represents a big jump in difficulty. But it's not quite the sorry Jets bunch we saw earlier in the season.
More Picks: UFC 245 Fight Analysis & Predictions >>>
Timing a Ravens' Letdown
It's a dangerous game to play. Even last week, one could make a case how a Buffalo defense and a tough road spot would lead to a non-cover, and despite laying six against a 9-3 team away from home, the Ravens still covered. Week in and week out, as these point spreads swell, a salient case can be made for why Baltimore won't cover the spread, and what has it gotten us? One non-cover since week 6 is the answer. Questioning Baltimore has come at a cost. Some spots line up favorably in this matchup with the big number, the short week, an unthreatening opponent, and even some matchups where the Jets could thrive. And still, it's a team where taking a position against must be done with trepidation.
Looking for Baltimore Weaknesses that Could Pay off
By now, we know where the Ravens thrive—a peaking defense that has an excellent balance and playmaking ability, with an offense that can run the heck out of the ball and is led by the leading MVP candidate in Lamar Jackson, who has been absolutely electric. Last week, however, we saw what could happen when they face a really good defense, as they had to manufacture points more than in previous games, without the big splash plays by Jackson. Not to compare the Jets' defense to the Bills, but they have improved on that side of the ball.
We'll see how the progress of leading Baltimore receiver Mark Andrews shakes out closer to game time, as he left the game on Sunday. Other than him, they're down to Marquise Brown, and Willie Snead at receiver—two dangerous ball-catchers, but not the most reliable 1-2 WR punch the Jets have seen. Even under ideal conditions, their aerial attack isn't that prolific, but now that they're compromised, the Ravens won't be able to take full advantage of the worst part of the Jets' defense, which is their secondary.
Angles for the Jets
With their run-defense having rounded into shape, the Jets' "D" could help save this from being a Baltimore track meet on Thursday. That front-seven is showing a lot of energy right now, and when the team most needs it, they buckle down. A lot of guys are playing for their futures on this team. And while the Ravens are looking to lock up the top-seed and that counts as motivation, the Ravens have seen things loosen up a bit in the conference and with the Pats the only other double-digit win team in the AFC, it's not like they need this one.
Looking for Value
This is a high-profile spotlight game that will fetch a lot of wagering action. Not to say all bettors are guided by Sportscenter and don't know what they're doing. But contrast the images of each team, with the unstoppable Ravens winning and covering, looking every part a Super Bowl contender with a big hype machine behind them. On the other sideline is a Jets team that no one is talking about, yet a team that has shown signs of life on both sides of the ball in recent weeks. What team would the oddsmakers need to go more out of their way to entice action? It's hard to say Baltimore's value is bad with how well they're doing against the spread lately, but this goes in cycles. You can't just jump on a red-hot team and bet them every week and expect it to work out. On the heels of some demanding games, couldn't Baltimore overlook the Jets in this spot?
Take the Points
The Ravens are good enough, with the Jets being dicey enough, to make any result understandable in this matchup. I think if you're looking to time a slight sag from the Ravens, catching them on the short week against an opponent where they have no axe to grind in a game that is something less than a must-win might be the right spot. I see the Jets hanging in there and squeezing out the cover in Baltimore on Thursday. I'll take the points.
Loot's Pick to Cover the Point Spread: I'm betting on the New York Jets plus 14.5 points. Did you know that you can bet on games at discounted odds? The proper term for it is "reduced vigorish" and the slang is "reduced juice". Almost all sports betting sites require you to risk -110 odds. This means that you have to risk $1.10 to try to win $1.00. At 5Dimes Sportsbook, you only have to lay $1.05 to win that very same dollar! Make the switch today to start taking advantage of this HUGE savings! 
STOP LOSING TODAY! START WINNING WITH DOC'S TEAM OF PROFESSIONALS! GET A FREE NO STRINGS ATTACHED $60 FOR THIS WEEKEND'S GAMES!