Top Super Bowl 55 Prop Bets & Picks at Bovada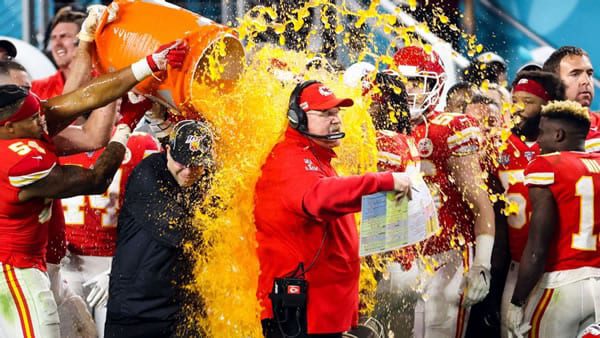 When it comes to the Super Bowl, if you can think of it, you can probably bet it. There are a ridiculous number of prop bets on the table. Including everything from the coin toss to the color of the beverage, the winning team pours on its coach after the contest. With so much on the table, it's important to weed out the bad bets and focus on building a strategy that gives you the best chance to earn some money.
One of the most important things to do is make bets that fit with the way you expect the game to go. If you think it's going to be a high-scoring game, for example, it doesn't make a lot of sense to bet under for Patrick Mahomes' or Tom Brady's yardage totals. If you like a low-scoring contest, you'll want to bet on a fair amount of running attempts to keep the clock moving.
With that in mind, here are some top prop bets available from Bovada.
Touchdown Before Sack (-145)
Paying a little juice isn't ideal, but this one makes some sense. There's little reason to expect a sack to come first here because these two teams just don't get sacked very often. Both are in the bottom five in the league as far as getting sacked, and although Tom Brady isn't mobile, he's experienced enough to know how quickly he needs to get rid of the ball. On the other hand, Mahomes should be quick enough to avoid pres-sure early on, which is why the early score is the big favorite.
First team to Six Points: Tampa Bay (+180)
Kansas City is a notoriously slow starter, and the Buccaneers will want to take advantage of that and try to stave off a Chiefs comeback. The Chiefs also started with a 17-0 lead in the first quarter the last time they faced the Buccaneers, and that's got to weigh heavily on the minds of Bruce Arians and Tom Brady. The Bucs will almost certainly take a shot early, and they'll be thinking touchdown. This bet offers a lot of upsides and a solid return.
Tied at Halftime: (+750)
I always like to throw in a reasonable longshot bet if I can, and this one's got a reasonable shot because of one Andy Reid. This is Reid's third Super Bowl as a head coach, and in both of his previous two trips to the big game, 2004 with the Eagles and last year with Kansas City, the game was tied at halftime. Only one other time in the past 30 years has the game been tied at halftime, and that was six years ago when Brady and the Patri-ots tied Seattle at the half. Only one other Super Bowl in history (XXIII, between San Francisco and Cincinnati) was tied at the break.
So out of the four Super Bowls that were tied at halftime out of 54 overall, Tom Brady and Andy Reid have each been involved in two, and one of them came when they were facing each other. At +750, this is worth the gamble.
First Score: Chiefs Field Goal (+400)
In the past 15 Super Bowls, the first score has been a field goal in eight of them, with two safeties and five touchdowns. Yet the odds of the first score being a touchdown are just +145 for Kansas City and +190 for Tampa Bay.
One tip, though: don't get cute and try to take both the Chiefs and Bucs (+425) to score a field goal as the first score because you'll just be hampering your efforts. Taking either team to score a field goal as the first score pays +170, meaning you'd get $34 in profit off a $20 bet playing that way, as opposed to getting a max profit of $32.50, placing $10 on each team (because obviously, at least one bet must lose). If you like the Chiefs scoring first, this is the way to maximize profit.
Game-Winning Liquid Color, Orange (+150)
If you want to make this bet, don't get sucked into the idea of team colors meaning anything. Only four of the past 20 Super Bowl champions have used their team's color for their hydration beverage of choice during the game, with two of those being the Patriots. Both the Chiefs and Buccaneers have been here in the past 20 years, and neither used red as their color despite wearing red jerseys, so there's not enough of a bonus for taking red here.
Plus, orange has history. Not only is it the most popular color used in the big game, but it's also the color that the Chiefs used last year when they beat San Francisco. Teams don't like to change up the details of success, so even a detail as small as that is likely to be the same as it was the previous year. With Kansas City almost certain to use orange again, you've got a big edge in this bet, and you're getting plus money with the favorite.
Bets to Avoid
Don't bother with the coin toss. Just don't do it. A coin is a true 50/50 shot, yet you're paying -110 either way to take this bet. At least with the ceremonial sports beverage shower, you can get plus money on the prop bet. Here, there's no science and no plus money involved with this bet, making it a true shot in the dark.
It's also a good idea to stay away from the MVP winner's position because there just isn't enough of an op-portunity here. The number is -500 for a quarterback because the overwhelming majority of MVPs are quar-terbacks, so you'd be getting a ridiculously low return on a bet that's essentially got a 60% shot of hitting. If you're going to make this bet, the best option is to try any defensive player at +750. Ten defensive players have won the MVP, and +750 for about an 18% chance isn't terrible. The problem is that these teams are very offensive-oriented, and it's going to be tough for a defender to stand out. DOUBLE your Super Bowl bankroll by taking advantage of a 100% real cash signup bonus on your first deposit of $100 to $300 at MyBookie Sportsbook!
Football Betting Guide
New to football betting? NFL point spreads can be confusing at first, but our how to bet on football article help you bet like a seasoned pro! You'll also learn how to wager on teasers, parlays, over/unders, prop bets, futures and how point buying works.