Washington Redskins vs. Miami Dolphins Pick 10/11/19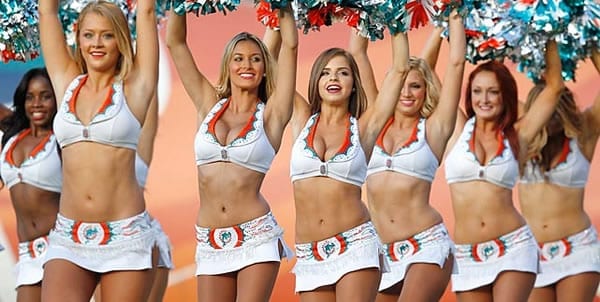 Washington Redskins (0-5 SU, 1-4 ATS) vs. Miami Dolphins (0-4 SU, 0-4 ATS)
NFL Football Week 6
Date/Time: Sunday - October 13th - 1:00pm EST
Where: Hard Rock Stadium - Miami, FL
TV: Fox
Point Spread: WAS -3.5 / MIA +3.5 (BetOnline)
Over/Under Total: 41
THE WASHINGTON REDSKINS VS THE MIAMI DOLPHINS: POOPER BOWL PREVIEW 2019:
This Sunday is Miami two of the worst…if not THE TWO WORST teams in the NFL will face off. The winless REDSKINS will head south to take on the also winless Miami Dolphins. Coming into 2019, many expected the Dolphins to be bad, but no one expected how the REDSKINS have done so far. Of course, no one thought of the Skins as a contender, but certainly, no one expected this bad of a season. The first five games have been so awful that Washington REDSKINS owner, Dan Snyder, pulled the trigger this week and fired head coach, Jay Gruden. Now the man calling the shots for the Skins will be Bill Callahan. Will the team respond positively, or will Washington continue to lose week after week? Many questions are surrounding both Washington and Miami, and trust me, none of them will be answered this Sunday. The only people who will even pay attention to this trash are Dolphin fans, Redskin fans, and degenerates like us that for some reason think we can win a few bucks on this complete S–t Show of a "game."
Although both teams are winless and Miami is at home, Washington is a 3.5 point favorite over the Dolphins while the total points are set at 41 combined. Showdowns like this are my least favorite to have to predict because you really do not know where the team's heads are at. This is why I typically take the underdog in these games; it is almost like a preseason game where no one is a true favorite.
HOW THE PUBLIC IS BETTING WASHINGTON AND MIAMI:
As of Thursday evening, much of the public action was on Miami to cover at home. 57% liked the Dolphins, while just 43% took the road favorite Redskins minus the points. Not only are both teams winless in 2019 so far, they are not even competitive. The Dolphins have yet to even cover a spread at 0-4 ATS while Washington has covered just once in five games. This will be very interesting to see come Sunday. I can see this game going either direction.
More Picks: SNF: Steelers vs. Chargers Spread Play >>>
WHY THE MIAMI DOLPHINS WILL COVER THE SPREAD ON SUNDAY:
Call me crazy, but I like Miami at home plus the points. Why? To be honest, there is no statistical logic or reasoning behind my pick. The actual reason is simple… Both of these teams suck, and anyone GETTING points in a game like this get my vote, especially the home team over a road visitor who just fired their coach. Listen, in these types of games, ANYTHING is possible. Both teams are reeling, and you never know how certain teams and/or individual players respond to adversity. Maybe Miami wants to lose…well, as an organization, of course they do, they want that top pick, but the "organization" is not playing…players whos careers and jobs are on the line are, and they do not want to lose, trust me. Do you think a marginal quarterback or defensive back for the Dolphins want to be replaced with a top-five first-round pick in 2020? HELL NO! The point is, both of these teams are going to play their asses off on Sunday, regardless of how bad they are.
It appears that the Redskins will go with Case Keenum as their starting quarterback, which makes many wonder just how bad Dwayne Haskins has looked. You would think at this point, the Skins would throw in the towel on 2019 and let their future QB get reps…or is he not the future? It will be very interesting to see what Washington does in the first round of the draft this year, and the way it looks, they will be picking HELLA EARLY in said draft. Back to the Redskins offense, they are bad, but they could potentially have some success against the Dolphins defense, especially in the passing game. The Dolphins are ranked 32nd in the NFL in points allowed with over 40 a game. However, the Redskins are not much better. Washington ranks 30th, allowing 30.2 a game. As for the offenses, Washington and Miami also rank 30th and 32nd. The Dolphins, of course, are 32nd in the league in scoring averaging about six points a game…yeah, that is right…the Miami Dolphins average less than a touchdown per game. The Redskins, who rank just two spots better, are scoring around 14 per contest. Statistically, yeah, Washington may appear better on paper, but not by much. Both teams have issues on both sides of the ball
This Sunday, I see a semi high scoring game… at least "high scoring" for what you usually expect from these two teams. Yes, I know these two teams do not look like they will be putting up huge numbers, but I see it happening. Case Keenum will play good enough to score points on the Dolphins bad defense, and I also feel that the Miami Dolphins will be able to finally muster up some sort of offense against a Washington defense that has their own issues we already discussed. It will be an odd game that one of these teams will end up winning something like 23-21. With that, you gotta take the Dolphins at home over a reeling Redskins team.
Bob's Pick to Cover the Point Spread: THIS SUNDAY TAKE THE MIAMI DOLPHINS PLUS THE POINTS AT HOME THIS SUNDAY AGAINST THE WASHINGTON REDSKINS!