Week 8 Picks: Cardinals vs. Vikings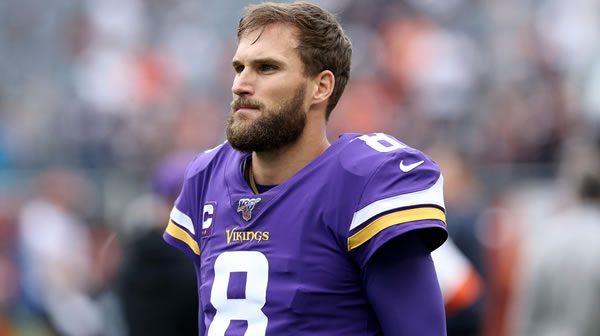 Arizona Cardinals (3-4 SU, 3-3-1 ATS) vs. Minnesota Vikings (5-1 SU, 2-4 ATS)
Week 8 NFL
Date/Time: Sunday, October 30, 2022 at 1PM EDT
Where: U.S. Bank Stadium, Minneapolis, Minnesota
TV: Fox
Point Spread: ARI +4/MIN -4 (Bovada)
Over/Under Total: 49
The Arizona Cardinals come up to U.S. Bank Stadium for a Week 8 NFC showdown with the Minnesota Vikings on Sunday. The Cardinals are finally entering a week with some good details afoot, coming off a bit of a long week after scoring a 42-34 win over the Saints on TNF. Minnesota, meanwhile, is coming off a bye following a 5-1 start to the season that has them atop the NFC North division. A 24-16 win over Miami, their fourth win in a row, was their last game before the bye, and now at home, they look to cement their burgeoning contender status against what should be a fairly desperate Cardinals team.
Huge Spot for the Cardinals
This season got off to a rotten start for the Cardinals, a team hopeful of turning it up a notch this season. Suffice it to say almost nothing went well to open the season. With wins in two of their last three, sandwiching a FG loss to unbeaten Philadelphia, things are picking up and should continue to do so with the return of DeAndre Hopkins. After making his presence known last week and being a big part of the Cardinals' must-win, we should expect better from this Arizona offense. Over the years, we've seen enough of the Cardinals with and without Hopkins to note the massive difference we have seen between those two incarnations of the Cardinals. It's curious why it's so drastic, but it just has been. Therefore, with the urgency of the Cardinals and the jolt they get with Hopkins, it might not be crazy to expect some better things moving forward, despite seeing such few glimmers of hope up to this point.
10* CONF CHAMP TOTAL - 7-3 (70%) NFL PLAYOFFS
AAA Sports has hit BOTH their Wildcard Round and Divisional Round TOTAL OF THE YEAR, meaning you simply CAN NOT afford to miss out on their CONFERENCE CHAMPIONSHIP TOTALS WINNER! Now an ABSOLUTELY ELECTRIC 7-3 (70%) in the NFL Playoffs, this is TRULY the BIG PLAY that you've been waiting to just UNLOAD on!
Are the 5-1 Vikings for Real?
There has been a general quietness with the Vikings getting off to such a good start under first-year head coach Kevin O'Connell. Their only loss was to the still-unbeaten Eagles. Kirk Cousins has been playing well, and when he connects with WR Justin Jefferson, it's a tandem that can be hard to stop. Throw in RB Dalvin Cook and a big supporting cast of guys through the air and on the ground, and it can be a real full load to handle for opposing defenses, never mind a struggling one like Arizona's. The Cardinals haven't been bad against the run, but their issues against opposing aerial offenses should elicit concern for the purposes of this matchup. Along with a defense giving up under 20 points a game, it's easy seeing a Vikings team staying atop this division with more of the same.
When a team that has been shut out of the postseason the last few seasons as the Vikings have, along with having a new coach, maybe one should just observe their nice 5-1 start and not be too critical. At the same time, there are some things that might give one pause before prematurely anointing the Vikes kings of the NFC North. All their wins are against teams where it's fair to say something was off, from their week one win over Green Bay and subsequent wins over Detroit, New Orleans, Chicago, and Miami. We see a secondary that is struggling big time, with that being camouflaged by their own success on offense. Against an Arizona offense that is getting closer to full power, will some of those inadequacies that haven't shown up yet start to become more visible?
Still, for a team that spent the last few seasons on the wrong end of so many close games, it's good to see a Vikings team showing some late-game clutch. That element has been instrumental in several of their wins this season, with both sides of the ball having become more reliable in late-game action. That can go a long way this week. And while we've seen some quiet games from Dalvin Cook at times this season, he seems to be getting his legs under him, and it's just a lot of options for a Vikings team to wield, particularly against a dicey Arizona defense that will be on the road against a rested Vikes team coming off the bye.
More Picks: Get Jay's Cards vs. Vikings Week 8 Point Spread Pick >>>
X Factors this Week
Is it possible that James Conner comes back for the Cardinals, giving them another option? With Hopkins back in the mix and the Cardinals having so much depth aerially, the spotlight goes onto a Vikes' pass defense that might not be up to snuff. Is this the week where we see that shortcoming manifest in a more-detrimental way? Or is it more about what is the Arizona "D" that just gave up 34 points to the Saints last Thursday going to look like against Cousins, Jefferson, Cook, and the rested Vikings' home offense? Are we looking at a potential track meet this week with both secondary units in tatters? And if so, may the Cardinals have the edge by virtue of their innumerable weapons and options? There's a lot to take in when breaking down this game.
Take the Points
I have this funny feeling that this is the week where the Cardinals really gun hard to get back to .500. As weird as it seems, it might be a real thing that Hopkins transforms the way this offense flows. And if so, it could be tough on a Minnesota defense that has perhaps been made to look a little better than it actually is or will be when the competition gets tougher. Not to imply this fast Minnesota start is some kind of a mirage or that Arizona is back because they beat the Saints. I just sense this being a good spot for the Cardinals, and I think they'll cover the spread in Minneapolis. I'll take Arizona.
Loot's Prediction to Cover the Point Spread: I'm betting on the Arizona Cardinals plus 4 points.