WFT Win Total – Play The Over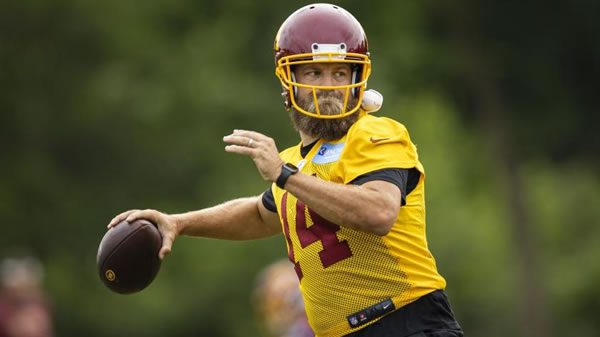 The Washington Football Team entered the 2020 season with tons of issues and little optimism. When week 17 concluded, they had won 4 of their last six games and were reigning NFC East Champions. Coach Ron Rivera leads the 2021 WFT into a season with hopes of repeating as division champs and making a deep playoff run.
Betanysports.eu
has set the season win total at 8.5. This is an easy Over play. Here are three reasons.
It's All About The Defense
The lone bright spot heading into 2020 for Washington was the defense – and the defense got better and better as the season progressed. The WFT stop unit allowed the 4th fewest points in the league, 2nd in yards allowed, and 3rd in passing yards per attempt. The defense was powered by one of the league's best defensive lines and bookend pass rushers, rookie Chase Young and Montez Sweat. The front four's average age is 24, so they should be even better this year, and Young has the potential to lead the league in sacks and be defensive player of the year.
The back 7 isn't spectacular, but they will play fast, and the addition of first-round linebacker Jamin Davis and cornerback William Jackson III makes them solid enough to complement the front 4. The WFT is one of the few teams that can consistently get pressure while only rushing 4, which should keep them top 5 in interceptions and make life tough on opposing offensive coordinators and quarterbacks. With a better offense, the Football Team should have leads in the second half, which will allow the defense to pin their ears back and hunt quarterbacks. It is very possible the WFT has the best defense in the league in 2021, and they dominate multiple games.
Fitzmagic is the Key
Although Washington won their division last year, they did it with only seven wins. Those quarterbacks for those seven wins were Kyle Allen, Dwayne Haskins, and one-legged Alex Smith. Enter journeyman quarterback Ryan Fitzpatrick. Fitzmagic has donned eight different uniforms during his 15-year career, but he is a big step up for the WFT. Last year's QB trio in Washington averaged 5.3 yards per attempt and managed only 16 passing touchdowns, both 30th in the league. For the Dolphins, Fitzpatrick averaged 7.8 yards per attempt and had 13 TD passes on less than half of the attempts of the 3 WFT QBs. Fitzpatrick has a very sound supporting cast, with Terry McLaurin establishing himself as an elite receiver in the league and accumulating over 1100 yards in 2020. McLaurin is joined by free agents Curtis Samuel and Adam Humphries. Samuel will add a legit deep threat while Humphries gives Fitzpatrick a slot receiver he has worked with before. Rookie Dyami Brown gives Washington another speedster that will provide Offensive Coordinator Scott Turner another chess piece to keep defenses honest. Logan Thomas has evolved into a reliable tight end, hauling in 72 passes last year.
On the ground, 2020 rookie Antonio Gibson took over the lead back role, averaging 4.7 yards per carry with 11 rushing TDs. He is a very capable receiver but generally ceded the passing game duty to J.D. McKissick, who was second on the team with 80 receptions. The WFT has a very well-balanced offense that will be significantly better than last year. The offensive line will have new tackles that might be a weakness but shouldn't be a big step down. Fitzpatrick will occasionally make some bonehead plays, but he can lead this offense to a lot of wins.
DID YOU KNOW… WE ALSO OFFER FREE WEEKLY NCAA FOOTBALL PICKS?
They Are the Best Team in the Division
There is a reason seven wins was enough to win the NFC East last year. The other teams all sucked. This year will not be a lot different in 2021. Philadelphia and the Giants combined for ten wins and have not done very much to improve their teams. Dallas is the team many folks think will rise to the top, but they couldn't stop anyone last year and are counting on Dak Prescott to recover from a gruesome ankle injury and lead the offense to 35 points per game. Their division competitor's biggest weakness is coaching. Ron Rivera will match wits with: Mike McCarthy - who, since Anthony Lynn is no longer a head coach, maybe the worst coach in the league, Joe Judge, who may have a future as a head coach, but he is still green and has kept Jason Garrett as Offensive Coordinator despite the G-Men ranking 31st in offense in 2020, and Nick Sirianni who the Eagles have hired to lead a team with no offensive weapons. Washington should be able to win 5 division games, meaning they only need to win 4 of their 11 other games. WFT will line up against the AFC West and NFC South, meaning games versus the Raiders, Panthers, Falcons, and Broncos. They also get a first-place schedule, but they proved they could compete against elite competition in December, beating Pittsburgh and San Francisco and falling to the Seahawks by 5 points with Dwayne Haskins at QB. It won't be surprising to see Washington be competitive and possibly beat the Saints, Rams, or Packers.
Lock in Over 8.5 Wins for The Football Team
I think the best play on the Win Total Board is WFT over 8½ wins. Outside of quarterback, this is a top 6 or 7 team, and Ryan Fitzpatrick can provide enough magic to get Washington at least nine wins. I also like WFT at +160 to make the playoffs and +250 to win the division. At some point in the playoffs, Fitzpatrick will turn into a pumpkin, so I don't like WFT to make a deep playoff run, but he will get them to 9 wins and probably a back-to-back division title. Another thing you should lock in is a bankroll booster! Start the 2021 NFL season AHEAD by taking advantage of a 100% bonus on your first deposit of $100 to $300 at the web's most fun sportsbook –> MyBookie!
Football Betting Guide
New to football betting? NFL point spreads can be confusing at first, but our how to bet on football article help you bet like a seasoned pro! You'll also learn how to wager on teasers, parlays, over/unders, prop bets, futures and how point buying works.