Wild Card Picks: Steelers vs. Chiefs 1/16/22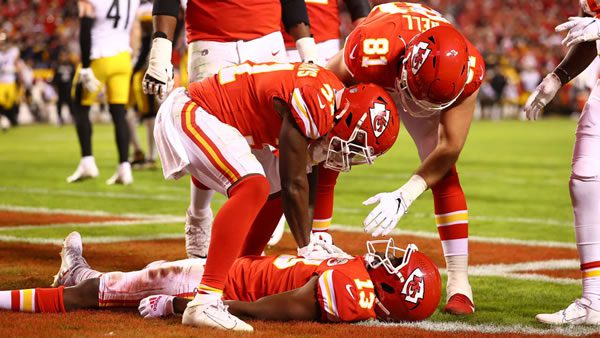 Pittsburgh Steelers (9-7-1 SU, 8-9 ATS) vs. Kansas City Chiefs (12-5 SU, 8-9 ATS)
AFC Wild Card Playoffs
Date/Time: Sunday, January 16, 2022 at 8:15PM EST
Where: Geha Field at Arrowhead Stadium, Kansas City, Missouri
TV: NBC
Point Spread: PIT +12.5/KC -12.5 (MyBookie – Score a 100% real cash bonus up to $300 when you sign up using bonus code PREDICT100)
Over/Under Total: 46.5
The Pittsburgh Steelers come to Arrowhead for a Wild Card showdown with the Kansas City Chiefs on Sunday. The Steelers beat the Ravens, 16-13, on Sunday and got a lot of help to be here. They now take on a 12-win Chiefs team that ended the season on a positive note with a 28-24 win over the Broncos. Both teams overcame a lot of challenges to make it to this spot. Who will be able to move on to the divisional round?
A Look Back at Week 16
When a late regular season result of a somewhat-pronounced nature is at our feet, it has to be acknowledged. The day after Christmas, the Chiefs blasted the Steelers in this very stadium, 36-10. Making it worse was Pittsburgh only managed a TD at the end of the game when the Chiefs weren't playing hard. When one considers the Chiefs managed this type of offensive destruction with Travis Kelce and Tyreek Hill (questionable) combining for two catches, it paints the Steelers' chances in an even worse light. Three touchdown throws from Patrick Mahomes, and a score on the ground from Clyde Edwards-Helaire (questionable) were enough against a Steelers' offense that labored extensively against a KC defense that had gotten its act together by this point.
Teams have reversed results before in the same season, even extreme ones like this. The postseason is a different context, and while the Chiefs have been the team with the most success as of late, making it to two straight Super Bowls, Ben Roethlisberger and Mike Tomlin have also fared well in postseason games before, as well. Still, for those looking to get behind the Steelers this week, week 16's result looms large.
Both Sides of the Coin with the Steelers
You have an experienced QB by Ben Roethlisberger, who has Super Bowl rings. And with this being the end of his career, one has to be on the lookout for retirement mojo, a certain newfound energy that can come about with the light at the end of the tunnel so visible now. He has a lot of good youth at his disposal offensively, with RB Najee Harris and good receivers like Diontae Johnson and Chase Claypool. Throw in some nice role receivers and a good rookie tight end in Pat Freiermuth; it's an offense that can make some noise. Add in some impactful youth on the other side of the ball like sack-monster TJ Watt and others who can make big plays, and they're not as much a lost cause as some might think.
Still, for a playoff team, the deficiencies are numerous for the Steelers. And even if part of you wants to marvel at the fact that a team with such shortcomings can make it this far, the list is a damning one. While they've tightened up recently in spots, their run-defense has the ability to hit depths that can undermine the whole operation. It's something that certainly surfaced in the first game with the Chiefs several weeks back. And despite Najee Harris being so productive in an overall sense this season, the Steelers can't really run the ball. Their offensive line isn't up to playoff-team standards. Roethlisberger is under siege a lot, and while he can get rid of the ball, his mobility at this point is non-existent. All these things were visible in their 26-point loss to the Chiefs on December 26.
Get all of our team's NFL Wild Card Picks >>>
What the Steelers Do Well
Time and again this season, we see Pittsburgh in tough spots, able to turn games into ugly affairs where they come out ahead. Some offenses have managed to dominate this "D" this season, but often the Steelers can take a "D" that looks bad on paper and do things to make it far more serviceable. With that big pass-rush getting cranked up, along with guys like Minkah Fitzpatrick and others getting turnovers and making big plays, they can occasionally take potent offenses and have them in stitches.
The Steelers can also sometimes collapse entirely, having absorbed a handful of beatings this season. We saw them get their clocks cleaned twice by division rival Cincinnati, an inglorious tie with Detroit, a massive beating at the hands of the Vikings, made to look better by a late scoring surge, and the one-sided loss to the Chiefs in week 16. In those games, their weaknesses come through In living color.
The Contradictory Nature of Pittsburgh
The Steelers are a weird team. They have sort of that hard-nosed vibe, but they're pretty weak along both lines of scrimmage. That seems hard to say, especially on defense where TJ Watt registered a historic number of sacks. But they really can't stop the run in spots. They have high-end receiver talent, not just Johnson and Claypool, but a lot of key contributors, along with a promising young running back who can catch passes out of the backfield. But it's often a big grind on offense, with the uneven play of Roethlisberger and that O-line making it a slog. They're a hard team to get a read on.
Lay the Points
One can appreciate a divergent view in this game. It's not hard to picture Pittsburgh making this harder than it looks. Both teams have shown a wide range, and with the Chiefs finding it harder to hit their top-gear this season, it opens the door for a multitude of possibilities. But while the Chiefs may not be the automatic high-flying offense they've been for the last few seasons, they might be more solid overall. The Steelers could do better, but they still have too big of a bridge to gap, and I see the Chiefs getting through this in a somewhat routine fashion, covering the spread and moving on in the playoffs. I'll take Kansas City.
Loot's Prediction to Cover the Point Spread: I'm betting on the Kansas City Chiefs minus 12.5 points. Bet your Wildcard predictions for FREE by taking advantage of a 100% REAL CASH bonus up to $1000 at Betnow Sportsbook!
10* GAME OF MONTH **INSANE 75% NFL PLAYOFFS!
AAA Sports has gone 5-1 (83%) with their NFL Playoff picks over the L2 rounds and overall they enter the Super Bowl having gone an INSANE 75% (9-3!) with ALL of their NFL Playoff releases! AAA Sports is playing with HOUSE MONEY in BOTH the NFL and College Football this season and they're UNLOADING MASSIVELY in this year's Super Bowl with BOTH SIDE and TOTAL! BE THERE!