Sporting Kansas City vs. Chicago Fire Picks 10/17/20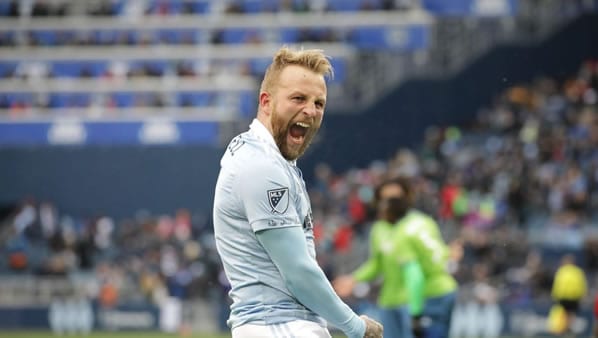 Sporting Kansas City (9-6-2, 29 points, 3rd place West) vs. Chicago Fire (5-8-4, 19 points, 11th place East)
When: Saturday, October 17, 3:30 p.m.
Where: Soldier Field, Chicago
TV: Univision
Point Spread: Sporting +0.5/Chicago -0.5
Moneyline: Sporting +195/Chicago +125/Draw +270
Total: Over 2.5 (-182)/Under 2.5 (+135)
Get the best soccer lines at (BAS - You pay $5 less per $100 bet! HUGE savings!)
Last Time Out:
Sporting lost 1-0 to FC Dallas; Chicago beat D.C. United 2-1.
Previous meeting:
Sporting Kansas City defeated Chicago 1-0 on October 7 at Children's Mercy Park in Kansas City, Kan.
About the Matchup:
The pressure's on for Chicago, as it tries to claim one of the last four spots in the expanded Eastern Conference playoffs in this weird season. Because of the realignment caused by the pandemic, ten teams will play in the Eastern Conference playoffs this year, leaving the Fire just one point short of making the postseason with five games to play. They now get a second shot at Sporting, only ten days after dominating the possession but failing to do anything with it, wasting a golden opportunity to pick up a crucial point.
For Sporting, there's a different kind of pressure. SKC knows it will be in the playoffs barring something strange happening, but it has two main goals over the final few matches of the regular season. First, Sporting wants to earn the top spot in the West and avoid having to face a trip to either Seattle, Portland, or Los Angeles in the conference semifinals. Second, SKC would love to avoid a first-round match with Dallas. For whatever reason, Dallas has had Sporting's number this season, beating them twice and earning a draw in the third match.
With Dallas currently sitting fifth in the West, SKC has to keep getting wins to avoid slipping to fourth and facing its nemesis in its first playoff match. But Soldier Field has been Chicago's fortress ever since the Fire moved back to the city this season, with only New England managing to come away with a win in six home matches. Can Chicago make its home-field advantage count when it matters most?
Scouting Sporting Kansas City:
There's one thing we know for sure about a Sporting Kansas City match: Peter Vermes' side is going to take a lot of shots. Whether Sporting actually does anything with them is another matter. SKC has managed to outshoot its opponent in six of its past eight matches, but they're just 4-4-0 in that stretch because they haven't been getting most of those shots on target. In three of its past six games, Sporting has put three shots or fewer on target, and not surprisingly, they lost two of those matches and didn't score more than once in any of them.
The reason Sporting is still near the top of the table is because of the defense. Sporting has done an excellent job of forcing opponents into a few looks at the goal and even fewer quality chances. Vermes' side believes that if they can hold opponents to one goal or less, they've got an excellent shot to win the match, and over the past four games, they've been right. Sporting has won three of their past four and probably would have gotten a draw in the fourth if not for a controversial decision not to award them a penalty against old friend Dallas. In all four matches, Sporting never allowed more than one goal.
However, one thing has been missing over the last four matches: Johnny Russell. Sporting's leading scorer hasn't hit the net in any of the past four games, and the Scot has to get back to scoring if Sporting is going to achieve its goals.
BET TODAY'S SOCCER FREE BY TAKING ADVANTAGE OF A 100% BONUS UP TO $1000 AT BETNOW SPORTSBOOK! THIS IS THE BEST BONUS WE'VE EVER SEEN!
Scouting Chicago Fire:
It's bounce-back time for Robert Beric. The Fire's top scorer had hit the net in five straight heading into the previous match against Sporting but missed a penalty that would have earned his side the point it needed to get above the playoff cut line. Now he's got a chance to redeem himself, and after not getting the call to represent Slovenia during the international match window, he's likely to be plenty motivated to do exactly that.
Even without fans, the Fire as a whole has appeared quite motivated by playing at Soldier Field, where they've now won three straight and gotten a result in five out of six matches. The most significant difference between home and away has been the attack, as Chicago has looked lifeless away from home, getting shut out in four of six matches and only avoiding a shutout in a fifth because Beric put home a penalty. The lone exception was when Chicago put home two against Montreal, which doesn't even get to play at home because of Canada's travel restrictions.
At Soldier Field, however, it's been the exact opposite. The loss to New England marked the only time that Chicago has failed to score at least twice at Soldier Field, and Chicago tends not to waste much time in finding the net at home. In every home match except the loss to New England, the Fire have both scored first and done so within the first 15 minutes.
Dan's Best Bets:
Chicago is a desperate team that has played its best soccer at home, which means this is the ideal time to back the Fire to win. There's just something about playing in the city that brings out the best in this team, and they frankly should have earned at least a draw against Sporting when the teams met in Kansas. I think Soldier Field will make the difference for them, and I like Chicago to get a win.
But of course, we aren't going to settle for a simple win bet. If you want to be aggressive, I'd take Chicago to win and both to score at +250. Goals tend to come frequently at Soldier Field, and I think Sporting's plethora of shots means that at least one will hit the target.
Finally, I've got three prop bets to consider. First, I'd back either team to win by one goal exactly at +140. These teams usually only play once a year, and over the past five years, it's been like clockwork. All six of the sides' past six meetings have been decided by one goal, with no draws in the mix.
Secondly, I'd back a goal to happen within 15 minutes at +175. We've already established that Chicago has had the lead at the 15-minute mark in five of six matches at Soldier Field this year. In the sixth, New England scored three minutes into the game, meaning all six home matches have seen at least one goal scored within that mark. Finally, backing Chicago to lead after 15 minutes at Soldier Field has been a major moneymaker, and the numbers are there again. You'll get +400 if the Fire holds the edge after 15 minutes.
Dan's Score Prediction:
I've already said that I'm taking Chicago to win, I'm expecting the Fire to win by exactly one goal, and I think Sporting will score, so this score prediction shouldn't really come as a surprise to anyone. Two has been the number for the Fire in three of their six home matches this season, and I'm going to take it to happen again, which means I'm backing Chicago to claim a 2-1 win at +875 in this one. Are you a small bettor who would like some free bets but don't want to deposit a ton to get them? We've got a good one for ya! Deposit only $25 and you'll receive a free $50 credit to your wagering account when you use bonus code ROOKIE200 at Intertops Sportsbook!