BetOnline 500K NFL Handicapping Contest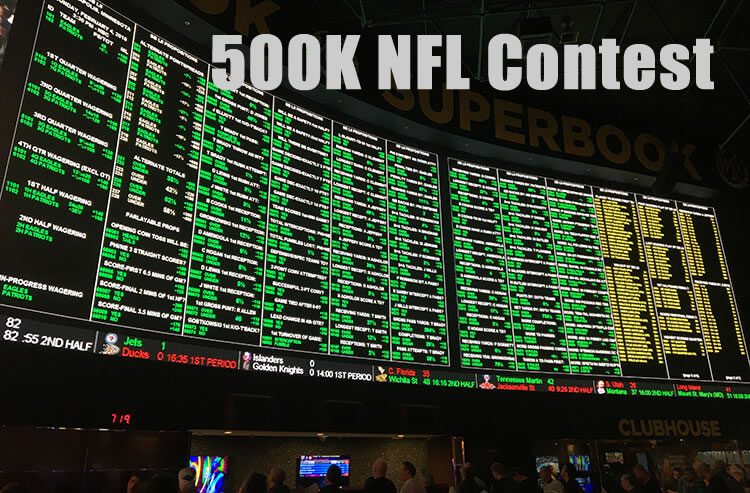 Ever wanted to enter the Westgate SuperContest but couldn't afford to travel to Las Vegas to sign-up, hire a proxy to enter your picks, and pay the $1000 entry fee? You're not alone!
In 2021, there's an alternative football handicapping contest that can get you into the action, and you can participate from the comfort of your own home! The top prize is $200,000, and the entry fee is only $100! You can enter up to 5x, and the entry free goes down each time you do! —> $75, $50, $25 and $25 for your second, third, fourth and fifth entries!
BetOnline $500K MegaContest Rules
The contest runs for the 2022 NFL regular season from Week 1 through Week 18. Playoffs are not included.
Registration is open now through until September 12th, 2022 at 8:05PM ET.
You must have a wagering account at BetOnline. If you don't have one, you'll need to register for an account through this special link.
You will need to fund your betting account with a minimum of $100. Note: Betonline offers a free play bonus for new depositors, but this cannot be used towards your $100 entry. The $100 entry fee will be deducted from your sportsbook account balance.
You must register for the contest online. No phone, online chat, or email entries are allowed.
Once you've entered the contest, you're locked in. No refunds will be offered.
Early Bird Promotion!
Enter and purchase FIVE entries by Sunday, Aug. 21st, 2022 and you'll receive a FREE entry into BetOnline's $200,000 NFL Survivor contest (a $30 value). The free survivor entry will be credited to your account by Friday, Aug. 26th, 2022.
BetOnline reserves the right to alter or amend the Terms and Conditions of this promotion at any time, without notice.
How to Play
Pick (5) games against the spread each week of the NFL season.
As noted above, your picks must be placed online.
Your picks are made using LIVE current odds at BetOnline.
Contestants may submit and/or change picks at any time until the specified start time of each game. At the specified start time, games are no longer available for selection, and any picks involving that game cannot be changed.
Players receive (1) point for correct selections and a half-point for a push/tied spread.
Weekly lines come out on Tuesdays.
A team can only be selected once, and contestants can't pick both sides of the same game.
If a game is canceled or postponed, the game must be played by Tuesday of the following week in order to qualify for points in the standings.
The NFL season must go a full ten weeks for this contest to be considered action. If the NFL season were to get canceled, all entry fees would be refunded. (Except for 1st and 2nd qtr prizes).
At its discretion, BetOnline may adjust the weekly selection requirements or grading in the event of a widespread technical issue that affects contestants' ability to make selections.
BetOnline reserves the right to modify contest rules without notification.
$500K Guaranteed Prize Pool
Prizes are CASH, and no rollover is required up winning.
Winners will receive a credit to their wagering account within three days of the end of the NFL's regular season (Week 18)
Prizes are awarded to 1st through 200th place:
Place
Prize
1st Place
$200,000
2nd Place
$50,000
3rd Place
$25,000
4th Place
$20,000
5th Place
$15,000
6th Place
$10,000
7th Place
$9,000
8th Place
$8,000
9th Place
$7,000
10th Place
$6,000
11th Place
$5,000
12th Place
$4,000
13th Place
$3,500
14th Place
$3,000
15th Place
$2,500
16th – 20th Place
$2,000
21st – 30th Place
$1,400
31st – 40th Place
$1,000
41st – 50th Place
$800
51st – 75th Place
$700
76th – 100th Place
$600
101st – 125th Place
$500
126th – 150th Place
$400
151st – 200th Place
$300
There are no tie-breakers. All ties are split equally.
Special Quarterly Prizes!
For those out of the running for the top prize, there's reason to keep entering your picks because you can qualify for a "quarterly prize" of $5000! Quarters are broken down as follows:
1st Quarter: Week 1 to 4
2nd Quarter: Week 5 to 8
3rd Quarter: Week 9 to 13
4th Quarter: Week 14 to 18
As with the full season contest, there are no tie-breakers. All ties are split evenly.
Prizes are non-transferable.
Click here to register for an account at BetOnline and take your shot of winning $200,000 CASH!
Good luck!