[et_pb_dcsbcm_divi_breadcrumbs_module hide_homebreadcrumb="off" homebreadcrumbtext="Home" separator="sep-raquo" hide_currentbreadcrumb="off" homebreadcrumborientation="left" _builder_version="3.8″ fontsbreadcrumbs_font="Lato||||||||" fontsbreadcrumbs_text_color="#000000″ fontsbreadcrumbs_font_size="15px" fontsbreadcrumbs_line_height="16px" fontsseperator_font="||||||||" fontsbreadcrumblinks_font="||||||||" fontsbreadcrumblinks_text_color="#2567cf" custom_margin="25px|||" custom_margin_phone="30px|||" custom_margin_last_edited="off|desktop" custom_css_main_element="font-family: Helvetica Regular;" global_module="3641″ saved_tabs="all"][/et_pb_dcsbcm_divi_breadcrumbs_module]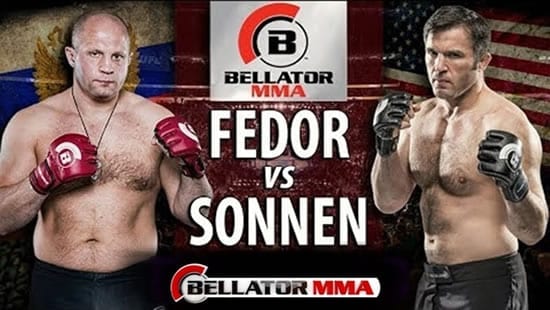 Bellator 208: Fedor vs. Sonnen Picks
When: Saturday, October 13, 2018
Where: Nassau Coliseum, Uniondale, New York
TV: Paramount Network
Fight Analysis:
In one of the more-anticipated Bellator matches ever, their heavyweight tournament features a big-name semifinal match, with heavyweight legend Fedor Emelianenko taking on Chael Sonnen. Both men won their opening tournament matches, with Fedor laying out ex-champ Frank Mir, while Sonnen won a decision over Rampage Jackson. Who has enough to win this and get into the tournament final?
Fedor Emelianenko, 37-5 (11 KOs, 17 Submissions), (-290) vs. Chael Sonnen, 31-15-1 (7 KOs, 5 Submissions), (+245)
Fedor Emelianenko takes on Chael Sonnen in the semifinal of the Bellator Heavyweight Tournament. Both men are looking to add a nice cherry atop their careers, as each fighter is 41 and clearly near the end of the line. Fedor considered one of the best of all time, but a fighter where the sport has passed him by scored a violent win over another aging big man in Frank Mir in his last fight. After a rough patch of late, a vintage Fedor win was really a sight for sore eyes. Sonnen, meanwhile, a man who earned his stripes as a middleweight, was able to get here with a clear win over Rampage Jackson. This one might be a little tougher for the trash-talking Oregonian.
Both men have distinguished track records, while also having a long list of limitations at this advanced stage in their careers. Fedor might not be chronologically that old, as fighters have certainly been effective at 41 and beyond. But his prime is squarely in the past. In the 2000's, he was the best and compiled a resume that puts him at or near the top of the list of all-time great heavyweights in MMA. Fedor's coming to America, however, coincided with a loss of his edge. Since 2010, he has gone 6-4, with KO losses coming each time has tried to tangle with a top big man from this decade.
Sonnen's issues are no less compelling. A longtime middleweight who would sometimes honeymoon as a light heavyweight, he is very undersized for this division. Against a lifetime 205-pounder like Jackson, it didn't show. But Fedor is a more in-shape robust fighter than Jackson, and the size disparity will be graphic. That alone doesn't win fights, but with Chael being a wrestler by trade and Fedor a marvel on the ground, as well, one might have to search hard for avenues of victory for Sonnen.
With Sonnen, it's always a little murky as far as relating his actual merit as a fighter to his considerable star-power, big mouth, and overall stature. It's a difficult equation. Surely, the brightness of his star as a celebrity outshines his stature as an actual fighter. Maybe that didn't use to be the case when he was almost beating Anderson Silva for the middleweight title, but he had lost four of five coming into this latest Bellator tenure. Beating the worn-down duo of Wanderlei Silva and Rampage Jackson is nice, but hardly signifies a renaissance in his career trajectory.
Sonnen's recent body of work in MMA is pretty checkered. Two straight wins have him vaguely pointed in the right direction again, but it hasn't been a successful ride as of late. His UFC tenure ended with a KO loss to a faded Rashad Evans, leading to a long layoff. He returned, this time in Bellator, where he performed badly in a two-minute submission loss to Tito Ortiz. And any analysis for this fight that favors Sonnen could have been applied to the Ortiz fight. This matchup looks even tougher.
A few things make one hesitant, however, to rule out the prospects of Sonnen. It's really not the same Fedor anymore. Emelianenko's loss to Dan Henderson shows you don't have to be some behemoth to beat him, though Sonnen lacks Henderson's striking power. Sonnen is a great MMA mind. Who knows? Maybe he can come up with a good game plan, one that camouflages his weaknesses while making what he does well stand out more.
A lot of the same concerns surround Fedor. In the last handful of years, he can only beat decidedly non-elite opposition. He beat Mir in a 48-second war where he himself was nearly KO'd. The fight before that, he lasted a little over a minute against Matt Mitrione. Before that, he needed all the luck and help to get through a 3-rounder with light heavyweight Fabio Maldonado, who had him badly hurt in their fight. Six or seven years ago, he was KO'd brutally by fighters he presumably would have laid to rest in his prime—guys like Bigfoot Silva.
In other words, it's not easy to really determine who is closer to their prime in this fight, with ample evidence being that both men need a telescope at this point to find it. Fedor showed he is still dangerous. He is robust, athletic, well-rounded, and simply built for this. He is still strong and fast with great ground-work and the ability to instantly render an opponent unconscious. It's just that the once-indestructible powerhouse has lost his ability to withstand punishment. In a sport that is so young with so much growth, having a prime that was over a decade ago means the sport may have passed you by. What worked in 2004 doesn't work so well in 2018, especially when your body is no longer responding the way it once did.
Each man is certainly a dicey betting proposition at this point. It's been a good while since Fedor appeared to be anything resembling a contender, while Sonnen is clearly on the final-lap portion of his career. On the surface, one would certainly favor the bigger and overall more-successful Fedor. But Sonnen has the more-recent suggestions that he still matters in this sport. This is a move that could make me feel silly come fight-night. But laying nearly 3-1 odds on Fedor at this stage in his career, even in what might appear to be a good style-matchup with Sonnen, seems crazy. I think Sonnen at this price is worth a little tickle.
My Pick to Win: I'm betting on Chael Sonnen at +245 betting odds. In about where so many questions loom, taking the underdog seems like the good move. It's the type of pick that's likely to make you either feel like a fool or genius—no in-between.
<aside><!-- [et_pb_line_break_holder] --><div class="widget105"><!-- [et_pb_line_break_holder] --><h4 class="cash">Biggest Sportsbook Bonuses</h4><!-- [et_pb_line_break_holder] --><div class="widgetlist"><!-- [et_pb_line_break_holder] --><div class="col1"><!-- [et_pb_line_break_holder] --> <a href="https://www.predictem.com/out/Bovada"><img src="https://www.predictem.com/wp-content/uploads/2018/04/bovada.png" width="150" alt="Bovada" /></a><!-- [et_pb_line_break_holder] --></div><!-- [et_pb_line_break_holder] --><div class="col2"><!-- [et_pb_line_break_holder] --><span class="list"><b>50% Cash</b></span><br><!-- [et_pb_line_break_holder] --><span class="list">5x Rollover</span><!-- [et_pb_line_break_holder] --> </div><!-- [et_pb_line_break_holder] --> <div class="col3"><!-- [et_pb_line_break_holder] --><a href="https://www.predictem.com/betting-sites/bovada/"><button class="btn-widget">Review</button></a><!-- [et_pb_line_break_holder] --></div><!-- [et_pb_line_break_holder] --></div><!-- [et_pb_line_break_holder] --><div class="widgetlist"><!-- [et_pb_line_break_holder] --><div class="col1"><!-- [et_pb_line_break_holder] --> <a href="https://www.predictem.com/out/Intertops"><img src="https://www.predictem.com/wp-content/uploads/2018/04/intertops.png" width="150" alt="Intertops" /></a><!-- [et_pb_line_break_holder] --></div><!-- [et_pb_line_break_holder] --><div class="col2"><!-- [et_pb_line_break_holder] --><span class="list"><b>50% Cash</b></span><br><!-- [et_pb_line_break_holder] --><span class="list">4x Rollover</span><!-- [et_pb_line_break_holder] --> </div><!-- [et_pb_line_break_holder] --><div class="col3"><!-- [et_pb_line_break_holder] --><a href="https://www.predictem.com/betting-sites/intertops/"><button class="btn-widget">Review</button></a><!-- [et_pb_line_break_holder] --></div><!-- [et_pb_line_break_holder] --></div><!-- [et_pb_line_break_holder] --><div class="widgetlist"><!-- [et_pb_line_break_holder] --><div class="col1"><!-- [et_pb_line_break_holder] --> <a href="https://www.predictem.com/out/Gtbets"><img src="https://www.predictem.com/wp-content/uploads/2018/05/gt-bets.png" width="150" alt="GtBets" /></a><!-- [et_pb_line_break_holder] --></div><!-- [et_pb_line_break_holder] --><div class="col2"><!-- [et_pb_line_break_holder] --><span class="list"><b>150% Cash</b></span><br><!-- [et_pb_line_break_holder] --><span class="list">4x Rollover</span><!-- [et_pb_line_break_holder] --> </div><!-- [et_pb_line_break_holder] --> <div class="col3"><!-- [et_pb_line_break_holder] --> <a href="https://www.predictem.com/betting-sites/gtbets/"><button class="btn-widget">Review</button></a><!-- [et_pb_line_break_holder] --></div><!-- [et_pb_line_break_holder] --></div><!-- [et_pb_line_break_holder] --><div class="widget-footer"><a href="https://www.predictem.com/best-sportsbooks/bonuses/">See all sportsbook bonuses</a></div><!-- [et_pb_line_break_holder] --> </div></aside>
<div style="width:340px; margin: 0 auto;"><!-- [et_pb_line_break_holder] --> <a class="twitter-timeline" data-width="340" data-height="500" data-link-color="#008156" href="https://twitter.com/PredictemPicks?ref_src=twsrc%5Etfw">Tweets by PredictemPicks</a> <script async src="https://platform.twitter.com/widgets.js" charset="utf-8"></script><!-- [et_pb_line_break_holder] --></div>