UFC 227 Picks: TJ Dillashaw vs. Cody Garbrandt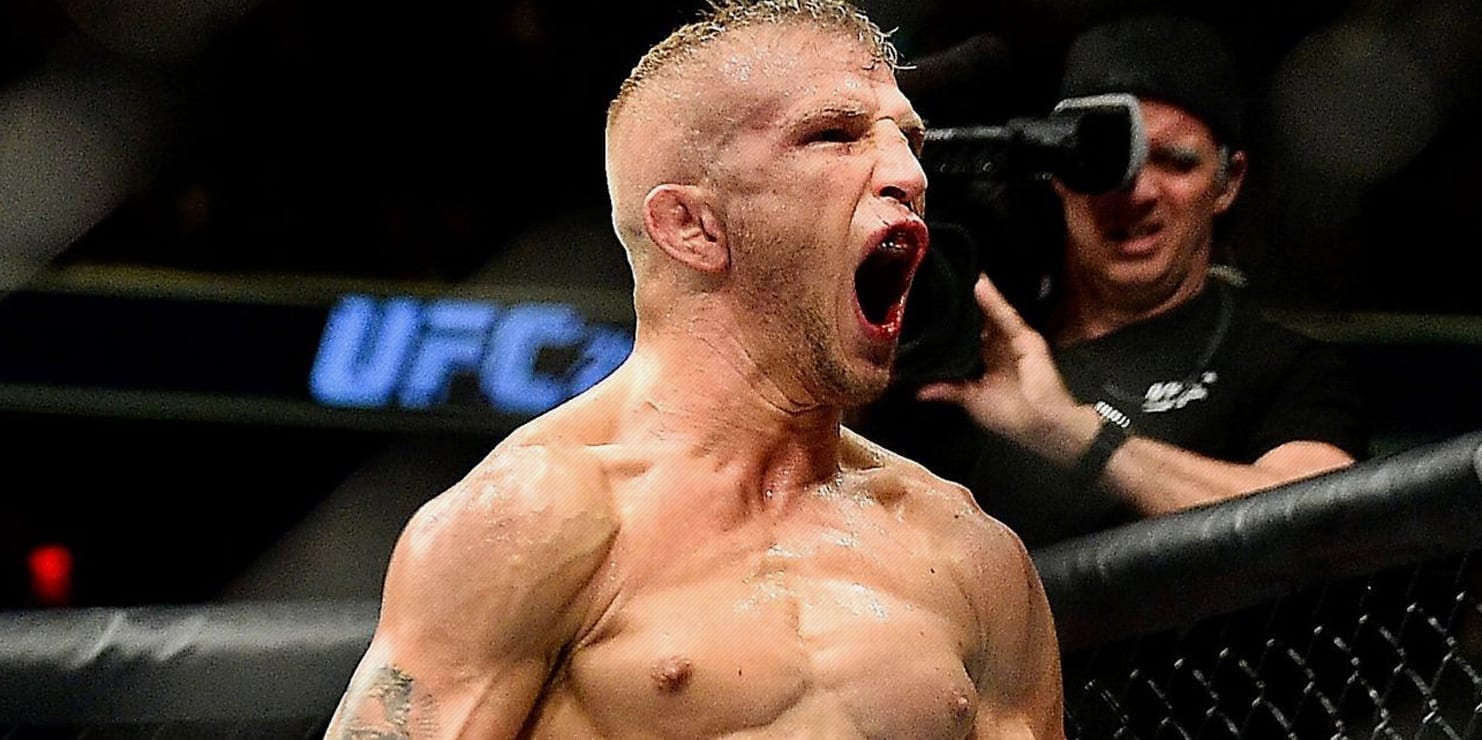 UFC 227: TJ Dillashaw vs. Cody Garbrandt
When: Saturday, August 4, 2018
Where: Staples Center, Los Angeles, California
TV: PPV
by Scott of Predictem.com
Fight Analysis:
The UFC comes to SoCal, with UFC 227 at Staples Center on August 4, headlined by the grudge rematch between UFC Bantamweight Champion TJ Dillashaw and Cody Garbrandt. In November of 2017 in a highly-pitched battle with months of vitriolic build-up, Dillashaw was able to become a 2-time champ with a 2nd-round KO over the defending champion Garbrandt. These guys genuinely dont like each other and it showed in what was a tense and violent fight. The rematch should be no different. Lets see what we can come up with in this Dillashaw-Garbrandt II prediction.
TJ Dillashaw, 15-3 (7 KOs, 3 Submissions), (-120) vs. Cody Garbrandt, 11-1 (9 KOs), (Even)
TJ Dillashaw takes on Cody Garbrandt in the main event of UFC 227 with Dillashaws UFC Bantamweight Title at stake. It is a rematch from a November 17 bout, won by Dillashaw in a brawl that ended in round two. Obviously, two opponents talking junk is nothing new in this sport, but Dillashaw-Garbrandt stands out as one of the more-genuine rivalries in the annals of the UFC. Former stable-mates, the bad blood runs deep and it is indeed real. Dillashaw was able to win last time, but Garbrandt had TJ hurt before falling in the second. The close odds again reflect the toss-up nature of this fight between the best 135-pounders in the world.
Dillashaw, now 32, has packed a lot of action into his 15-3 record. Once merely a contender, he was able to step up his game and break free from the rest-of-the-pack. The wins started piling up. His only losses in the last 7+ years were a pair of debatable split decisions, the last one coming when he lost his strap to Dominick Cruz, who in turn lost the title to Garbrandt. Dillashaw showed his mettle in becoming one of a select few fighters who was able to regain his belt after losing it.
Garbrandt, having been to the top and still only 26, looks to set the story straight in UFC 227. He had Dillashaw badly hurt at the end of the first round, before some Dillashaw shots and a head-kick sent him reeling in the second. It was the first loss of his MMA career and hes young and good enough to rebound. He showed he can hurt Dillashaw and its likely he could have won had he been afforded more time to finish Dillashaw in the first round. He is one of the purer boxers in the sport. But TJ is no slouch in that area and has sparred with some top fighters, including a top guy in Vasyl Lomachenko.
BET UFC 227 USING YOUR CREDIT CARD AND
TO RECEIVE A 50% BONUS AT
BOVADA SPORTSBOOK
This rivalry has been percolating for some time. They were former camp-mates, before an acrimonious falling-out where Dillashaw changed teams. They were opposing coaches on TUF. And this fight fell through a number of times due to injury. They may have only fought once, but it seems like more than that with all the exposure each man has had with the other. Garbrandt was coming off back surgery for the first fight. Its doubtful how much that mattered, though more time distanced from that could do him well in his preparation for this rematch.
I think Dillashaw is a little smarter and more-durable. Anyone can get caught and it shouldnt reflect badly on Garbrandts overall fight IQ, but hes not quite as cerebral as Dillashaw, in life and in fighting. But make no mistake; the striking of Garbrandt is on a different level from his contemporaries at 135 pounds. His heavy punches carried him to the top of the sport and allowed him to beat a tremendous fighter in Cruz, the same man who had lifted the belt from Dillashaw. And having TJ so badly hurt in their first fight certainly gives his cause some wind in the rematch.
Dillashaw learned how to temper his hatred for his opponents against Garbrandt. After appearing to let his emotions lead him astray in his fight against another fighter he disliked in Cruz, he was able to temper his emotions against Garbrandt in their first fight. Garbrandt now hopes to learn the same lesson Dillashaw learned, as his hatred for TJ probably played a role in his defeat after being so eager to close escrow in the second round.
Dillashaw has really improved his angles and approach, constantly switching stances and coming in at different angles. He has become a very versatile fighter. But Garbrandt is a wonder with his hands, namely with his speed and his right-hand power. He can render all his opponents assets moot with those hands. Both men employ great footwork, energy, stamina, and speed. Codys hands might be the most-compelling trait in this fight, but Dillashaw is the more complete and versatile MMA product. Dillashaw hasnt been stopped since his TUF days back in 2011, so Garbrandt is looking to do something no one has been able to do since Dillashaw made it to the big-time and became the fighter he is today.
Its hard to pick against Garbrandt, despite the result of the first fight. That right hand is a blockbuster and the speed he brings to the table is on another level. For some reason, whether its his versatility, well-roundedness, or fight IQ, Dillashaw strikes me as the slightly more-bankable commodity. Again, one can only be so confident going against Garbrandt, as his power can send any analysis into a tailspin. But I see Dillashaw getting the job done once again at UFC 227.
My Pick to Win: Im betting on TJ Dillashaw at -120. I like his greater versatility and the fact that he won the first one. I think hes more-durable and the more-complete fighter, albeit against a fighter in Garbrandt who is as dangerous as they come at 135 pounds. Find the lowest favorite odds and highest paying underdog odds at 5Dimes! Betting at discounted odds saves you HUGE money over the long-haul!