[et_pb_dcsbcm_divi_breadcrumbs_module hide_homebreadcrumb="off" homebreadcrumbtext="Home" separator="sep-raquo" hide_currentbreadcrumb="off" homebreadcrumborientation="left" _builder_version="3.8″ fontsbreadcrumbs_font="Lato||||||||" fontsbreadcrumbs_text_color="#000000″ fontsbreadcrumbs_font_size="15px" fontsbreadcrumbs_line_height="16px" fontsseperator_font="||||||||" fontsbreadcrumblinks_font="||||||||" fontsbreadcrumblinks_text_color="#2567cf" custom_margin="25px|||" custom_margin_phone="30px|||" custom_margin_last_edited="off|desktop" custom_css_main_element="font-family: Helvetica Regular;" global_module="3641″ saved_tabs="all"][/et_pb_dcsbcm_divi_breadcrumbs_module]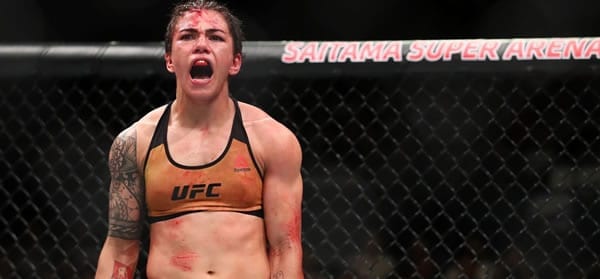 UFC 228 Picks
When: Saturday, September 8, 2018
Where: American Airlines Arena, Dallas, Texas
TV: PPV
by Loot Levinson of Predictem.com
Fight Analysis:
The UFC 228 bill is pretty strong up-top with the Tyron Woodley-Darren Till main event well-supported, first with a Women's Flyweight Title fight between champion Nicco Montano and well-accomplished star female fighter Valentina Shevchenko. Also on the card, two of the top female strawweights in the world do battle, with veteran Jessica Andrade battling tough contender Karolina Kowalkiewicz. Let's see what we can come up with betting-wise for the UFC 228 undercard!
Nicco Montano, 4-2 (2 KOs), (+825) vs. Valentina Shevchenko, 15-3 (4 KOs, 7 Submissions), (-1300)
Nicco Montano takes on Valentina Shevchenko for the UFC Women's Flyweight title in the co-main event of UFC 228. It's hard to remember a time in any combat sport where a reigning champion was such a huge underdog to a challenger, but that's what we're looking at in this fight. Montano has only 6 fights, of which she has won four. Shevchenko, meanwhile, is one of the more-accomplished female fighters of all-time. A little bit of context is needed to understand the full story.
Women's MMA has grown a ton over the past decade. But the full landscape is still being defined. The UFC started adding new weight classes, the flyweight division (125-pound limit) being one of them. Montano became the champion of this division by virtue of her victory on The Ultimate Fighter—a showcase of young talent where the winner gets a UFC contract. On this season, the winner got a belt. Montano, 29, was successful, beating the vastly more-experienced Roxanne Modaffieri in the finals to become champion. But let's face it, it's a dubious claim to being champion, hence her almost-anonymous standing in the world of MMA.
It wouldn't even be necessary to carry on about the iffy nature of her title-claims if not for the opponent she will be facing. All in all, Montano is a nice fighter with a good story—fighting crippling poverty to make something of herself and getting her first taste at any real money. She has some background as a boxer, before taking up BJJ as she moved into the more-lucrative waters of Women's MMA. There wasn't a ton of heat surrounding her as she joined the TUF cast with a 3-2 record, but she cruised to the finals and won, beating some decent opposition along the way. So her
4-2 record is a little misleading, as those TUF bouts count as exhibitions until the finals. She's on a nice little roll, having not tasted defeat since becoming part of the UFC.
It's just that Montano is such a large underdog in this spot against the esteemed Shevchenko. You can almost sense the UFC is banking on this result, in order to have a more-accomplished fighter occupying the top-reaches of these divisions. And the 30-year old Shevchenko certainly fits the bill. In pro boxing and kickboxing, she won 58 of 60 bouts, before racking up a 15-3 record in MMA where she has fought some of the best around. When talking about bodies of work, Shevchenko is on another planet compared to Montano. The veteran battler is one of the top strikers in the sport and even a better finisher now in MMA than she was in other combat sports.
Still, when betting on a favorite fetching a quote as fat as what Shevchenko is getting for this fight, you'd like to see a clearer path to victory. Granted, all of Shevchenko's main issues here have almost nothing to do with her opponent. But it's worth noting she has fought at 125 pounds before, but she has competed as high as 145 pounds in the UFC, and we'll see if she is 100% after making the tough weight-cut. And let's face it, Shevchenko has acquitted herself well against great fighters but failed in her other try at a title. But that was Amanda Nunes, not Nikki Montano. And that's a different kettle of fish.
I like Montano. It took a lot for her to beat a house full of tough women looking to make their bones in this new division. And it's not that she's without skill. But it's all relative, and Shevchenko's skills, experience, and track-record would seem to suggest this is a mismatch. I'm going with the obvious here.
My Pick to Win: I'm betting on Valentina Shevchenko at -1300. She has too many tools and know-how for Montano. I look for an early finish for Shevchenko in this one.
Jessica Andrade, 18-6 (5 KOs, 7 Submissions), (-425) vs. Karolina Kowalkiewicz, 12-2 (1 KO, 2 Submissions), (+325)
In more women's action, UFC veteran Jessica Andrade takes on Karolina Kowalkiewicz in 115-pound action on the UFC 228 undercard. Each woman is a standout in this division, as each works to take that next step toward championship-status. Both women have had a chance to become titleholder, losing to former dominant champion Joanna Jedrzejczyk in previous tries. The division is experiencing some turnover, and both women would like to make a push with a new champ sitting atop the pile.
Both fighters have been in there with top people. Andrade, a 26-year old Brazilian with a vast background, has made more of a bang in the sport. With wins over Claudia Gadelha, Raquel Pennington, and others, she has thrived at a higher
level, even succeeding at 135 pounds before dropping all the way down to 115 as the sport expanded for women. She has fought in the UFC 13 times already. She has five wins in her last 6 fights. She is unquestionably a top 115-pounder and one of the more-aggressive and strong female fighters on the planet.
Kowalkiewicz, 32, is lesser-known but has made her mark. Her only setbacks are to a pair of the top strawweights in the world in Gadelha and Jedrzejczyk, while having won all her other fights, including a decision win over Felice Herrig in her last fight in April. She also holds a win over current champion Rose Namajunas. So she is also an accomplished fighter in her own right.
Andrade is rightfully a substantial favorite in this matchup. She is stronger and a far bigger threat to finish a fight. Kowalkiewicz is competent and even an interesting choice at a price from a value-standpoint. But when looking for an underdog in this spot, I'd be more inclined to pick a fighter who is at least dangerous. And at this level, Kowalkiewicz has minimal finishing ability. I'm taking Andrade.
My Pick to Win: I'm betting on Jessica Andrade at -425. So far, only really good fighters have been able to compete with Andrade, who looks to be a little too strong and multi-dimensional for Kowalkiewicz.
<aside><!-- [et_pb_line_break_holder] --><div class="widget105"><!-- [et_pb_line_break_holder] --><h4 class="cash">Biggest Sportsbook Bonuses</h4><!-- [et_pb_line_break_holder] --><div class="widgetlist"><!-- [et_pb_line_break_holder] --><div class="col1"><!-- [et_pb_line_break_holder] --> <a href="https://www.predictem.com/out/Bovada"><img src="https://www.predictem.com/wp-content/uploads/2018/04/bovada.png" width="150" alt="Bovada" /></a><!-- [et_pb_line_break_holder] --></div><!-- [et_pb_line_break_holder] --><div class="col2"><!-- [et_pb_line_break_holder] --><span class="list"><b>50% Cash</b></span><br><!-- [et_pb_line_break_holder] --><span class="list">5x Rollover</span><!-- [et_pb_line_break_holder] --> </div><!-- [et_pb_line_break_holder] --> <div class="col3"><!-- [et_pb_line_break_holder] --><a href="https://www.predictem.com/betting-sites/bovada/"><button class="btn-widget">Review</button></a><!-- [et_pb_line_break_holder] --></div><!-- [et_pb_line_break_holder] --></div><!-- [et_pb_line_break_holder] --><div class="widgetlist"><!-- [et_pb_line_break_holder] --><div class="col1"><!-- [et_pb_line_break_holder] --> <a href="https://www.predictem.com/out/Intertops"><img src="https://www.predictem.com/wp-content/uploads/2018/04/intertops.png" width="150" alt="Intertops" /></a><!-- [et_pb_line_break_holder] --></div><!-- [et_pb_line_break_holder] --><div class="col2"><!-- [et_pb_line_break_holder] --><span class="list"><b>50% Cash</b></span><br><!-- [et_pb_line_break_holder] --><span class="list">4x Rollover</span><!-- [et_pb_line_break_holder] --> </div><!-- [et_pb_line_break_holder] --><div class="col3"><!-- [et_pb_line_break_holder] --><a href="https://www.predictem.com/betting-sites/intertops/"><button class="btn-widget">Review</button></a><!-- [et_pb_line_break_holder] --></div><!-- [et_pb_line_break_holder] --></div><!-- [et_pb_line_break_holder] --><div class="widgetlist"><!-- [et_pb_line_break_holder] --><div class="col1"><!-- [et_pb_line_break_holder] --> <a href="https://www.predictem.com/out/Gtbets"><img src="https://www.predictem.com/wp-content/uploads/2018/05/gt-bets.png" width="150" alt="GtBets" /></a><!-- [et_pb_line_break_holder] --></div><!-- [et_pb_line_break_holder] --><div class="col2"><!-- [et_pb_line_break_holder] --><span class="list"><b>150% Cash</b></span><br><!-- [et_pb_line_break_holder] --><span class="list">4x Rollover</span><!-- [et_pb_line_break_holder] --> </div><!-- [et_pb_line_break_holder] --> <div class="col3"><!-- [et_pb_line_break_holder] --> <a href="https://www.predictem.com/betting-sites/gtbets/"><button class="btn-widget">Review</button></a><!-- [et_pb_line_break_holder] --></div><!-- [et_pb_line_break_holder] --></div><!-- [et_pb_line_break_holder] --><div class="widget-footer"><a href="https://www.predictem.com/best-sportsbooks/bonuses/">See all sportsbook bonuses</a></div><!-- [et_pb_line_break_holder] --> </div></aside>
<div style="width:340px; margin: 0 auto;"><!-- [et_pb_line_break_holder] --> <a class="twitter-timeline" data-width="340" data-height="500" data-link-color="#008156" href="https://twitter.com/PredictemPicks?ref_src=twsrc%5Etfw">Tweets by PredictemPicks</a> <script async src="https://platform.twitter.com/widgets.js" charset="utf-8"></script><!-- [et_pb_line_break_holder] --></div>