UFC 230 Picks – Undercard Predictions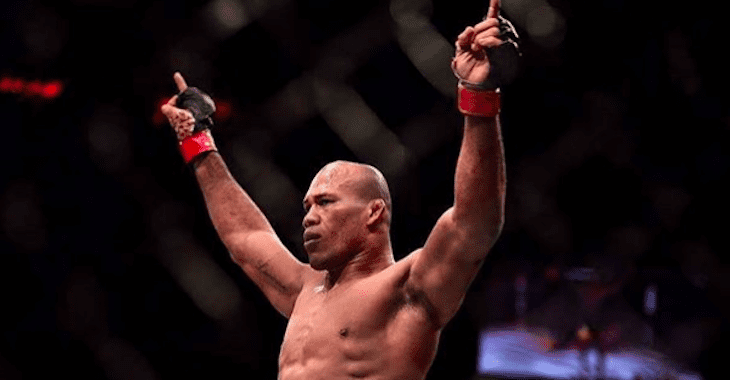 UFC 230 Betting Preview
When: Saturday, November 3, 2018
Where: Madison Square Garden, New York City, New York
TV: PPV
Fight Analysis:
UFC 230 is a card with some depth. Once you get past the Cormier-Lewis championship main event, you see this card has a lot of extra juice. In the co-main event of UFC 230, we see a pair of former middleweight champions doing battle in a rematch, with Luke Rockhold taking on Chris Weidman. Weidman looks to exact revenge for losing his belt to Rockhold in 2015. Also on the card is another major 185-pound bout, with respected veteran contender Jacare Souza taking on a tough challenge in the accomplished David Branch. Let's see what we can come up with for the UFC 230 undercard!
Luke Rockhold, 16-4 (6 KOs, 8 Submissions), (-140) vs. Chris Weidman, 14-3 (6 KOs, 4 Submissions), (+120)
Luke Rockhold battles Chris Weidman in a battle of former UFC Middleweight Champions in UFC 230. The odds are close and reflect what is widely perceived as a close fight between two former kings looking to take a big step toward reclaiming their thrones. Rockhold, 34, is looking to get back on the winning track after losing two of three, including a tough KO loss to Yoel Romero in February. Weidman, also 34, looks to exact revenge on the man who took his title. In his last fight, he got back on the winning track with a big win over rising Kelvin Gastelum.
Their first fight was a wild one, which Rockhold won in the fourth round with punches, as he lifted Weidman's belt. It was named Fight of the Night and fans should expect another action-packed fight. The 185-pound division is picking up steam and keeping pace with the current pack of middleweight threats, both fighters need a win. Weidman's recent win over Gastelum ended a three-fight losing streak. And Rockhold has lost two of three—both by KO. The stakes are high for these two proud former champions.
The first fight between these two raises a lot of questions, particularly for those who are thinking of backing Weidman. The matchup component didn't seem to favor the New Yorker the first time around. Rockhold is a master on the ground, a fighter who is on a different level than most of his 185-pound contemporaries in that area. And when standing-up, his angularity, smarts, and quick-twitch ability to launch sudden shots were all taking a toll on Weidman. He seems better-versed on the ground than Weidman. It's just that whatever Weidman tried, Rockhold was able to do him one better. Rockhold's striking was sharper, his tactics were better; he won the scrambles, and was the boss on the floor. If looking at the fight like a dance, Rockhold was certainly the one leading.
But one wonders about Rockhold's seemingly growing vulnerability. He is unquestionably a top MMA practitioner—there is simply no doubting that. But it comes in a compromised package. Whether it's his chin or the sheer availability of his chin, all his losses have been by KO, and it's definitely become a target for opponents who perceive that as a viable route to victory. Granted, Weidman didn't manage to pull it off the first time, but Rockhold has been sparked a few times since and it's fair to wonder if Rockhold still has the whiskers to withstand the rigors of this profession. The chin doesn't get better, and it certainly doesn't improve with each successive KO. It looms as a major liability for potential Rockhold backers.
Then again, not everything is peachy in the other corner. The win over Gastelum showed Weidman can still be a boss in the octagon, as he was very impressive against a younger and rising middleweight who many fancied to beat him. It's still been a precipitous fall for the once-unbeaten champion. After he beat the legendary Anderson Silva twice and defended against Machida and Belfort, he was flying high. But three straight losses, all by stoppages via strikes, sent him crashing down. The win in his last fight showed he's ready to get things turned around. But let's face it; these are two older fighters, both with ample skill whose best fighting is probably in the rearview mirror.
Rematches can be tricky. Sometimes, the first fight is not an accurate roadmap of how the second fight will go. Still, the first fight would seem to be a more reliable indicator than anything else in this particular matchup. This is a sport dictated by stylistic components. And in my eyes, Rockhold's is all wrong for Weidman. I see Rockhold repeating his win here, maybe by decision this time. I like Rockhold.
My Pick to Win: I'm betting on Luke Rockhold at -140 betting odds. Weidman is a great fighter, but in the first fight, there wasn't one specific area where he seemed to really have an edge over Rockhold. I think Rockhold's striking and ground-game is better and though his durability is a big issue, his advantages trump that and will get him the hard-earned win in this battle.Bet your Rockhold/Weidman pick for FREE by taking advantage of a massive 100% bonus at GTBets!
Ronaldo "Jacare" Souza, 25-6 (7 KOs, 14 Submissions), (-175) vs. David Branch, 22-4 (6 KOs, 7 Submissions), (+155)
Ronaldo "Jacare" Souza takes on David Branch in a battle of middleweights looking to get into the title mix. Branch is 37 and Souza is 38, so time is running low for both men. Branch is coming off a nice win over Thiago Santos. That followed a submission-loss to Luke Rockhold, which snapped an 11-fight win streak. Souza meanwhile remains a high-level fighter, but one who has come up short in his biggest tests of late and needs a positive development.
Branch is in his second go-around in the UFC and is still looking to land a signature win, which this would certainly be. And in Souza, he might be taking on a fighter who is primed to be plucked. But so far, the only fighters who get the better of Jacare are championship-level fighters, guys like Yoel Romero, Kelvin Gastelum, and Robert Whittaker. Whether Branch fits in with that group is iffy. And also let's point out that the losses to Gastelum and Romero were split decision losses.
I think Branch's loss to Rockhold two fights ago offers a glimpse of hope here to potential Jacare backers. Jacare is a submission king, with 14 of them to his credit. Branch is a tough nut, capable of doing a lot of different things in the octagon. And it's been a long struggle to get to this spot. You can't rule out a fighter with that type of resolve. I just simply see Souza as being higher-level, and I expect him to get the submission inside of three rounds. I'm taking Jacare.
My Pick to Win: I'm betting on Ronaldo "Jacare" Souza at -175 betting odds. Branch is assuredly a tough opponent, and there might be a sneaking suspicion that Souza is waning after a long and hard career. But skill-wise, I see there being a gap, with Souza having more-viable routes to victory than Branch, who is 37 and still looking for a truly-significant win in the sport. Bet UFC 230 using your credit card at a betting site where it WILL work for deposits + get a generous 50% bonus on your first deposit (up to $250 FREE) at Bovada Sportsbook!
<div style="width:340px; margin: 0 auto;"><!-- [et_pb_line_break_holder] --> <a class="twitter-timeline" data-width="340" data-height="500" data-link-color="#008156" href="https://twitter.com/PredictemPicks?ref_src=twsrc%5Etfw">Tweets by PredictemPicks</a> <script async src="https://platform.twitter.com/widgets.js" charset="utf-8"></script><!-- [et_pb_line_break_holder] --></div>
<div class="clickable CTA" style="margin: 0 auto; background: #fff; border-radius: 10px; text-align: center; padding: 10px 20px 20px 20px;"><!-- [et_pb_line_break_holder] --> <img src="https://www.predictem.com/wp-content/uploads/2018/05/mybookie-logo.png" alt="MyBookieer" class="cta-image" /><!-- [et_pb_line_break_holder] --> <p style="margin-top: 5px; font-size: 22px; line-height: 30px;"><!-- [et_pb_line_break_holder] --> $1,000 Free Play Offer<!-- [et_pb_line_break_holder] --> </p><!-- [et_pb_line_break_holder] --> <hr class="cta-divider"><!-- [et_pb_line_break_holder] --> <p style="padding-bottom: 20px; font-size: 15px; line-height: 20px"><!-- [et_pb_line_break_holder] --> $1,000 Football Sign Up Bonus<br>Free Play - 15X Rollover<!-- [et_pb_line_break_holder] --> </p><!-- [et_pb_line_break_holder] --> <a href="https://www.predictem.com/out/Mybookie" rel="nofollow" target="_blank"><button class="et_pb_button" style="color: #fff; cursor: pointer; width: 90%;"><!-- [et_pb_line_break_holder] --> Bet Here<!-- [et_pb_line_break_holder] --> </button></a><!-- [et_pb_line_break_holder] --></div>