UFC 231 Picks – Main Event Analysis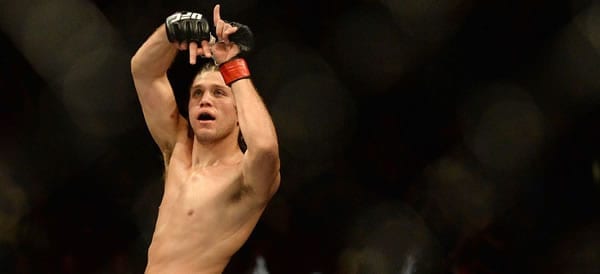 UFC 231 Picks
When: Saturday, December 8, 2018
Where: Scotiabank Arena, Toronto, Ontario, Canada
TV: Channel/Network/PPV here
Fight Analysis:
UFC comes to Toronto and offers up a tantalizing main event, with UFC Featherweight Champion Max Holloway taking on top unbeaten contender Brian Ortega. It's a nice matchup between one of the best champions in the game against one of the sport's brightest up-and-comers. Will Holloway win his 13th straight or will Ortega win his 15th straight? Let's see what we can come up with in this Holloway vs. Ortega betting preview!
Max Holloway, 19-3 (9 KOs, 2 Submissions), (-125) vs. Brian Ortega, 14-0 (3 KOs, 7 Submissions), (+105)
UFC Featherweight Champion Max Holloway takes on undefeated challenger Brian Ortega in the UFC 231 main event. Toronto has a thirsty MMA fan base, and they have been given a nice main event—one of the year's more-eagerly awaited fights. Holloway hasn't fought all year, with a few health-related setbacks along the way. Ortega, meanwhile, has been biding his time since knocking out Frankie Edgar in March. This is a tough fight to call.
Holloway has really been a dynamo at 145 pounds, winning 12 straight fights and basically cleaning out the division. On merit, he could be the best 145-pounder ever to do it. Ortega, though, has scored some eye-popping wins, particularly the one against the tough former champ Edgar earlier this year. The challenger can win any number of ways, as he has scored KOs and submissions over a high level of fighter since joining the UFC. Undoubtedly, he is the toughest challenge Holloway has been forced to face since becoming a top 145-pounder.
It's not meant to demean Holloway, but maybe he has caught some breaks in his build-up to this spot. His best wins were against guys in Aldo, Pettis, and others whose best fighting was probably behind them at the point he fought them. In Ortega, he is fighting a guy who isn't just the total fighting package, but is also dead in his prime. It might come as a surprise to some that at 27, Ortega is actually older than Holloway, who will turn 27 a few days before this fight. There is ample evidence that the champion is younger in age only.
It was a weird year for Holloway, who looks to make it all better with a win against the highly-regarded Ortega. There was surgery earlier this year. A bad weight cut scratched a last-minute matchup with Khabib Nurmagomedov. A seemingly-bad concussion scratched a UFC 226 bout against this very opponent. So we see Holloway not actually fighting, though he seems to have accrued a lot of wear this year. To say the least, this is hardly the build-up you'd like to see leading up to what is really his most-important and difficult challenge.
We really need to figure out what we will be getting with Holloway in this fight. He couldn't make 155 pounds to fight Khabib, so how difficult is it for him to pare down to 145 pounds at this point in his life? Have the injuries or concussion left him compromised? At his best, he's a real handful. It's hard to describe. Much of what he does is not instantly captivating. What he does know how to do is create violence and beat the crap out of people. In other words, trying to describe him along the normal lines is futile. With Ortega, you can say what he's good at. He's a BJJ maestro with growing striking ability. With Holloway, he's just a ferocious force, a fighter who seems to thrive in a two-way brawl. He has a solid handle on all the different facets of MMA, without being a master in any one domain. He is simply a master at being a warrior—one with unyielding mental strength and a seemingly-endless gas tank.
There is a notion of this being an old-school versus new-school battle, even if the older-school fighter in Holloway is technically younger in chronological age. A look at Holloway's record shows wins over a bygone era of featherweights. We're talking about a lot of really good fighters on his record, but Ortega seems to represent a wave of the future that Holloway hasn't faced as of yet. Ortega is a different-level athlete, the newer type of MMA prodigy who is gifted across multiple areas. Ortega has won big fights with kicks, punches, and fight-ending submissions that emanate from his deep BJJ status. There's an aerial aspect to Ortega's game. His moves suggest a different kind of athlete than the ones Holloway has been facing. And his chokes are massively-dangerous. There aren't many fighters with Ortega's ability to sink in fight-ending chokes. If he gets a hold of you, it could be curtains.
Holloway is a massive 145-pounder, looking like at least a lightweight in the ring and probably weighing close to a welterweight by the time he steps into the octagon. If 145 pounds is still a weight he can make comfortably, he has a stature and leverage advantage over most any featherweight. At 5'8," Ortega is still longer than most of the 145-pounders around and won't be dwarfed by the champion, as many Holloway foes have been.
Holloway hasn't lost since he was 21 years old and that was to Conor McGregor. It's not easy to pick against a guy like that. There are some troubling things, however. Inactivity isn't great, especially when that time isn't spent resting, but rather recovering from injuries, bad weight-cuts, and concussions. He waited the appropriate time to recover and one should expect to see a version of Holloway that is at least close to peak form. But Ortega is almost too-compelling of a choice at this price. He has the ability to suddenly end fights—a key trait to find in a challenger at an underdog price.
Holloway is a difficult fighter to do a righteous appraisal on. As far as his in-octagon work goes, there's little bad to say. If anything, he has continued getting better and better over time. The thinking here is at this precise moment in time that he's slightly on the downhill with Ortega on the uphill and that the timing of this matchup favors Ortega. This is a fight we could see several times, with each winning, but I like Ortega in this one.
Loot's Pick to Win: I'm betting on Brian Ortega at +110 odds at 5Dimes. Holloway is a handful, both physically and with the mental toll he exacts on opponents. Ortega, however, looks to be the heir-apparent and it could be a long time before you see him anywhere near this price again.
<div class="widget105"><!-- [et_pb_line_break_holder] --><h4 class="parlays">Best Sportsbooks for Parlays</h4><!-- [et_pb_line_break_holder] --><!-- [et_pb_line_break_holder] --><table id="parlay"><!-- [et_pb_line_break_holder] --> <tr><!-- [et_pb_line_break_holder] --> <th><span class="team"></span></th><!-- [et_pb_line_break_holder] --> <th>2 Team Parlay</th><!-- [et_pb_line_break_holder] --> <th>3 Team Parlay</th><!-- [et_pb_line_break_holder] --> <th>4 Team Parlay</th><!-- [et_pb_line_break_holder] --> </tr><!-- [et_pb_line_break_holder] --> <tr><!-- [et_pb_line_break_holder] --> <td><a href="https://www.predictem.com/out/SportbetP"><img src="https://www.predictem.com/wp-content/uploads/2018/06/sportbet-sm.png"></a></td><!-- [et_pb_line_break_holder] --> <td>2.74 to 1</td><!-- [et_pb_line_break_holder] --> <td>6.24 to 1</td><!-- [et_pb_line_break_holder] --> <td>13 to 1</td><!-- [et_pb_line_break_holder] --> </tr><!-- [et_pb_line_break_holder] --> <tr><!-- [et_pb_line_break_holder] --> <td><a href="https://www.predictem.com/out/BovadaP"><img src="https://www.predictem.com/wp-content/uploads/2018/06/bovada_sm.png"></a></td><!-- [et_pb_line_break_holder] --> <td>2.64 to 1</td><!-- [et_pb_line_break_holder] --> <td>6 to 1</td><!-- [et_pb_line_break_holder] --> <td>12.3 to 1</td><!-- [et_pb_line_break_holder] --> </tr><!-- [et_pb_line_break_holder] --> <tr><!-- [et_pb_line_break_holder] --> <td><a href="https://www.predictem.com/out/MybookieP"><img src="https://www.predictem.com/wp-content/uploads/2018/06/mybookie-sm.png"></a></td><!-- [et_pb_line_break_holder] --> <td>2.64 to 1</td><!-- [et_pb_line_break_holder] --> <td>6 to 1</td><!-- [et_pb_line_break_holder] --> <td>12 to 1</td><!-- [et_pb_line_break_holder] --> </tr><!-- [et_pb_line_break_holder] --></table><!-- [et_pb_line_break_holder] --><div class="widget-footer"><a href="https://www.predictem.com/best-sportsbooks/parlays-odds/">See all Sportsbook Parlays</a></div><!-- [et_pb_line_break_holder] --></div><!-- [et_pb_line_break_holder] --><!-- [et_pb_line_break_holder] --><!-- [et_pb_line_break_holder] --><style><!-- [et_pb_line_break_holder] --> #parlay {border-collapse: collapse;<!-- [et_pb_line_break_holder] --> width: 100%; border: 0px;<!-- [et_pb_line_break_holder] --> font-size: 14px!important;}<!-- [et_pb_line_break_holder] --> #parlay td, #parlay th {<!-- [et_pb_line_break_holder] --> border: 0px;<!-- [et_pb_line_break_holder] --> padding: 8px;<!-- [et_pb_line_break_holder] --> text-align: left;}<!-- [et_pb_line_break_holder] --> #parlay th {<!-- [et_pb_line_break_holder] --> padding-top: 5px;<!-- [et_pb_line_break_holder] --> padding-bottom: 5px;<!-- [et_pb_line_break_holder] --> font-weight: bold;<!-- [et_pb_line_break_holder] --> line-height: 14px;<!-- [et_pb_line_break_holder] --> text-align: center;<!-- [et_pb_line_break_holder] --> color: #000;}<!-- [et_pb_line_break_holder] --> #parlay tr {border-bottom: 1px solid #edeef0;}<!-- [et_pb_line_break_holder] --> .team {font-size: 16px;}<!-- [et_pb_line_break_holder] --></style>
<div class="clickable CTA" style="margin: 0 auto; background: #fff; border-radius: 10px; text-align: center; padding: 10px 20px 20px 20px;"><!-- [et_pb_line_break_holder] --> <img src="https://www.predictem.com/wp-content/uploads/2018/05/mybookie-logo.png" alt="MyBookieer" class="cta-image" /><!-- [et_pb_line_break_holder] --> <p style="margin-top: 5px; font-size: 22px; line-height: 30px;"><!-- [et_pb_line_break_holder] --> $1,000 Free Play Offer<!-- [et_pb_line_break_holder] --> </p><!-- [et_pb_line_break_holder] --> <hr class="cta-divider"><!-- [et_pb_line_break_holder] --> <p style="padding-bottom: 20px; font-size: 15px; line-height: 20px"><!-- [et_pb_line_break_holder] --> $1,000 Football Sign Up Bonus<br>Free Play - 15X Rollover<!-- [et_pb_line_break_holder] --> </p><!-- [et_pb_line_break_holder] --> <a href="https://www.predictem.com/out/Mybookie" rel="nofollow" target="_blank"><button class="et_pb_button" style="color: #fff; cursor: pointer; width: 90%;"><!-- [et_pb_line_break_holder] --> Bet Here<!-- [et_pb_line_break_holder] --> </button></a><!-- [et_pb_line_break_holder] --></div>