[et_pb_dcsbcm_divi_breadcrumbs_module hide_homebreadcrumb="off" homebreadcrumbtext="Home" separator="sep-raquo" hide_currentbreadcrumb="off" homebreadcrumborientation="left" _builder_version="3.8″ fontsbreadcrumbs_font="Lato||||||||" fontsbreadcrumbs_text_color="#000000″ fontsbreadcrumbs_font_size="15px" fontsbreadcrumbs_line_height="16px" fontsseperator_font="||||||||" fontsbreadcrumblinks_font="||||||||" fontsbreadcrumblinks_text_color="#2567cf" custom_margin="25px|||" custom_margin_phone="30px|||" custom_margin_last_edited="off|desktop" custom_css_main_element="font-family: Helvetica Regular;" disabled="on" global_module="3641″ saved_tabs="all"][/et_pb_dcsbcm_divi_breadcrumbs_module]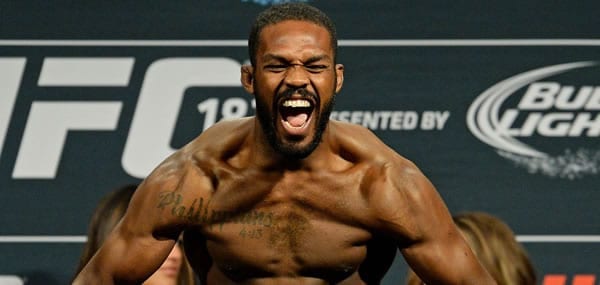 UFC 235 Jones vs Smith Predictions
When: Saturday, March 2, 2019
Where: T-Mobile Arena, Las Vegas, Nevada
TV: PPV
UFC 235 has the look of a blockbuster event—a stacked card featuring the top dog at the front of the bill, with UFC Light Heavyweight Champion Jon Jones taking on contender Anthony Smith in the main event. This is Jones' second fight back from yet another layoff. In his last fight, he regained his title and now looks to get back to the business of being the baddest man on the planet. Standing in his way is a well-traveled contender in Smith who fought hard to get to this spot and looks to make the most of it. Let's see what we can come up with for the Jones-Smith main event!
Jon Jones, 23-1 (10 KOs, 6 Submissions), (-845) vs. Anthony Smith, 31-13 (17 KOs, 11 Submissions), (+595)
Fight Analysis
Jon "Bones" Jones defends his UFC Light Heavyweight Title against contender Anthony Smith in the UFC 235 main event. Jones came back to regain his belt with a third-round KO of Alexander Gustafsson in December. Everyone is now locked in for Jones to get back to where he left off—dominating the sport and adding to his already-huge legacy. But there's a pretty good potential Cinderella-story developing with Smith, one year younger than Jones at 30. While Jones has basked in the limelight and had his issues, as well, Smith has been plodding along in a career that had a lot of ups and down in a 44-fight ledger. Despite 13 losses, he has won 14 of his last 16 bouts and is rightfully ranked atop the list of UFC 205-pounders.
There wasn't much to call out Jones on following his title-regaining performance against Gustafsson. A little rusty perhaps, he found his form in the third round and closed escrow against a highly-qualified opponent. When looking at this fight, one sees it as a stay-busy kind of fight, as opposed to one of the bigger challenges Jones will have in his career. Jones' last fight was harder. It's like the UFC has something big in store and since idle time in the devil's workshop, why not keep Jones busy? It also gives Jones a chance to re-establish himself in Vegas, where he was just cleared to fight before press-time. This will be Jones' first Las Vegas octagon appearance in three years.
Jones has been a polarizing figure, but that's nothing we need to hash out here for the purposes of betting this fight. From that standpoint, we're dealing with the best 205-pounder of all-time and quite possibly the best in any division. No fighter has so clearly established separation from his peers with the margin Jones has. And he's done it against a veritable golden age of light heavyweights, with almost any relevant 205-pounder a scalp on Jones' resume. He's strong and vicious and has a nose for victory. He can do it all, and despite flirting with various levels of blowing it all, he's here. He's the champion. What can 13-loss Anthony Smith do about it?
It's sometimes important to measure the inner-resource of a man who faces what looks to be an insurmountable task as Smith does in this fight. Nothing was given to this man in terms of MMA success. A wiry light heavyweight at 6'4," the same height as Jones, Smith started off humbly. He fought on smaller shows and learned on the job—often times the hard way. Fighting as a spindly middleweight, he was 5-6 after 11 fights. He kept at it, fighting in the Midwest, and his fortunes changed.
A nice winning-roll led Smith to Strikeforce, but three straight losses left him spiraling. He resurfaced in Bellator, fought on some more smaller circuits and a 7-fight win streak got him on the UFC roster. After winning four of five, including a nice win over Hector Lombard, he was stopped by dangerous Thiago Santos in early-2018. But then two KO wins over former champs Rashad Evans, and Shogun Rua led to a submission win over former title-challenger Volkan Oezdemir to finish off the year, and here he is.
On one hand, a lot of things line up to make Smith an ideal long-shot choice, namely how he's on a big roll and how much he had to work to get here. And he is a monster. But at light heavyweight, Jones stands far above the rest. We saw what he did to Daniel Cormier and Gustafsson. And those two are a full notch above the rank-and-file contenders like Smith. This isn't just a jump in class for Smith, it's a quantum-leap.
I like what Smith has been able to do. He's a vicious striker with this hands, elbows, knees, and feet. He's long and sneaks those appendages in for submissions, usually in the form of various chokes. But let's face it—Rua and especially Evans are yesterday's news, while Oezdemir showed he's something less than championship material. And Oezdemir is probably his best win—a guy who couldn't hang with Daniel Cormier at all. Jones beat Cormier. That arithmetic doesn't always work, but I think it fairly represents the respective level of these fighters.
At the end of the day, levels is what it's about. Smith is a veteran who has seen it all. He is just not the athlete that Jones is. There's a level of overall coordination that you see. There's a level of explosiveness. You watch Jones, and you see a fighter completely on-the-ball with the ability to do what he wants. Smith is more a proletariat force in the octagon. His instincts aren't as on-point as Jones. He pushes forward whereas Jones pounces and explodes. The difference in sheer athleticism is palpable.
These odds are not that appealing. But even if one were to take an underdog-flyer on Smith, wouldn't you want better than +595 if he were to pull the trick? You could get better than that by letting it ride and winning three straight blackjack hands. At -845, there's not much that you can do, but I'd still stick it on a parlay perhaps. The closer we get to fight night, the more bets will be posted. At that time, a position on a quick ending here could be justified at the right price. Of Smith's 13 losses, twelve were by stoppage. I'm taking Jon Jones.
My Pick to Win:
I'm betting on Jon Jones at -845 odds at MyBookie, with a position on a quick ending inside of ten minutes closer to fight-night. I see this as merely a tune-up for Jones, a way to keep him busy to re-establish his brand. Smith is capable, but not in Jones' league. I see it as being an exciting fight, with Smith coming on strong enough to elicit a strong reaction from Jones and a quick finish.