UFC 240: Max Holloway vs. Frankie Edgar Pick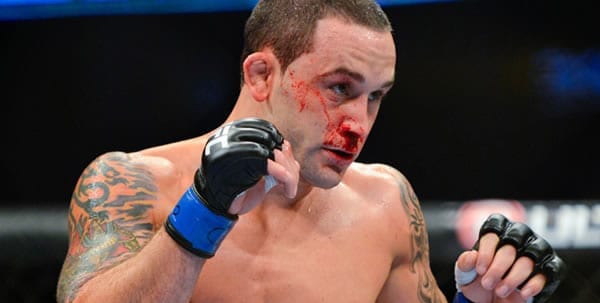 UFC 240 Picks
When: Saturday, July 27, 2019
Where: Rogers Place, Edmonton, Canada
TV: PPV
In the UFC 240 main event, the UFC Featherweight Title is up for grabs with champion Max Holloway taking on former champion Frankie Edgar. Despite his move to lightweight not going well, Holloway still holds the 145-pound belt in a division where he has been fairly dominant. Can he resume his winning ways as featherweight champion? If he either slipped a bit or enters the cage weight-drained, a smart and tough veteran like Edgar could be a troublesome matchup for Holloway. Let's see who will come out ahead in this main event, as the UFC comes to Canada.
Fight Analysis
Max Holloway, 20-4 (10 KOs, 2 Submissions), (-390) vs. Frankie Edgar, 23-6-1 (7 KOs, 4 Submissions), (+320)
Featherweight Champion Max Holloway battles former lightweight champ Frankie Edgar on July 27 in Edmonton. It's a nice matchup, with two of the bigger names from this weight class meeting for the first time. After winning a title at lightweight, Edgar has fallen short in his attempts to gain the 145-pound belt and looks to make good here finally. To do so, he will have to beat a man who has taken on and defeated all comers at featherweight. But with Holloway having recently taken a loss at lightweight, he now has to boil back down to 145 for this one. Who comes out ahead in UFC 240? Each man faces his own separate list of challenges.
While he continues to score big wins at this weight, Edgar hasn't been able to convert these top-level opportunities as of late. Not that he loses to just anybody, but Max Holloway is a top opponent. And against top opponents, Edgar has struggled. He lost the lightweight title in 2012 and in MMA that was a lifetime ago. He went on to lose in subsequent title shots to Benson Henderson and twice to longtime 145-pound king Jose Aldo. In his last four fights, he has won three times over good opposition like Cub Swanson, Yair Rodriguez, and Jeremy Stephens, while also suffering a KO loss to top contender Brian Ortega just two fights ago in March of last year. But if there is any slippage on Holloway's part, Edgar has shown himself to be more-than-capable of beating all but the very best.
Let's face it—anyone betting on Holloway has to entertain at least the possibility of a diminished force entering the octagon in this fight. The main reason is weight. This isn't where he wants to be. But when you move up and things don't go well, and you still have a belt, where else can you go? The loss to Dustin Poirier in April of this year denied him a chance to forge a championship path at 155 pounds, while also ending a 6-year unbeaten streak. He now returns to 145 pounds, a weight that has become increasingly difficult for Holloway. Some might be surprised to know Max is still only 27. He doesn't look 27. He has been around a long time and been in a lot of tough fights, with some wear and tear along the way. What can we expect to see in UFC 240?
One could be justified, however, in taking a more optimistic view of Holloway as he gets ready for this fight. At featherweight, he has been fairly-dominant, beating a slew of top fighters. So it didn't work out against Poirier, who is a heck of a fighter at a weight in which Holloway is unaccustomed. So what? Right before that, he repelled the challenge of Ortega, a man many felt was the heir-apparent at 145, who had just smashed Edgar in one round to earn the title shot. When it comes to his in-octagon work at featherweight, Holloway's results are above reproach. And thinking that he's affected by his last loss or that 145 pounds is too much of a weight-drain falls into the category of speculation.
More UFC Picks: UFC Fight Analysis & Picks
Edgar, 37, is no walk in the park. He's a tough nut to crack, and his KO loss to Ortega was the only time he has ever been stopped. He has never been submitted. And fighting a killer roster of talent at 145 and 155 pounds, that's quite a feat. He has been on a hard road, so maybe having not fought since April of 2018 could help the old warrior. There is a chance that he can impose a high-energy pace on Holloway, who might need all five rounds to quell this challenge. He's a draining guy to fight, not easy to take down. This is a Hall of Famer we're discussing here, a guy who can do it all and honed his craft at the highest levels. He hasn't always won, but he's still here after all these years—attesting to his true sense of worth. And he knows he can't continue regrouping at this age after losses. Look for an ultra-urgent Edgar to surface in Edmonton.
I just think there are enough questions about Holloway at this point to warrant giving such big underdog opponents a hard look. Holloway doesn't want to be at 145—it's not his first choice. He now faces a list of challengers that is daunting, first with Edgar, along with killers Alexander Volkanovski and Zabit Magomedsharipov lying in wait. But again, when you see him stop Brian Ortega, it's fair to say that his actual work in the octagon can't really be questioned. Other than the Poirier fight, he keeps getting better and better. And taking a position that he will just hit a wall suddenly could come at a cost.
Still, there's something about Holloway that makes it hard to lay a huge number on him like this. There's not a ton of appeal in taking him at nearly 4-to-1 odds. Sure, he has fared exceedingly well against the older guard of 145-pounders. He has beaten guys like Aldo twice, while Edgar lost to Aldo twice. He smashed Ortega, who was coming off a smashing win over Edgar. But that type of MMA arithmetic isn't always as worthwhile as one would think. This is a sport of styles and how those different approaches will play off each other.
Skill-wise, I think Edgar has the durability, boxing, wrestling, BJJ, ground-skills, and overall urgency to make him a very tough challenge for Holloway. And not to portray Holloway as a late-stage Jenga tower, but I think enough questions loom to make Edgar a pretty appealing choice at these odds. When you're taking on a guy with the skills and credibility of Edgar as a nearly 4-to-1 favorite, you don't want to see any potential problems. This is happening pretty fast for Holloway, who just lost to Poirier in April, while Edgar has been resting.
Edgar is a decade older but could be the fresher fighter in this fight. Obviously, whenever you take a fighter at +320, there are going to be issues. Edgar does represent the old guard, and he's taking on an established champion who really hasn't shown many weaknesses in any of his recent featherweight fights. I just think Frankie has maintained his edge very well and maybe I'm wrong when thinking Holloway's best work at 145 pounds is in his rearview mirror. Underdogs at this rate can't be counted on to win, but I think Edgar is getting good value here and I'm going to take a whirl on "The Answer" in this one.
UFC Featherweight Title Fight Prediction
My Pick to Win: I'm betting on Frankie Edgar at +320 betting odds. Frankie is older, and it has been a number of years since he last reigned as champ, but he might be catching Holloway at the right time. This is a quick turnaround for Holloway, having lost in a higher division less than three months ago—not ideal for a fighter where making weight is a massive struggle. Granted, this bet is made with the projection of a diminished Holloway, which could be foolish. But the odds warrant taking a shot.
Bet on the UFC 241 main event winner, TKO Yes or No, and fight distance at
MyBookie