UFC 242: Khabib vs. Poirier Picks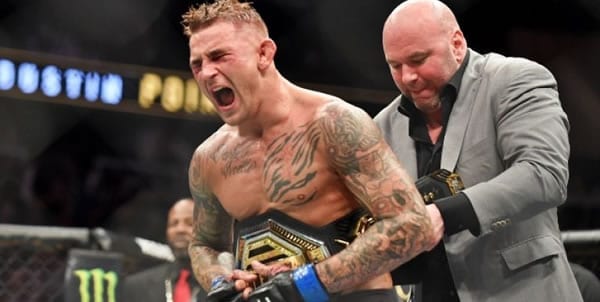 UFC 242: Khabib vs. Poirier Picks
When: Saturday, September 7, 2019
Where: du Arena, Abu Dhabi, United Arab Emirates
TV: PPV
UFC 242 features a big-time main event in an exotic locale. UFC Lightweight Champion Khabib Nurmagomedov battles interim belt-holder Dustin Poirier in what should be a tremendous matchup. This bout will be in Abu Dhabi, so both men face a daunting road-trip. So far, no one has really been able to hang in there with Khabib. He served a suspension, and in the meanwhile, Poirier scored a big win over champion Max Holloway to become to the next challenger for Khabib. Does Khabib have his hands full with the improved veteran, or will we see another dominating performance from the champion? Let's break it all down!
Fight Analysis
Khabib Nurmagomedov, 27-0 (8 KOs, 9 Submissions), (-355) vs. Dustin Poirier, 25-5 (12 KOs, 7 Submissions), (+295)
Lightweight Champion Khabib Nurmagomedov takes on Dustin Poirier for the UFC belt on September 7. Khabib last fought in October of 2018 when he scored a 4th-round submission over Conor McGregor. Unable to defend due to a suspension, he makes his return here in a dangerous matchup with Poirier. At 30, the same age as Khabib, Poirier has hit the sweet-spot in his career and is on a nice roll. Anyone overlooking him would be doing so at their own risk. In his last handful of fights, he has looked like a tough man to beat. But he has a mountain of a task ahead of him in this fight against the champion.
While you might think there are fighters out there who can give Khabib a run for his money, there isn't much anyone can say about his skills or track record. He's an irresistible force who not only wins but utterly dominates. You can maybe show little slivers of time where he looked vulnerable, like when Michael Johnson rocked him in 2016. But when that's all a naysayer can offer, it speaks volumes in this sport. And sure, he has never fought Tony Ferguson, but he has still managed to completely shut down some pretty rich talent at 155 pounds. It is futile to dispute his supremacy in this division.
As strong as they come, Khabib manhandles everyone he fights, and it's quite the sight to behold, as top lightweights are thrown around like rag dolls. Before long, the optimism of his opposition is sucked out of them, as they find themselves drowning in a pool of Khabib's wrestling-mastery. They start to get these looks on their faces, like "What did I get myself into?" You see top opponents, guys who are usually the ones dishing out the punishment, with looks on their faces that suggest fear, hopelessness, and resignation to their plight.
Khabib has run over all his opponents. Against Conor, he even managed to hold his own in the stand-up department and even dropped McGregor with punches. So he's not a guy who is lost unless he gets an opponent on the ground. But he always manages to do just that, and it doesn't matter how good someone's takedown-defense is, it's never good enough to dissuade Nurmagomedov's attempts. He's freaky-strong and has the stamina to last for days. And if looking for a weakness, one might site his issues making weight, which has come to the surface before. In his last few fights, however, he looks to have conquered that issue.
A backer of Khabib could find solace in the fact that his last victim beat Poirier in 2014. But that would be missing the point. Over the last several years, Poirier has become a real force. Moving up to lightweight has really helped and wins over Anthony Pettis, Justin Gaethje, Eddie Alvarez, and Holloway illustrate his resurgence. I think for the purposes of this fight, it's important to account for the perseverance and inner-resource it required for him to overcome all he has to become one of the top dogs at 155 pounds. In the UFC since 2011, there have been ups and downs. He overcame all that and here is—one fight away from making history.
Poirier has been fairly-dominant in his own right. Over the years, he put together a pretty strong all-around game. He is really a dangerous and capable veteran who is in his prime. He tinkered with the formula over the years; he and his team deserve a lot of credit for the finished product that now exists. Poirier moves very well, as he is a very fluid fighter. He crisply switches up angles, position, and distance and is quite tricky, while also being exceedingly dangerous. He can wield strong leg-kicks to weaken opponents. When looking for a potential upset-candidate for Khabib, you want a fighter with great footwork, and that's an area where Poirier is unmatched at 155 pounds.
At the end of the day, you know what Khabib is going to do. He's a one-trick pony in a lot of ways. Which isn't meant as an insult because he is, after all, 27-0 and the best in the world. But Poirier has that great footwork, not to mention the power to earn Khabib's respect if he can keep his back off the mat. Granted, Khabib brings more fury into the octagon than anyone Poirier has fought. And Poirier managing not to get taken down by guys like Holloway will only get him so far in this fight. But with those skills and southpaw stance, along with his angles and movement, one can start to make a strong winning case for him.
Again, at this level, one is always going to have a winning-case. You don't become interim champ without having a variety of skills that threaten to derail any fighter. This fight comes down to whether Poirier can stay upright and if he can defend himself on the ground. Poirier, to his credit, has been submitted just once when the Korean Zombie got him way back in 2012. But Khabib represents a level far beyond what Poirier's opponents have brought to the table. We have seen it time and again where fighters come into the cage against Khabib with all these hopes and plans, only to find themselves reduced to simply trying not to get submitted.
At this point, betting against Khabib has yielded precisely jack-squat. It comes down to whether the price is good enough. Poirier's quote of +295 is both appetizing and disappointing. I mean, you can just go win two straight hands of blackjack and get a better return than that. By the same token, it's hard to sneeze at nearly 3-to-1 for someone as good as Poirier. With all his skills and experience, not to mention his character and inner-resource, he probably shouldn't be 3-to-1 against any human near his weight. I just don't see the Khabib train coming to a stop in this spot. I think the location favors him, as Poirier hasn't had any road-trips like this, while Khabib has been forced to be a globetrotter in his career. But beyond that, he's an irresistible force, and his margin for error is wider than Poirier's. I see Khabib getting the upper hand in this one.
My Pick to Win: I'm betting on Khabib Nurmagomedov at -355 betting odds at MyBookie. To go against Nurmagomedov, you want both the right opponent and the right price. While I think Poirier has the skills to contend, the price isn't good enough considering the level of domination Khabib has shown at this level.