UFC 251 Picks: Fight Analysis & Predictions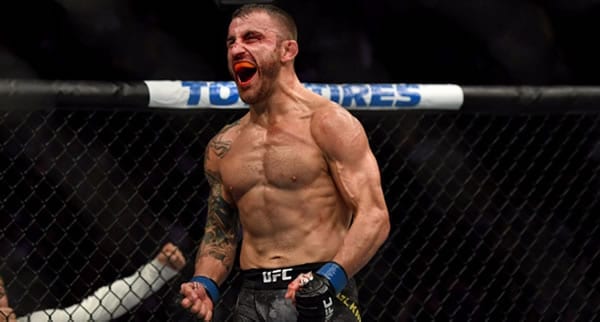 UFC 251 Picks
When: Saturday, July 11, 2020
Where: UFC Fight Island, Abu Dhabi, United Arab Emirates
TV: PPV
UFC 251 is a top-heavy bill from UFC Fight Island in Abu Dhabi, headlined by several title bouts. At the top of the bill, the men's welterweight and featherweight titles will be contested. Dominant UFC welterweight champion Kamaru Usman goes for his 16th straight win against surging contender Gilbert Burns, who distinguished himself last month with a lopsided win over Tyron Woodley. Then, we have a rematch for the UFC Featherweight crown, as Alexander Volkanovski takes on the man he took the belt from in former champ Max Holloway. There's a lot to break down. Let's get started!
Fight Analysis & Picks:
Kamaru Usman, 16-1 (7 KOs, 1 Submission), (-205) vs. Gilbert Burns, 19-3 (6 KOs, 8 Submissions), (+165)
UFC Welterweight Champion Kamaru Usman defends his title against rising contender Gilbert Burns in the UFC 251 main event. The 33-year old champion has won 15 straight and is coming off his first title defense in December, a TKO win over heated rival Colby Covington. He now turns his attention to a newer face atop the 170-pound class in Burns, a fighter who punched his ticket just on May 30, with a decisive and eye-popping win over the man Usman beat for the belt in Tyron Woodley.
Each man is 33 years old, with Usman having a little length on Burns, being a few inches taller with a five-inch reach advantage. A wrestling maven, Usman has become more rounded over the years. And it's been a long run of success—winning his TUF season, not losing since the formative stages of his career, and now atop the division. In his UFC career, he may not have finished a majority of his foes, but he is still dominant in how he wins. In eight UFC division wins, a judge has never scored it for Usman's opponent. And a stoppage of top welterweight Covington shows he's more than just a supreme wrestler who can grind you down, though it's a big part of his game to be sure. The decisiveness of his results since being placed in the upper echelon of this division speaks for itself—a lopsided win over Woodley to win the belt, while he put the definitive stamp on a competitive fight with a really good 170-pounder in Covington in his first defense.
Burns, however, was brilliant against Woodley. Say what you will about Woodley, who didn't seem to be prepared well, at least from a strategic standpoint. But Burns seemed cool as a cucumber as he picked apart the former champ. After some up-and-down sequences in his UFC career, Burns is on a roll with six straight wins. While other higher-profile fighters have gotten the lion's share of the attention in this division, Burns has really managed to distinguish himself as a worthy contender in sort of a low-key way. Against Woodley, he was great—crisp with his shots, quick, and actually appearing bigger than Woodley. And even when the mind goes to the notion that Usman should win, it's hard not to be reminded of how good Burns looked in that fight. Our eyes did not deceive us.
By the same token, I'm not completely sure that Burns beating a downward-trending Woodley, a man Usman completely dominated before, is enough to rate him only a +165 underdog. Frankly, I'd be looking for more return for calling it right when a dark horse like Burns emerges from nowhere to win the championship of the world. I think the conditioning and wrestling of Usman, as well as his other viable options, will give this fight a much different look than Burns' last fight. I'm taking Usman in this one.
My Pick to Win: I'm betting on Kamaru Usman at -205 betting odds. While Burns is a legit threat and did great to get here, I think beating Woodley and beating Usman are two completely different things at this point. Met against a far more positive fighting force this time around, Burns won't look quite as good.
---
---
Alexander Volkanovski, 21-1 (11 KOs, 3 Submissions), (-205) vs. Max Holloway, 21-5 (10 KOs, 2 Submissions), (+165)
In the co-main event, UFC Featherweight Champion Alexander Volkanovski defends the belt from the man he won it from in Max Holloway. In December of last year, Volkanovski was able to lift the belt from Holloway, ending a long spell of dominance for the former champion at 145 pounds, who had won 14 straight featherweight fights. Can Holloway exact revenge or is this Volkanovski's time?
There were a few telling elements of their first fight that are hard to forget for the purposes of handicapping this rematch. Despite being at an overall length disadvantage, Holloway was well within Volkanovski's reach. I was surprised how well the new titleholder did in standing up with Max—beating him to the punch, outworking him, and purporting himself well from mid and long-range. The bout never once hit the ground, as the new champion impressed with clean punches and a high output. A former rugby player at over 200 pounds, Volkanovski pared his frame down to 145 and represents an energetic, strong, and explosive fighter with a lot of stamina. He is simply a very robust proposition.
What to make of Max? Three years younger than Volkanovski, Holloway is one of the oldest 28-year old fighters in recent memory. For the better part of a decade, he has been taking on monsters in and around this weight class. And he now has two losses in his last three fights, with a loss in the lightweight division to Dustin Poirier. I wonder if the mileage is getting a little high on his odometer. At the same time, other than the slip-up outside of his best division to Poirier, he was still getting better with each fight, which contradicts notions of a decline. But between all the battles, the botched weight cut against Khabib, the concussion that seemed to have him dizzied on-air, and now a couple of losses, are we in a state of diminishing returns with Holloway?
Another consideration is value. In the first fight, we advised taking Volkanovski. But he was going off at a nice +170 price. Holloway didn't understand the full scope of the challenger's menace. Now, you have a version of Holloway whose back is really up against the wall, knowing more fully what he's getting into. And instead of +170, Volkanovski is going off at -205. So the landscape is a lot different. My head still can't forget Volkanovski beating Holloway at his own game and out-striking him by such a pronounced margin, and I see a similar scenario playing out this time. I'll take Volkanovski again.
My Pick to Win: I'm betting on Alexander Volkanovski at -205 betting odds. With the fresher Volkanovski, there are fewer pitfalls. While Holloway could definitely improve upon his last performance, it's going to be hard to bridge the gap Volkanovski established in the first fight, even if it was close on two cards. Bet your UFC 251 predictions for FREE by taking advantage of a 100% REAL CASH bonus on your first deposit of $100 to $300 at MyBookie! (See our MyBookie Review)  Must use this special link to activate the special bonus offer!
100% REAL CASH up to $300

USE BONUS CODE:
PREDICT100