UFC 262 Picks: Oliveira vs. Chandler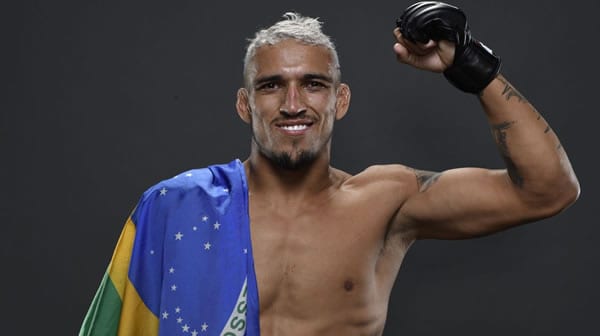 UFC 262: Oliveira vs. Chandler Picks
When: Saturday, May 15, 2021
Where: Toyota Center, Houston, Texas
TV: PPV
With Khabib Nurmagomedov having moved on, the UFC needs a new king at 155 pounds. The lightweight division is a marquee weight class, the home of a high concentration of legendary fighters. Who will become the new king comes down to Charles Oliveira and Michael Chandler, two 155-pounders who have been in the mix for the better part of a decade and have really started hitting their stride recently. The odds suggest a tightly-contested battle that could go either way. Let's break it down!
Fight Analysis
Charles Oliveira, 30-8 (8 KOs, 19 Submissions), (-125) vs. Michael Chandler, 22-5 (10 KOs, 7 Submissions), (+105)
Charles Oliveira battles Michael Chandler for the vacant UFC Lightweight Championship in the main event of UFC 262 in Houston. In a division packed with killers, it is these two men who deserve to be here. The 31-year old Oliveira, a rangy Brazilian submission expert, has put together an 8-fight win streak and a win over Tony Ferguson in his last fight cemented his status. Three years older at 34, Chandler parlayed his success as a longtime Bellator champ and an organizational debut win over Dan Hooker into a title shot. There is a lot to dissect in this one.
Their paths to this spot were quite different. On the surface, it might seem strange with all the worthy 155-pounders in the UFC that this shot would go to a fighter in Chandler who is only in his second fight in the company. But when one considers his title reign began in 2011, and he has beaten two former UFC champs in Benson Henderson and Eddie Alvarez, his credentials start to pop more. And sure, losses to Alvarez, Brent Primus, Will Brooks (twice), and Patricio Freire put a little dent in his credibility; the guy he's fighting has eight losses, so fighters are allowed to improve.
While Chandler was gaining big success, albeit, on a reduced level in Bellator, Oliveira labored in the UFC. After a 12-0 start, sustainable success was elusive with the top dogs in the UFC, and from 2010-2017, he was 10-8. And in those eight losses, he was stopped seven times—submitted three times, and KO'd three times. But after moving up to lightweight, he found his groove. He scored seven stoppage wins of his own and a slew of submissions. A few big knockouts led to his three-round win over Ferguson, thus landing him in this spot.
Physically, these fighters match up pretty well. Oliveira is three years younger while also enjoying several inches in reach and height over the more-squat Chandler. Both men have a variety of routes to the winner's circle. Chandler has submitted and knocked out former UFC lightweight champions. He can also win a drawn-out battle, having gone the five-round championship distance a number of times. Oliveira enjoys some of the same luxuries. A submission expert, he can snake in a rear-naked, anaconda, or guillotine choke suddenly, as his 19 submissions in 30 wins would attest. He's also no joke in the striking category.
It's not easy to quantify each man's road to this spot in a relative way. In Oliveira's favor is that he has been in the UFC, where the waters are far more treacherous. He has also been winning. Chandler has been, as well, but a KO loss to Patricio Freire in 2019 doesn't look great on his ledger. And going more into his past, the guys Oliveira has lost to is more acceptable on some level—UFC contenders and champions instead of Bellator flashes-in-the-pan.
DEPOSIT $100, GET $100 FREE! DEPOSIT $500 GET $500 FREE! DEPOSIT $1000, GET $1000 FREE! PICK YOUR 100% BONUS OFFER AT BETNOW SPORTSBOOK!
I'm just not sure that as a whole, the fighters Oliveira has been fighting are that much better than Chandler, who has fought most of his fights as a Bellator champion taking on good fighters every time out. In other words, a top Bellator contender might be better than a mid-pack guy in the UFC. And Oliveira has a lot of wins over those types of guys.
In addition, there is something to be said for the extra demands of a championship fight. Going from 3 rounds to 5 rounds is a big jump. Oliveira has never heard the bell for the fourth round. And we're already talking about a fighter who rarely goes the distance, even in the three-round context. Chandler has never been submitted in a career that goes back a dozen years, and that's Oliveira's main avenue to victory. If this fight goes past three rounds, how bankable is Oliveira going to be?
I think Oliveira's standing has perhaps been overstated a touch. There is no knocking this roll he's on. But a closer look shows a lot of mid-pack talent. His 155-pound quest began with a win over Will Brooks and then a KO loss to Paul Felder. He put some wins together, culminating with triumphs over Kevin Lee and Ferguson, two fighters who at this point are more beatable than their statuses would suggest. He deserves to be here. He has submitted more fighters in the UFC than any fighter in history. But he is far from unbeatable at this level. And the same can certainly be said for Chandler.
After just one UFC fight, there is some trepidation getting behind Chandler. And he is prone to put forth a clunker once in a while. For the purposes of this matchup, however, I see some things being in his favor. His versatility is a big key, giving him a few different routes to pulling this off. He defends submissions well, though this might represent a new level. He is accustomed to making the right moves in crunch time, namely in the championship rounds. I see Chandler resolutely grinding his way to a win to take home the UFC belt. I'm picking Michael Chandler.
My Pick to Win:
I'm betting on Michael Chandler to win at +105 betting odds. I think this is a favorable stylistic matchup for Chandler, whose experience, submission-defense, and variety on offense will have him in good stead against the ultra-dangerous Oliveira.