UFC 274 Fight Analysis & Picks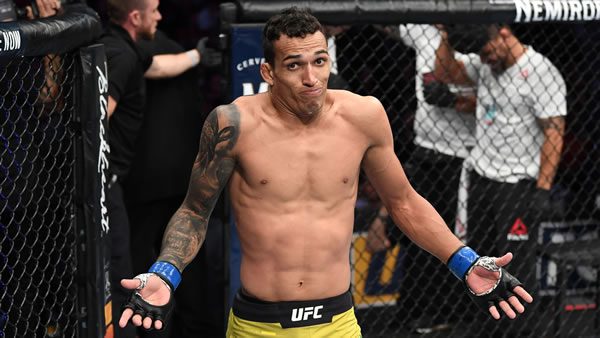 UFC 274 Picks
When: Saturday, May 7, 2022
Where: Footprint Center, Phoenix, Arizona
TV: PPV
UFC 274 is a stacked card featuring two title fights and a slew of big-name bouts on the main card. Heading the bill is UFC Lightweight Champion Charles Oliveira, as he defends the belt in a dangerous encounter with top contender Justin Gaethje. This is the first meeting between these longtime stalwarts, with each having scored a slew of big wins. But it has been Oliveira who has risen to the top in the post-Khabib era, with wins over Tony Ferguson, Michael Chandler, and Dustin Poirier putting him at the top of the marquee lightweight division. Can Gaethje do something about it, or will the champion continue his run?
Fight Analysis:
Charles Oliveira, 32-8 (9 KOs, 20 Submissions), (-170) vs. Justin Gaethje, 23-3 (19 KOs, 1 Submission), (+137) (Bovada – Offers Predictem readers a 50% real cash bonus up to $250!)
Charles Oliveira makes the second defense of his UFC Lightweight Title when he takes on Justin Gaethje in Phoenix on May 7. These men match up well, two veterans with vast skills and somewhat-similar physical dimensions. Gaethje is a year older at 33 and an inch taller at five-eleven. The spidery Oliveira does have a 4-inch reach advantage. But what they do in the octagon is very different.
Oliveira is a late-bloomer, on a run of ten straight wins, with the last half of them coming against some of the best in the world. He hit another gear at some point after moving up to lightweight. Knockouts and submissions have come in bunches, and since moving up almost six years ago, only one of his fights has gone the distance. He is very adept at getting to the finish and has multiple routes to accomplishing that.
Make no mistake, however, that Gaethje is a top property at this weight. A former unbeaten champion in the World Series of Fighting, he had some rocky moments when he came to the UFC. But he hit his stride, featuring crisp and fearsome striking as he rose through the ranks. And while he couldn't get it done against Khabib, neither could anyone else. And a late-2021 win over the man Oliveira beat for the belt in Michael Chandler showed he's still pointed upwards.
Still, some will point to Oliveira's dominance, especially when juxtaposed against Gaethje's sometimes mixed results. The champion can point to a choke-win over Poirier, who beat Gaethje. But that type of cross-analysis among common opponents can lead one astray almost as often as it helps. But still, even though Oliveira didn't fight Khabib, he has managed to thrive at the top levels and bring home a strap, while Gaethje hasn't. If being slavish to the concept of there being levels in this business, I suppose you could use that tidbit to bolster a stance on the titleholder.
The different incarnations of Gaethje have been fascinating. While still an eager battler, he was at one point a frenetic brawler who eschewed personal safety. That couldn't work at the highest levels, so he tempered his approach, cleaned up his style, and developed some finer points. He happens to be a superior wrestler with a nice background. However, he seems to almost exclusively opt for a stand-up war. This matchup is interesting, being that you can't be sure how dominant either would be if able to get this fight where they want. Sure, Oliveira being on the ground working his submission game would seem ideal, as would Gaethje having this fight standing up. But between Gaethje's wrestling expertise and Oliveira's improved striking, you just don't really know.
But in terms of versatility, the nod has to go to the champion. His diverse mix of assets are things that regularly surface. His striking was at one point negligible, but three KOs in his last six fights illustrate his progress in this area. And, of course, with 20 submissions, it's a part of his game that continues to shine. And with all of Gaethje's three losses coming by stoppage with two KO losses and a submission defeat, one could see how that would excite potential Oliveira backers.
Gaethje might want to get this one into the latter rounds. Despite a 14-year career where he has fought in a lot of main events and title fights, Oliveira has never seen the fourth round. That's not a knock on the champion, being that his finishing power is largely responsible for that with an over 90 percent finishing rate. With a similar rate of finishing fights, it's not like Gaethje has had a ton of twenty-five-minute wars himself, but in getting into the championship rounds against Dustin Poirier and Tony Ferguson, he has at least proven his mettle in protracted battles.
I would expect Gaethje to be at his best, knowing that there are only so many of these chances that come around. With ample mileage, it's hard to picture him being able to continually regroup for another title push. This could be it for him, and the fact that it in his home state could give him a boost. All this should elicit fear from Oliveira and his supporters. It's been a long time, but the champion has been knocked out four times, and that's Gaethje's bread-and-butter. I just see Oliveira not being completely lost on his feet against the available target in Gaethje. And if things get to the ground, Gaethje could be in trouble. In an exceedingly-dangerous fight, I'll give the nod to Oliveira.
My Prediction to Win: I'm betting on Charles Oliveira at -170 betting odds. The Bovada line has some upside at a pretty modest favorite quote on the versatile champion. While dangerous and always a threat to register a KO, Gaethje's defensive woes could cost him dearly against as ruthless a finisher as Oliveira. Bet your Gaethje/Oliveira prediction for free by taking advantage of a 100% real cash bonus on your first deposit up to $500 at Betnow Sportsbook! (Must use bonus code PREDICTEM when signing up.)