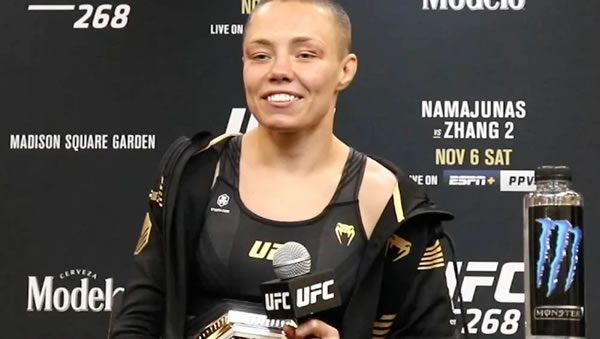 UFC 274 Main Card Picks
When: Saturday, May 7, 2022
Where: Footprint Center, Phoenix, Arizona
TV: PPV
UFC 274 is a deep card with names-galore and some world title fights, to boot. In the co-main event, UFC Strawweight Champion Rose Namajunas defends her title against Carla Esparza in a rematch from a bout that took place in 2014. Also on the card is a lightweight sizzler between decorated battlers Michael Chandler and Tony Ferguson in a crossroads bout. Let's get into it!
Rose Namajunas, 11-4 (2 KOs, 5 Submissions), (-190) vs. Carla Esparza, 18-6 (4 KOs, 4 Submissions), (+165)–BetOnline
Rose Namajunas defends her UFC Strawweight Championship against former champion Carla Esparza. Namajunas has gotten back to the top of the division on the strength of two wins over Zhang Weili. This is her second reign, having been the champion previously from 2017-to 2019 as well. The decorated champion has only been submitted once, and that was by Carla Esparza in 2014 in the inaugural women's strawweight title fight.
Both women have great resolve, remaining in the world title mix in this division for nearly a decade. Namajunas might have one of the more deceiving W-L records in fighting. At just 11-4, you'd tend not to be impressed on the surface until finding out she holds two wins apiece over two of the better fighters in this division's history in Joanna Jedrzeczyk and Weili. She reversed one of the more brutal losses seen in this division when she beat Jessica Andrade to get the shot at Weili and then scored the big upset.
Five years older at 34, Esparza is the consummate veteran. With five straight wins, she is having a nice late-career revival and is a deserving recipient of this title shot. Since beating Namajunas and then immediately losing the strap to Jedrzeczyk, she never got back into a title fight. She is hungry and knows these chances don't come around very often. And sure, she had some ups and downs, and after beating Namajunas for the title, she went on a rough 3-4 patch. But a five-fight win streak has her back in the spotlight against a woman she has previously beaten.
There is a lot of contrasting data here, to be sure. In Esparza's favor is the knowledge that not only can she beat Namajunas, but she can also stop her. She may not have accomplished the feats Namajunas has, but in a sport dictated by the intricacies of the specific matchups, Esparza would appear to have ample ammo to her winning case. In Rose's favor is the fact that she was very young in that first fight against the more experienced and older Esparza, since gaining separation from her rival by scoring a slew of big*name wins that her opponent was unable to register. I think that proven ability to deliver in the biggest fights, greater maturity, and a desire to reverse that earlier loss will be enough to get Namajunas to the finish line in a difficult fight.
My Pick to Win: I'm betting on Rose Namajunas at -190 betting odds. While Esparza was able to register a win over Namajunas in 2014, the champion has since become a different fighter, and while Esparza has done well to remain in the mix all this time, one wonders if she has the special ingredient to topple what has become a vastly-talented and dangerous competitor in Namajunas.
---
Michael Chandler, 22-7 (10 KOs, 7 Submissions), (-415) vs. Tony Ferguson, 25-6 (12 KOs, 8 Submissions), (+315)–Bovada
A lightweight crossroads bout features Michael Chandler taking on Tony Ferguson in an important fight in this division. Two big names in this division, each man has fallen on some hard times. After failing to beat Charles Oliveira for the title and losing to Justin Gaethje, Chandler is in need of a positive development. Three years older at 38, Ferguson's fall has been more precipitous with three straight wins and a palpable reduction in his powers. Who can stoke the fires one more time for a possible title run?
Whereas I feel Chandler just ran into some top opposition and came up short, I think Ferguson's recent form is exponentially more-troubling. And his career is borderline tragic. For a fighter like him to never receive a title shot is a crime. Granted, he had what seemed like 17 scheduled fights with Khabib fall through. And just as Khabib began to step away from the scene, it was going to be the long-suffering contender's chance to take over. And then the wheels came off.
At one point, the full package at this weight, Ferguson started appearing brittle and stiff. And that can happen in the late thirties. A fighter's shelf life isn't indefinite and more opportunities for Ferguson was unfortunately met with dipping skills. It's not so much that he's coming up short, but it's the lack of competitiveness he has shown in his last three fights. And maybe taking some time off before giving it another go was a good idea. But once it's gone, it's gone. And how easy at 38 is it for Ferguson to continue to pare his body down to the lightweight limit?
Even though he won belts in other organizations, it will likely be Ferguson who is looked at as the better fighter when it's all said and done between these two. It's just that Chandler is closer to who he is, while this version of Ferguson might not bear much resemblance to the killer we saw several years ago. If Ferguson were meant to reverse the script, it would have happened at some point in the last few years, and it didn't. It's hard to see that story suddenly getting better now. I'll take Chandler.
My Pick to Win: I'm betting on Michael Chandler at -415 betting odds. While perhaps not at the top of the division, Chandler still represents a level in which Ferguson has not thrived in his last handful of fights. Chandler might even be tougher on Ferguson than his last few foes. At any rate, this might be it for "El Cucuy." Bet your UFC 274 predictions for FREE by taking advantage of a 100% REAL CASH bonus on your first deposit up to $500 at BetNow Sportsbook! (Must use bonus code PREDICTEM to receive the special bonus!)