UFC 278 Fight Analysis & Best Bet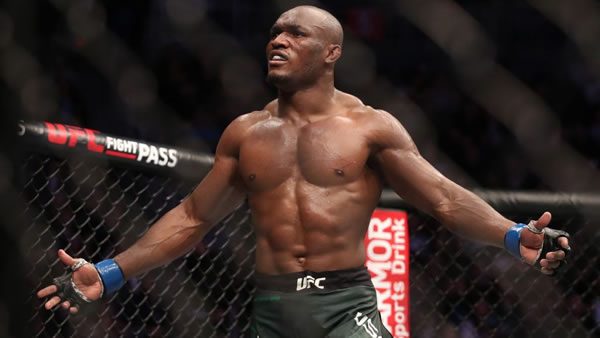 UFC 278: Usman vs. Edwards II Picks
When: Saturday, August 20, 2022
Where: Vivint Arena, Salt Lake City, Utah
TV: PPV
Fight Analysis
UFC Welterweight Champion Kamaru Usman defends his belt against Leon Edwards in the main event of UFC 278 in Salt Lake City on August 20. These two met nearly seven years ago as two young fighters on their way up. Usman won that fight by a 3-round decision, but the stakes are higher now, with Usman being the champion and making his sixth title defense and Edwards having scratched and clawed his way into this spot. Can Edwards exact revenge and become the first man to pin a UFC defeat on Usman, or will we see more of the same from the 170-pound champion?
Kamaru Usman, 20-1 (9 KOs, 1 Submission), (-350) vs. Leon Edwards, 19-3 (6 KOs, 3 Submissions), (+265)— Odds from Bovada (You can bet the fight LIVE in progress there!)
Kamaru Usman makes his 6th title defense against Leon Edwards on August 20 at Vivint Arena. Usman has established himself as perhaps the second-best 170-pounder ever behind GSP with this latest title run. First came a dominant win over Tyron Woodley for the belt, two wins apiece over Jorge Masvidal and Colby Covington, and one over Gilbert Burns. He has been utterly dominant and what should be scary is he seems to be getting better, constantly adding new wrinkles to his game. Known primarily as a top wrestler, he had somewhat of a dull vibe, but more-exciting wins, including a blast-out of Masvidal in the rematch, shows he can strike with the best of them, too now.
The 35-year-old Usman lost his second pro fight almost a decade ago and hasn't lost in the UFC. His wrestling is above reproach, and he's become a far more adept striker. What makes it all come together is his professionalism and ability to deliver on fight night. He doesn't slack off now that he's champion. He works very hard despite having been perched atop the welterweight division for several years now. His improvement has been drastic and resulted in him becoming one of the best welterweights of all time. It paints an image where Edwards has trouble keeping pace.
Five years younger at 30, Edwards matches up well with the spidery Usman, standing 6 feet tall with a 74-inch reach. Remarkably, his first fight with Usman was the last time he tasted defeat. He has been on a long run of success himself. Sure, a lot of casual fans would likely remember him most for either the first Usman loss or how he got smacked around by Jorge Masvidal in the locker room in London a few years ago. Those things and a style that isn't responsible for an abundance of highlights. So Edwards doesn't get a lot of the shine normally afforded to fighters on a 6+-year unbeaten streak. And even in how Nate Diaz nearly got him at the end of their five-rounder in his last fight adds a layer of vulnerability that gives people license to low-rate him.
A few questions loom over this bout. Usman had a recent hand surgery, and you wonder if that will impact some of the improvements we've seen from his striking in recent fights. Has Usman's greater emphasis on striking taken him away from his wrestling? It seems like wishful thinking for potential Edwards supporters, but when fighting a champ of Usman's prestige, you have to take what you can get. Edwards is also not the same man Usman faced all those years ago. Going from a youngster finding his way to a steely 30-year-old vet on a long run of uninterrupted success, Usman is facing a different guy this time around.
Edwards has dealt with some things in the ensuing 6-7 years that would make him a more-robust challenge in this fight. Having faced some talented wrestlers, we've seen him shake off some takedowns, and he'll definitely need to stuff a couple against Usman. And while Edwards is not a fighter who finishes a lot of opponents, his striking has a certain sharpness and crispness that could give him an edge in sequences against Usman.
There could still be a gap for Edwards to step in and surprise some people. Seeing Usman flatten guys like Burns and the feared striker Masvidal creates what could be a misleading image. Because with Edwards, you're dealing with a unique kind of striker. He can hurt you, despite not having that run of stoppage wins. But it's his sharpness, fluidity, and speed that makes him special in this regard. And while he did almost lose it at the end against Diaz in his last fight, he also was piecing up his opponent for the better part of 25 minutes. For as good as Usman has looked in this area, from a striking standpoint, this might be his biggest test yet.
Edwards offers things that Usman's recent opponents might not possess. He has a certain unflappability, professionalism, some sense of being so solid, and having become so competent that this can't really be easy for Usman. I just think it's a tough break for an improving and capable contender like Edwards to be running into what might be the pound-for-pound king in MMA. And while he has different avenues to victory and hasn't tasted defeat since losing to Usman as a far younger man, being a fighter not apt to register stoppage wins at this level does hurt his chances, as he's now reduced to being perfect for 25 minutes, something that might be asking too much when facing Usman. I'll take Kamaru Usman to retain his title.
My Pick to Win: I'm betting on Kamaru Usman at -350 betting odds. The Bovada line on Usman has some upside, as Edwards seems like a competent challenger, but one who might be slightly out of his element. A good fight will eventually become more of a Usman exhibition of skill, as the champion retains his belt. Bet  youre UFC 278 picks for FREE by taking advantage of a 125% real cash bonus when you use bonus promo code PREDICTEM at GTBets Sportsbook!