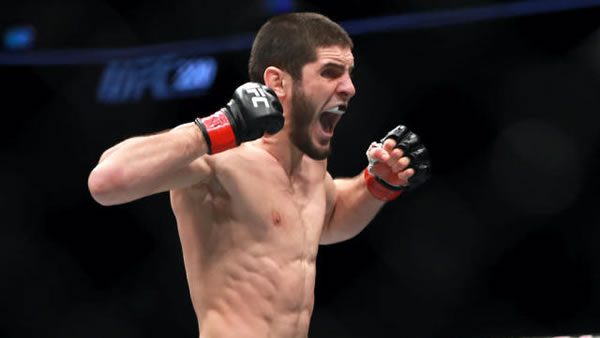 UFC 280: Oliveira vs. Makhachev Picks
When: Saturday, October 22, 2022
Where: Etihad Arena, Abu Dhabi, United Arab Emirates
TV: PPV
Fight Analysis:
UFC 280 features a double championship bill from Abu Dhabi, where the lightweight and bantamweight titles will be contested in this big PPV event. Both fights are compelling events with fighters with different styles and at different points in their careers. Streaking UFC Lightweight Champion Charles Oliveira faces a tough challenge in rough Islam Makhachev in a fight that gives way to a number of different opinions. And that also goes for UFC Bantamweight Champion Aljamain Sterling, as he faces tough out and former two-time 135-pound champ TJ Dillashaw in the co-main event. Let's get busy!
Charles Oliveira, 33-8 (9 KOs, 21 Submissions), (+145) vs. Islam Makhachev, 22-1 (4 KOs, 10 Submissions), (-175) — Bovada
Charles Oliveira makes the third defense of his UFC Lightweight belt against top contender Islam Makhachev in the UFC 280 main event from Abu Dhabi. Oliveira last tasted defeat in 2017, which in MMA terms, is an era ago. With 11 straight wins, a steady rise through the ranks, and all the good work he did before, the veteran champion has come into his own and taken on all comers since moving back up to the lightweight division. His first-round choke win over Justin Gaethje in his last fight in May was typical, as the champion has finished most of his fights and has a robust 21 submission wins. But Makhachev might represent a different package. Unbeaten since 2015, his career has a real chance to finally take off in this one.
With over eight years in the UFC, Makhachev's career has seen some issues that have made it a slow unraveling. Between covid and other things that have popped up, it hasn't been easy getting to this spot. But a long winning streak over many years finally did the trick. On the one hand, there isn't anyone on his record that will make your eyes pop, though getting guys into the octagon hasn't been easy, either. But in a way, the fact that he comes from a different context almost makes him a more-appealing challenger. While Oliveira has gotten to the top with wins over a large part of the older guard at 155 pounds, Makhachev is more of the new wave. And that does seem strange to say about a fighter with almost a decade in the organization.
One can see just with the eye test why Makhachev is fancied by many, though a -175 quote in his favor would seem disrespectful to a long-unbeaten current world champion. Still, as a former featherweight, you can't say Oliveira is a big lightweight, while Makhachev looks a division bigger at first glance. He's as strong as they come, and this is a culmination of a long struggle and years of throwing 155-pounders around and impressing every training partner he meets while having the most respected voices in MMA in deep admiration.
The thing about Oliveira is that he doesn't look that terrifying. An MMA fan can recall times of him losing and even getting flattened multiple times by guys who aren't even in the mix anymore. But then a light switches on, and we see a different guy, a fighter who is calm as they come in the most hectic of scenarios. I just can't help but like the value of Oliveira, along with the sneaking suspicion that the submission holds we've seen Makhachev muscle his way out before won't be something he can escape in this fight against the champion. I'll take an underdog whirl on the champ in this one.
My Pick to Win: I'm betting on Charles Oliveira at -175 betting odds. I feel the champion is getting better value, albeit in a super tough spot, but that his experience, submission acumen, and poise makes him a good pick at a price.
Aljamain Sterling, 21-3 (2 KOs, 8 Submissions), (-175) vs. TJ Dillashaw, 17-4 (8 KOs, 3 Submissions), (+145) — Bovada
Aljamain Sterling defends his UFC Bantamweight Title against former titleholder TJ Dillashaw. The 33-year-old champion is coming off two wins over Petr Yan that, despite coming with some controversy, were testaments on his supreme status among 135-pounders. It's been a while since Dillashaw was in this spot, but the former champ knows his way around the octagon in 135-pound title fights. The controversial 7-time title fight veteran looks to reclaim his spot at the top.
Aljamain is a difficult guy to beat. Spidery, strong, and capable of sneaking in submissions, he's a real handful. And unlike Dillashaw, he has spent the last handful of years mostly getting the better of the best bantamweights in the business. This sport waits for no one, and since his disgraceful failed challenge of Henry Cejudo, he has had but one fight. Between covid and his drug suspension, the now 36-year-old former champ has been mostly on the sidelines. But in his return last year, he showed he still belongs with a 5-round decision win over top contender Cory Sandhagen. It's a bit odd to take almost another 1.5 years off after that, meaning Dillashaw will have fought just once in the last 50 months by the time he steps into the octagon against a champion in Sterling, who has been getting through tough fights against the best.
One cannot deny the still-present talent of one of the best 135-pounders ever in Dillashaw. But the things Sterling does well don't necessarily jump off the screen. He's just an excruciating guy to fight. He won't cooperate, he'll tie you in knots, and he's as resolute as they come. Even if this were a prime and active Dillashaw, Sterling's size and style alone would appear to make this a matchup that doesn't really favor him. I like Sterling to outlast Dillashaw and get the decision win at UFC 280.
My Pick to Win: I'm betting on Aljamain Sterling at -175 betting odds. I don't think the value is too shabby on Sterling in this spot. And while Dillashaw is still a handful, I look for Sterling to nullify Dillashaw's striking and overall energy with his skills and make a frustrating night for the ex-titlist.