UFC 289 Predictions & Fight Analysis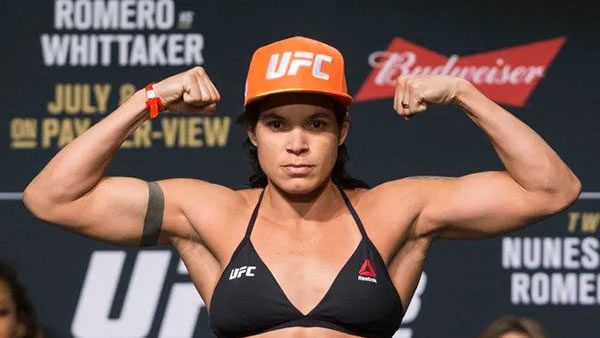 UFC 289: Nunes vs. Aldana Picks
When: Saturday, June 10, 2023
Where: Rogers Arena, Vancouver, British Colombia, Canada
TV: PPV
Fight Analysis:
UFC 289 features the greatest female MMA fighter of all time in Amanda Nunes, fresh off her title-reclaiming win over Julianna Peña, taking on dangerous challenger Irene Aldana in the main event. It's in a bit of an out-of-the-way location in Vancouver, with a Brazilian champion taking on a Mexican challenger, but the MMA fans of British Colombia await the chance to witness the best woman to ever do it, taking on a dangerous challenger who can finish fights. Has Nunes started to fade or are we going to see a return to her dominance on this night?
Amanda Nunes, 22-5 (13 KOs, 4 Submissions), (-425) vs. Irene Aldana, 14-6 (8 KOs, 3 Submissions), (+325)
Amanda Nunes defends her UFC Women's Bantamweight Title against top contender Irene Aldana in the UFC 289 main event from Vancouver's Rogers Arena. Now 34, Nunes saw her run of dominance halted in late 2021 with a shock submission loss to Julianna Peña, before exacting revenge in July of last year. She now looks to get back to her dominant ways against a new face to the world title scene in Aldana. The Mexican challenger is no neophyte, with a 7-year UFC run only just now culminating into something big after a long climb. How realistic are the challenger's chances in this one?
At 35, Aldana's name might be new to some, but with a long UFC run and over a decade as a pro, she is not new to this. Her career has seen some ups and downs. Through the first several years of her UFC tenure, she'd win a few, lose a few, and was seemingly stuck in neutral. And while she was never able to put together that really crystal-clear run of dominance, she is on a nice run of four wins in her last five fights, her only loss in that stretch being by decision to ex-champ Holly Holm. We have also seen her develop more of a flair for finishing fights, with her last three fights ending by stoppage via strikes.
A position on Aldana in this fight would be tied up in a lot of perceptional speculation about the champion Nunes. Some of the great things you can say about her are also the reasons to forecast her diminishment. She is the greatest fighter of all time, but to even be in that position means there's a lot of mileage on you. Nunes has been on top for a long time, that title-winning triumph over Miesha Tate being 7 years ago. In a young sport where things evolve at a heightened rate, that amount of time is truly an eternity. You can't really blame those who are waiting for the other shoe to drop when it comes to Nunes. Historically, this is a good time to start taking underdog positions against aging champions of long tenure.
And truth be told, even if Nunes gained revenge in the rematch, getting locked into a finishing choke by the likes of Julianna Peña could serve as a portal into her erosion. Known as the most-fierce of all women strikers by a fair margin and a fighter who zoomed into our consciousness on the heels of some ultra-violent finishes, we haven't really seen that Nunes in recent outings. With the decision win and loss to Peña, a submission over Megan Anderson, and two decisions over Felicia Spencer and Germaine DeRandamie, we have to go all the way back to her 2018-19 demolitions of Cyborg and Holly Holm to recall that version of Nunes who is just knocking everyone's block off. Contrast that to Aldana, who as of recently, has started finishing fights at a higher rate, seeing her striking take on more of a fight-deciding light to it.
Aldana has a lot going for her. She has the experience of a long career, but is also seeing that galvanize into the best fighting of her career as of late. She is very tough, can take a shot, and doesn't fall to pieces when her opponents begin having success offensively. It's nice to know she can hang in there in a more-protracted fight, but she can also end fights in a variety of ways, having scored high-level UFC wins with submissions, punches, and kicks. In other words, she has some of the things you're looking for in a high-value underdog—finishing ability, seemingly-peaking, and taking on a champ whose best fighting is likely in the rearview.
But alas, we are talking about the best to ever do it. Nunes is the champ and one can even make the case that the Peña loss refocused her, knowing that against this lot of contenders, an off-night can easily result in losing your title. And to take a fighter who has been on top for a while and try to play that game where you try to time the champ's demise can be a dangerous and costly game to play. Other than one time, taking these seemingly-appetizing prices against Nunes has not paid off, with a long slew of defeats to go along the way.
The thing is I do feel that Nunes is a bit ripe. The mileage, the length of time she has been on top, and all she has accomplished has her as a less-fierce presence as she was several years ago. That doesn't make it easy to pick against her, but it sort of sets up a dynamic where one can start looking for spots against her, knowing if they're right just one out of four times, they can demonstrate a long-term profit with this play. And at +325, I think Aldana is a high-value play, while also keeping in mind that she will be up against it in a major way against Nunes. I'll take a whirl on Aldana in this one.
My Pick to Win: I'm betting on Irene Aldana at +325 betting odds. I think Aldana's growth as a fighter and her toughness and experience makes her a solid candidate to take advantage if in fact Nunes has begun to wane. Bet your UFC 289 predictions for FREE by scoring a 100% real cash bonus on your first deposit of $100 to $300 when you use bonus promo code PREDICT100 at MyBookie Sportsbook!