[et_pb_dcsbcm_divi_breadcrumbs_module hide_homebreadcrumb="off" homebreadcrumbtext="Home" separator="sep-raquo" hide_currentbreadcrumb="off" homebreadcrumborientation="left" _builder_version="3.8″ fontsbreadcrumbs_font="Lato||||||||" fontsbreadcrumbs_text_color="#000000″ fontsbreadcrumbs_font_size="15px" fontsbreadcrumbs_line_height="16px" fontsseperator_font="||||||||" fontsbreadcrumblinks_font="||||||||" fontsbreadcrumblinks_text_color="#2567cf" custom_margin="25px|||" custom_margin_phone="30px|||" custom_margin_last_edited="off|desktop" custom_css_main_element="font-family: Helvetica Regular;" disabled="on" global_module="3641″ saved_tabs="all"][/et_pb_dcsbcm_divi_breadcrumbs_module]
UFC Fight Night: Till vs. Masvidal Pick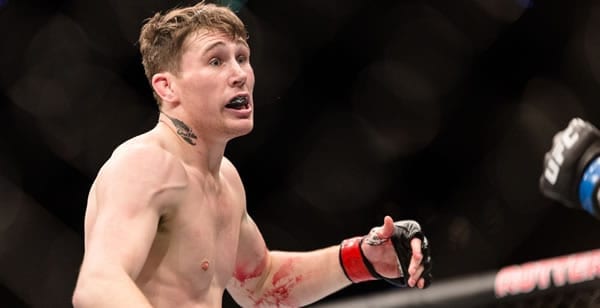 UFC Fight Night: Till vs. Masvidal Pick
When: Saturday, March 16, 2019
Where: O2 Arena, London, England
TV: ESPN +
The UFC goes across the pond on March 16 for another ESPN card at the O2 Arena in London. Heading the card is one of the UK's most-promising MMA fighters in welterweight Darren Till, as he takes on veteran contender Jorge Masvidal in the main event. This 170-pound bout features a pair of exciting fighters who should combine for an excellent main event. Let's see what we can come up with for this main event!
Darren Till, 17-1-1 (10 KOs, 2 Submissions), (-230) vs. Jorge Masvidal, 32-13 (13 KOs, 2 Submissions), (+190)
Fight Analysis:
Welterweight contenders Darren Till and Jorge Masvidal will do battle in the main event of UFC Fight Night on ESPN. This 170-pound pairing features high stakes, with the winner inching closer to a big fight or title shot, while the loser goes further back in a long pack of welterweights all vying for a title shot. Till, from Liverpool, is coming off his first career loss in a title attempt against Tyron Woodley where he was submitted in the second round. Masvidal, meanwhile, is coming off two straight losses and in his 16th year as a pro and now 34 years old, needs a positive development.
It's not easy to gauge exactly where the 45-fight veteran Masvidal is at this point. His last fight was in 2017, a year where he went 1-2, losing to Wonderboy Thompson and Demian Maia in a split decision, but also beating Donald Cerrone to show he is still a threat. After almost a year off, he now returns in what is certainly a tough spot—on the road against a once-beaten top contender in Till. The rugged Masvidal is unquestionably a tough out for anyone.
Still, his recent work has been uneven. Dating back to 2015, Masvidal is only 4-5 in the octagon. He has taken losses from Al Iaquinta, Benson Henderson, Lorenz Larkin, Maia, and Thompson. Interestingly, four of those five losses were by split decision. And that's been Masvidal's problem—fighting up or down to the level of his opposition. There never seems to be any separation in his fights, whether in his or his opponent's favor. He doesn't win by a lot, and he doesn't lose by a lot—almost regardless of who he fights. Masvidal has just 15 finishes in 45 fights. He has this weird habit of keeping fights close, even if at times it appears that a higher work-rate could turn some of these setbacks into wins.
Eight years Masvidal's junior at 26, Till is regarded as the MMA commodity more on the rise. Unbeaten until recently, he has certainly shined more at the higher levels recently and is more active, coming off two fights in 2018. It didn't work out against Woodley, but the odds were really close, as many anticipated a changing of the guard. In the big-picture sense, falling in your first big fight to the best welterweight of the era isn't so bad perhaps. Other than that, his credentials are above reproach.
Till, an inch taller than Masvidal at 6-feet, was cruising along nicely before losing to the champion in September of last year. He was rising through the ranks and made a lot of noise with wins over top contenders Cerrone and Thompson. He was also showing some nice versatility, both as a bombs-away slugger and a fighter who could be more-technical when the situation arose. Against Cerrone, he was an assassin, while he showcased his technical proficiency against a very-nuanced striker in Thompson. That kind of versatility led to many fancying him against Woodley. Can he get back on the right track in this fight?
Masvidal has a lot of skill and craft. Fighting is very innate to him, as some may remember him being featured on some of those old Kimbo videos from way back when. He has been a pro since 2003 and fought a ton of big names. He has a well-rounded game, though his upbringing is steeped in streetfighting. But he seems perpetually stuck at the level just below elite. And the reasons are damning—a lack of finishing ability, along with an overall poor vision of the fight. He doesn't ever seem to know where he stands exactly. It's a big part of the reason that he is still seeking his first title shot this late in his career.
Till, meanwhile, has a more complete overall game, even if he's a striker by nature. And a lot of that is mental. He has more of a go-get-it attitude. He can sense the urgency within a fight and act accordingly to steer things in his favor. Till can blast a guy out of there, but also has the resolve and stamina to win more of a drawn-out fight. That's something he might need to rely upon against a guy who is very difficult to stop in Masvidal.
Again, Masvidal is more than capable enough to provide a surprise-performance in this spot. Maybe after a long and taxing career, the time off helped. But from a more-guttural point of view, I think if it were meant for Masvidal to do really big things in this sport, it would have happened before now. He's capable, without possessing that special element to win at this high of a level this late in his career coming off the long layoff. Till seems to be in a decent spot here at home to get back on the winning track and that's what I expect him to do in London on March 16.
My Pick to Win: I'm betting on Darren Till at -230 betting odds. Till is in his prime and as a fighter, has a far-higher ceiling at this point. Masvidal will very likely be highly-competitive in this fight, but he won't be able to do enough to get over the hump. I see a high-energy showing from the home-fighter, as his skills and grit get him to the winner's circle, probably by decision.
Guys. get all of my top MMA fight analysis with projected winner by visiting our UFC fight page.