Usman vs. Masvidal 2 Picks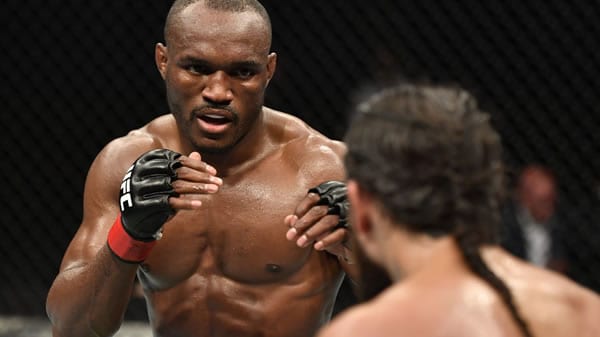 UFC 261: Usman vs. Masvidal 2 Picks
When:
Saturday, April 24, 2021
Where:
VyStar Veterans Memorial Arena, Jacksonville, Florida
TV:
PPV
Fight Analysis:
UFC 261 features a big main event, with UFC Welterweight Champion Kamaru Usman taking on top contender Jorge Masvidal in defense of his championship. This is a rematch from a July 2020 bout, when the champion Usman was able to quell Masvidal's challenge with a routine decision win. But being that Masvidal was a very late substitute, it will be interesting to see how this fight looks with Masvidal having a full camp. Let's break down what figures to be an interesting 170-pound title fight!
Kamaru Usman, 18-1 (8 KOs, 1 Submission), (-390) vs. Jorge Masvidal, 35-14 (16 KOs, 2 Submissions), (+325)
Fight Analysis
Kamaru Usman makes the fourth defense of his UFC Welterweight Title on April 24 in Jacksonville against Jorge Masvidal. Just this past February, Usman defended his belt against Gilbert Burns in a dominant display. He looks to be put together a big 2021 with his second defense already in the young year. Masvidal, meanwhile, has been inactive since losing to Usman last year.
There are a lot of moving pieces in this equation. Normally a rematch from a lopsided fight wouldn't get much attention. But there is a general feeling that this is the right fight to make, despite the separation Usman put between himself and Masvidal in their first fight. Masvidal was really on a big roll, scoring some huge wins to put himself at the top of the 170-pound rankings. For that to all culminate with a title shot, he had a week to get ready for, while having to quarantine and facing all the other challenges of the virus just isn't fair. And it's nice that a man who really fought like a dog to get to this spot will get a real opportunity to win a title.
The loss really didn't do a lot to diminish Masvidal. Usman, facing Masvidal on short notice after Gilbert Burns got the virus, understandably took a safe approach, with an emphasis on winning taking precedence over being entertaining. And win he did, with basically a shutout decision that was about an unentertaining as it was forgettable. And perhaps that was expected on some levels—that Usman would opt for a cautious approach, while one week would prove not to be ample time to prep for a fighter as difficult as Usman.
While the loss may not have taken much shine off of Masvidal, what we did see in the octagon was, in fact, troubling for potential Masvidal backers in this fight. Usman is a fighter where some might be reluctant to extend him his due respect. He can be a bit dull. While Masvidal had all these key memorable moments that all fans have in their heads, Usman's worth registers a different way. It's not really about highlights, flash, and bright lights with him. It's about preparation, steadfastness, and a certain professionalism that has allowed to him to zoom to the top of the division. And in beating guys like Tyron Woodley, Colby Covington, Masvidal, and Burns, he hasn't experienced a lot of difficulties, and his dominance at this level has to be respected.
We can talk about the things Usman does well in the octagon and how those things gave Masvidal trouble the last time. But doing an analysis of his wrestling ability and his improving stand-up skills only tells part of the story. What Usman has is what you see from other great longtime champions across all fighting sports. He is as steely as they come. You're not going to catch him on off-night. He is utterly and completely professional—as solid and dependable as they come. And that type of reliability factor is a strength in itself. An Usman backer can be assured of what he's signing up for.
Still, it would be off-base to say that the Masvidal we saw last time will be the same guy who surfaces in the cage on April 24. Three years older than Usman at 36, Masvidal did an awful lot to emerge from the pack as a real contender. Toiling for years with ups and downs, he put it together with a pair of highlight-reel knockouts over Darren Till and Ben Askren before beating Nate Diaz. And those performances rightfully put him in this spot.
At the same time, Masvidal is 3-3 in his last six fights. This isn't to take away from what he has done. But we're talking about winning here. And when it comes to finding a way to navigate yourself to the winner's circle, the nod would surely go to the fighter who has won 17 in a row and not the guy with 14 losses. That might seem overly simplistic, but when placing a bet to win a fight, it's worth mentioning. With Masvidal getting to this spot largely based on wins over Diaz and Askren, he may have beaten guys whose name-power exceeded their true merit.
Again, using the first fight as a roadmap could be a mistake. At this level, one fighter having time to prepare while the opponent is rushed into the fight can create a faulty picture of reality. I just think Masvidal might have too much ground to cover here, and a full training camp won't be enough to bridge that gap. For fans, however, it should lead to a much better fight. I see a far greater push from Masvidal this time around, with Usman doing enough to stay on top, as he registers another fairly routine 5-round decision.
My Pick to Win:
I'm betting on Kamaru Usman at -390 betting odds. It's a dangerous fight for Usman, but I don't think that it is a very advantageous fight for Masvidal stylistically. Being on an even playing field preparation-wise could have an impact, though I see Usman frankly being a bit out of Masvidal's depth. Bet the Usman/Masvidal fight FREE by taking advantage of a 100% real cash bonus on your first deposit of $100 to $300 at MyBookie Sportsbook! (Must use bonus code PREDICT100 to activate the special bonus!