Texas A&M Aggies vs. Auburn Tigers Predictions 2/12/22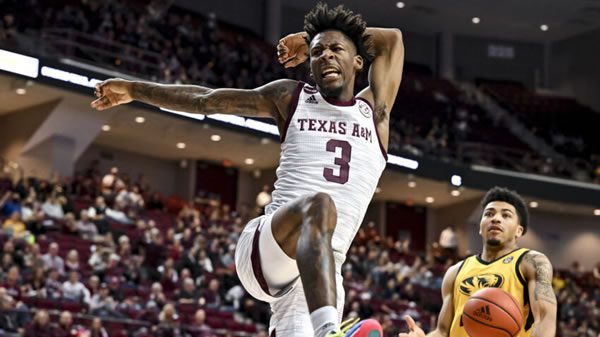 Texas A&M Aggies (15-9 SU, 12-11 ATS) vs. Auburn Tigers (22-2, 17-7 ATS)
When: Saturday, February 12, Noon
Where: Auburn Arena, Auburn, Ala.
TV: ESPN
Point Spread: A&M +13.5/AUB -13.5 (Bovada - Awesome live betting +50% bonus!)
Moneyline: A&M +725/AUB -900
Total: 141.5
Last Time Out:
Texas A&M lost 76-68 to LSU; Auburn lost 80-76 in overtime to Arkansas.
About the Matchup:
Texas A&M was once a solid bet to finish in the top half of the SEC and reach the NCAA tournament, but the Aggies are currently a sinking ship that looks like it will be lucky to play anywhere this postseason. The Aggies bring a seven-game skid into this matchup, and they havent exactly been playing against the top of the heap in this conference. The Aggies took a pair of home losses to Missouri and South Carolina, teams theyre battling with to try to avoid playing in the first round of the SEC tournament. Since beating Missouri in Columbia on Jan. 15, Texas A&M doesnt have a win to its name.
And thats the situation the Aggies find themselves in as they prepare to meet an Auburn team that had the No. 1 ranking and will likely lose it after the Tigers fell to Arkansas in Fayetteville in overtime. Truth be told, Bruce Pearl probably wont be too disappointed to see the Tigers fall to second or third in the polls, as Auburn has been a bit worn out from both going on the road and getting everyones best shot. But the Tigers havent struggled a bit at home, as Kentucky is the only team all season to come into Auburn Arena and leave with a single-digit loss (and the Wildcats just barely kept it within 10 in a 70-61 Tiger victory). With A&M in free fall, this seems like it might be a straightforward afternoon.
Scouting the Aggies:
When you force 22 turnovers and end up with 14 steals, and you grab 22 offensive rebounds, you have absolutely no excuse not to win the game. A&M not only failed to win against LSU, it was down 20 points at halftime. The Aggies managed to battle back to earn an eight-point loss, but they still didnt come anywhere close to victory because they shot just 32.8 percent from the floor.
On the positive side of the ledger, the Aggies played solid defense when they didnt allow an LSU shot, as 30 percent of LSUs possessions ended without a shot and two out of every three times the Tigers touched the ball ended without points. Yet LSU still won comfortably because the Aggies couldnt get anything going on offense. Quenton Jackson and Wade Taylor shot a combined 6-for-26 from the floor, and even though the Aggies grabbed 40 rebounds for the game, they were sloppy with the ball themselves, committing 15 turnovers.
There is no margin for error going up against Auburn on the road. If A&M plays another game like it did against LSU, this will get ugly.
Scouting the Tigers:
When Auburn plays at home, the Tigers best strategy is to simply bury their opposition before it has a chance to breathe. Thats what the Tigers have done in three of their past four contests at home (Kentucky the one exception), as Auburn led by double digits at the break in each of those games.
What makes Auburn so tough to handle in the first half is the fact that the Tigers are one of the deeper teams in the nation. Having Jabari Smith outside and Walker Kessler inside gives Auburn an almost unbeatable combination, but the Tigers are perfectly willing to go eight-deep in a competitive game and will go 10-deep if they get a good lead. The one thing the Tigers really arent equipped to do is play timid basketball, which they had to do against Arkansas when Kessler fouled out and five other players carried four personals. As long as the Tigers can avoid foul trouble, they should be fine.
Texas A&M will Cover If: The Aggies can avoid mistakes with the ball and draw out possessions. Texas A&M has to make the most of its chances and cannot allow Auburn to force them to come up empty. The Aggies defense is good most of the time, but the offense has left a lot to be desired. A&M has to give itself a chance on offense.
Auburn will Cover If: The Tigers can bury the Aggies in the first wave. Auburn has 10 minutes to either win the game or settle into a dogfight. If the Tigers come out hot and ready to prove a point, the Aggies arent capable of coming back. If Auburn starts slowly, this could be a problem.
Dan's Best Prop Bets
With A&M struggling to get anything going on offense, I expect the scoring will come from Auburn. I think Texas A&Ms team total under makes a lot of sense, as I think Auburn runs away with this one.
Dans Pick to Cover the Spread
If this game took place a month ago, Id give A&M a good chance. But this team looks like its hit the wall while Auburn is surging. I dont think this one will be very close; give me the Tigers here.
Get $60 of FREE member picks & predictions
(NO commitments. NO Credit Card. NO Salesman.)
$100% Cash up to $500