Anderson Silva vs. Tito Ortiz Fight Analysis & Pick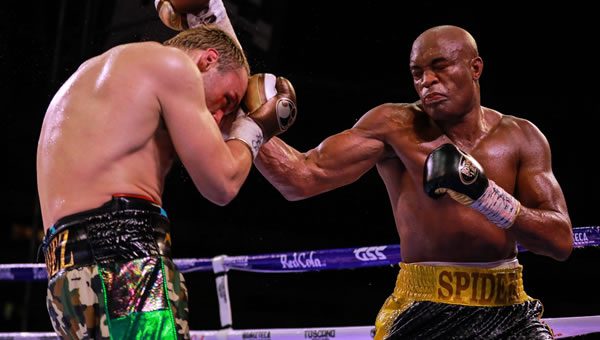 Anderson Silva (2-1, 1 KO) vs. Tito Ortiz (Pro Debut)
When: Saturday, September 11, 2021
Where: Staples Center, Los Angeles, California
TV: PPV
Weight Class: Cruiserweight: 200 Pounds
Betting Odds: Anderson Silva -500, Tito Ortiz +350 (BetOnline.ag)
Fight Analysis:
Former UFC champions Anderson Silva and Tito Ortiz will do battle in a boxing match on September 21 at Staples Center. Boxing has suddenly become a battleground for these sort of bizarre all-star type encounters. Here, we have two former 46-year old ex-UFC champs having a boxing match, with this being Ortiz' debut in the sport. It's highly unconventional and presents a lot of challenges for the bettors, who have an awful lot of dots to connect in this matchup. Let's break it down!
While both are 46, Ortiz comes from a bygone era. By around 2008-2009, Ortiz ceased being a top fighter in the light heavyweight division. At the same time, Silva was in the midst of his long reign as UFC middleweight champion. He was viable for far longer. So while their chronological ages are the same, Ortiz is more yesterday's news. But Ortiz was at least able to leave MMA on a somewhat-winning note, winning five of his last six. And sure, that was against a retrograde level of opponent, but winning is winning.
In contrast, you have a version of Anderson Silva where winning was once commonplace now struggling to get in the win column. After a 17-fight win streak, he has now tasted victory only once in his last 9 MMA fights. That would be understandably a fair reason to make people hesitant to get behind Silva. Another possible way of looking at it is that while Ortiz has thrived on the senior circuit, Silva has still been fighting real contenders—some of the best fighters in the world. And if Ortiz had been fighting the best, his results might even be worse.
More Picks: Oscar De La Hoya vs. Vitor Belfort Odds & Predictions >>>
And when it comes to actual boxing, Silva is the only one in this fight with real credentials. He turned pro back in 1998 and had another bout in 1995. Most promising, however, was his win in June over Julio Cesar Chavez, Jr. Beating, a pro boxer who is 52-5-1, is pretty impressive, made less so when one realizes it's been a while since Julio, Jr. had the heart for combat. But we at least know that Anderson can get in there, go rounds, and acquit himself well. We don't really know that about Ortiz.
A few things could be in Ortiz' favor. This fight is more in his stomping grounds at the Staples Center. A bigger man naturally, he will be a little larger and thicker than Silva. The cruiserweight limit is 200 pounds, and in a fight like this, you never know how strict they will be with weight-limit adherence, but for a fighter in Ortiz who made 205 in his prime, will making 200 pounds be tough at age 46? Either way, Ortiz has a little size, and that never hurts.
In his old age, Silva has become more vulnerable to striking. In 2020, we saw him go down to Uriah Hall's punches. But by in large, when looking at how both fighters have reacted to getting hit in their career, it might be Ortiz who has shown more kinks in the armor, having been flattened by punches a number of times. But he has flattened enough people himself to make him a serious threat.
I just can't get away from the notion of Silva being more recently viable. Ortiz ended his up-and-down MMA career with a decent run, but against really old and, in some cases, barely-functioning shot fighters. And he did that in his first and chosen sport. For him to now dust off the cobwebs once again to enter the boxing ring in a new sport is a big ask, even if his opponent is the same age and not much of an experienced boxer in his own right.
In other words, a few pro boxing matches over a quarter-century in time doesn't make Silva a real boxer. But he has tasted the exposure—the experience of going through a handful of training camps, thinking like a boxer, and having some actual success in the field. And we don't want to read too much into an 8-round split decision win over Chavez, Jr. The son of the legend doesn't seem too interested in being in a ring anymore. But at least with Silva, we have some information upon which to base a winning pick. Expecting Ortiz to climb in a ring and shine is pure speculation and based at least a little on a pure leap-of-faith.
Despite advanced age and rapidly-deteriorating results in the UFC, Silva would have always been the choice between these two men when it came to who would be the better boxer. He has a more loosey-goosey nature to his limbs. He doesn't have to load up. He has more quick-twitch muscle fiber than the stiffer Ortiz. "The Spider" is the kind of stand-up fighter who is capable of getting into a groove—employing a strategy with a consistent and employable attack that furthers that plan. Ortiz might be reduced to single shots where he's more or less trying to land a big one.
This is not to imply that Ortiz is lost in this context. The man is a fighter and has been for a very long time. He didn't get to be the recognizable name he is for not knowing how to fight. And while the ground game was a big part of his success, he has punched up enough people to lend a certain credibility to his prospects in this fight. And for however far he has slipped, and for all the fights he has lost, he always went into competition with a winning attitude. He is going against a fighter who, after winning almost every time out, has only tasted victory once in his last nine MMA fights. So a case can certainly be made. I just think in this sport, he's dealing with a guy in Silva who is a cut above. I'll take Silva.
My Prediction to Win the Fight:
I'm betting on Anderson Silva at betting odds. Despite a disadvantage in size and a recent run of losses in the UFC, Silva's greater experience and success in the boxing ring seems to have him in a better position to succeed against a depreciated older fighter in Ortiz, who is making his maiden voyage into the squared circle. Bet the fight for FREE by taking advantage of a 50% REAL CASH bonus on your first deposit of $100 to $500 at Bovada Sportsbook! (Credit cards work there!)