Oscar De La Hoya vs. Vitor Belfort Fight Analysis & Picks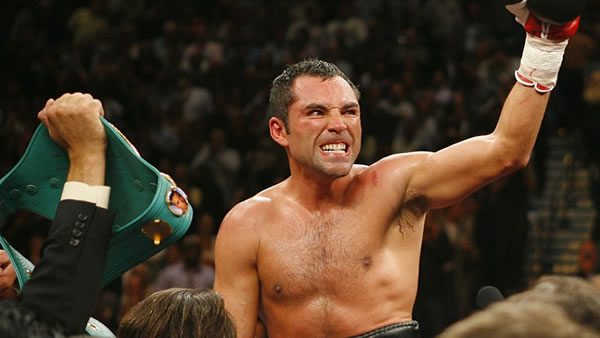 Oscar De La Hoya (39-6, 30 KOs) vs. Vitor Belfort (1-0, 1 KO)
When: Saturday, September 11, 2021
Where: Staples Center, Los Angeles, California
TV: PPV
Weight Class: 180 Pounds Catchweight
Betting Odds: Oscar De La Hoya (-130), Vitor Belfort (+100) (BetOnline)
Fight Analysis:
Boxing Hall of Famer Oscar De La Hoya will take on former MMA champion Vitor Belfort in Los Angeles on September 11. This will apparently be a real fight. A legit pro boxing match contested over eight two-minute rounds. For De La Hoya, 48, he returns to the ring for the first time since losing to Manny Pacquiao back in 2008. Belfort, 44, retired in 2018 from MMA, but had been entertaining a comeback on this Triller platform and gets Oscar in a big-money spot. Belfort had one pro boxing match, back in 2006, winning by KO.
Frankly, it's difficult to break this one down. Oscar has been away a long time. Some boxers have aged well, and Oscar was never one of them. A fighter who did most of his meaningful work in his twenties, Oscar began to see diminishing returns by his early thirties. And while he was never really embarrassed until his last fight against Pacquiao, he had long ceased being the pound-for-pound entrant he was earlier in his career.
So now, 13 years later, what can be expected of him? It's not like he has taken the best care of himself. Having seen him recently, I'm not completely sold on his overall sobriety. He lost Canelo from his promotional company, and now he's going around talking about he wants to fight the best. It makes one wonder if there is some delusion going on here. For a fighter who faded badly by his mid-thirties, getting back in there at near 50 just seems counterintuitive on so many levels.
BET THE FIGHT FREE! SIMPLY DEPOSIT $100 TO $300 AND YOU'LL RECEIVE A 100% BONUS WHEN YOU USE PROMO CODE PREDICT100 AT MYBOOKIE!
Again, that's not to impugn Oscar's credentials. He went from a fighter who was perhaps overrated at times during his career to a fighter whose legacy is actually underrated on some levels. He fought them all, beat a ton of good fighters, and was even screwed a few times. People perhaps underappreciate what he did in his career. But Oscar is not dissimilar to other great Southland Mexican-American fighters who start in the lower weight classes. They're never really that great after their expiration date, which is usually about 30. Oscar's 3-4 run to close his career illustrates this.
You see a guy in Oscar who is getting puffy. He doesn't look like the old Oscar. Who here among us does? The late 40's usually come with some troubling features—hair going, beer gut forming, and all the other pitfalls. Oscar is not immune to this, and you can see it on him—more jowly and thicker than he ever was. A pro who first won a title at 130 pounds, he's now been walking around at about 200.
Still, there are some edges for Oscar. With this being contested at 180 pounds, Oscar can put aside weight concerns, as this is a number he can easily make. For Belfort, however, he last fought at 185 pounds about five years ago, with many of his bouts occurring at the 205-pound weight class. At 44, will paring down to 180 come with a lot of difficulties? And while he has been an active fighter, having 16 fights since Oscar retired, he has been inactive. Once a fighter retires, he turns off the pilot light. The same applies for Oscar, but this could be more evident with a more recently retired fighter. And like Oscar, the final run wasn't inspiring, with Belfort winning only one of his last fights. The last time we saw Vitor blast someone out was back in 2015.
Note: We also offer free MMA picks with analysis for all major fights!
Still, there's some danger here for Oscar. Unlike some other crossover bouts involving boxers and MMA fighters, the MMA fighter in this equation is a striker first and foremost. Going back to the '90s, Vitor's striking has been his calling card. Looking at his results, big punching is responsible for a lot of his success. In his favor is more recent fighting activity, size, and a little edge in youth. Going against him is what sport this is, the experience edge of his opponent, and the waning success he had later in his MMA career.
So while this is a version of Oscar who might be delusional, he's in a negotiable spot. How much of a boxer can one rightfully expect Vitor Belfort to be at this stage in his life? It's a far cry from the people Oscar most recently spent time in the ring with; let's just put it that way. There's a big drop-off in taking on guys like Bernard Hopkins and Pac-Man, as opposed to taking on a 44-year old inactive MMA fighter who had one boxing match 16 years ago. So as we account for the lessened-state of Oscar, we must also account for the lessened context of the opponent, which likely surpasses Oscar's rate of depreciation.
When a long-retired fighter of almost 50 years of age, coming off years of partying and not taking the best care of himself, resurfaces in the ring, it's anyone's guess what it will look like. Going even eight two-minute rounds against a guy with a long history of rendering people unconscious isn't terribly easy. But I still suspect that Oscar will be in OK shape, using his skills to either decision Belfort or maybe even get him out of there at some point to make a statement for some more lucrative fights in the future. I'll take Oscar in this one.
My Prediction to Win the Fight:
I think the BetOnline line of Oscar De La Hoya at -130 has some upside. Oscar is a far cry from what he was, but a retired MMA fighter with little boxing experience and saddled with a difficult weight-making issue would appear to be in an even less-savory spot.