Anthony Joshua vs. Andy Ruiz, Jr. Pick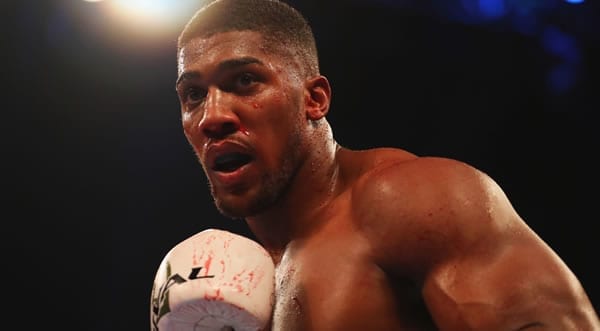 Anthony Joshua (22-0, 21 KOs) vs. Andy Ruiz, Jr. (32-1, 21 KOs)
When: Saturday, June 1, 2019
Where: Madison Square Garden, New York City, New York
TV: DAZN
Weight Class: World Heavyweight Title
Betting Odds: Anthony Joshua (-3000), Andy Ruiz, Jr. (+1500) (MyBookie)
Over/Under: Over 6.5 (EVEN), Under 6.5 (-130)
Fight Analysis:
Anthony Joshua defends his World Heavyweight Title belts against Andy Ruiz, Jr. on June 1 at Madison Square Garden. This bout was somewhat hastily thrown together, with original challenger Jarrell Miller popping positive for PEDs. Normally, that would result in a depreciated replacement, but Ruiz, Jr. might actually be a more-dangerous proposition for Joshua. He doesn't look the part, as he is rather corpulent for a world-class athlete, especially a boxer. But behind the blubber is a lot of skill and guile, not to mention toughness. Let's see what we can come up with for Joshua vs. Ruiz, Jr.
Fighting a monster like Joshua is hard enough, but it's even tougher on short notice. Or is it? Ruiz, Jr. will still have had the better part of a month to get ready. Making it a lot easier is that he is coming off a TKO win over Alexander Dimitrenko on April 20, meaning he can carry his training over and not just start from scratch. Maybe having less time to ponder the enormity of this task will do him good. A quick look at the boxing history books shows a slew of late subs scoring huge wins.
More Fight Picks:  UFC 238 - Tony Ferguson vs. Donald Cerrone and Whyte vs. Rivas
Perhaps, the conditions are not ideal for Joshua more than Ruiz. There is a randomness to how his career is proceeding, which could resonate in a different headspace or sense of overall urgency. He is fighting in the states for the first time, with the opponents being switched late and maybe it will throw him off his top-form. I wouldn't bank on that, as fighters don't win gold medals in the Olympics and go unbeaten as pros with hardware around their waists by slacking off mentally. It's just something to ponder.
Prepare yourself for a vast contrast in appearance when these two step into the ring at MSG on June 1. Joshua is built like a Greek god. He is tall at 6'6" and absolutely shredded in the 245-pound range. He wields an 82-inch reach and just looks like a guy with whom you don't want to tangle. Then there is Ruiz, Jr. At first glance, you would not peg him as any kind of athlete. He has decent size at six-feet-two with a 74-inch reach, but he is carrying a lot of excess baggage. And while some prominent heavyweights have thrived at high levels without being aesthetically-pleasing to look at, it's hard to recall a fighter who looks like Ruiz, Jr. thriving at that high of a level.
It is somewhat jarring, therefore, when one sees Ruiz, Jr. fight, as he unveils great hand speed. He's a good boxer who can really move his hands with a lot of velocity. A pro for a decade, following a nice amateur career, he knows what he's doing. He still can't come near Joshua in terms of accomplishments. Both are 29, but Joshua is far more-accomplished—winning Olympic gold and multiple title belts in a pro career that includes wins over top competition like Dillian Whyte, Wladimir Klitschko, Joseph Parker, and Alexander Povetkin. Ruiz, Jr. had a title shot over two years ago in New Zealand and acquitted himself well, albeit in a losing effort to Parker by majority decision. Since then, he has won 3 straight fights.
Again, it's important to look beneath the surface. When you see these two standing next to one another, the mind will tend to forecast an absolute wipeout win for Joshua. It's just how our brain is conditioned, where we assume a man who is statuesque and cut from granite will easily defeat a guy who looks like an Uber driver from Pasadena. But with the quickest hands in the heavyweight division, Ruiz, Jr. is no pushover. He lashes out with rapid shots and combinations, while looking to get in close to do damage.
50% Free Play up to $1,000

Ruiz, Jr. likes to get right in the pocket and while his hands are rapid, his movement is more what you'd expect from a man with his proportions. Joshua also isn't very mobile, meaning one could expect these two to be in each other's range right from the get-go. Joshua is a little on the stiff side, meaning Ruiz. Jr. could be a matchup-issue for the champion by virtue of his speed and fluidity. Joshua has a lot going for him, but speed and upper-body movement are not among his finer traits.
Still, Joshua is no lumbering muscleman. Sure, he is at his best when he blows out opponents with his superior brute force. And when we discuss power, there are degrees. When Joshua connects solidly, the power is irrefutable. Opponents are sometimes vaporized from the ring—just completely knocked silly. But he has shown the ability to win in other ways, delivering victories in longer drawn-out fights, while also overcoming adversity and battling back from near-defeat. He is cleverer than what people think and has shown he can think himself out of trouble.
UFC 238: Cejudo vs Moraes Pick
Some possible daylight for Ruiz, Jr. is that defensively, Joshua isn't great. He's a big target without a ton of mobility, which on paper would make him an available target for a fighter with the challenger's gifts. His upper-body, including his head, is often very still and open for attack. But for an opponent to be in a spot to do damage, he must come into Joshua's wheelhouse. And sometimes, offense is a great defense. Once opponents taste Joshua's power, they become far less-willing to take risks with their own offensive attacks. Joshua can throw game-changing shots from a multitude of angles and distances, while showing himself to be growing in counterpunching ability. He is also huge with a long reach, making the opposition's margin for error rather small.
The styles of both fighters suggest almost-immediate fireworks. Neither is a back-foot fighter, in fact, neither really takes backwards steps at all. This fight should take place at mid and close range, which will give way to a real battle, as opposed to a more drawn-out encounter. The speed of Ruiz, Jr. could trouble Joshua early, but in doing so; it will also arouse a greater sense of urgency in the champion. It's just not easy to picture this lasting very long. I'm taking the under. I don't see Joshua-Ruiz, Jr. lasting past the midway point of the 7th round.
My Prediction to Win the Fight:
I'm betting that the Joshua-Ruiz, Jr. fight goes "under" 6.5 completed rounds at -130 betting odds. Both fighters are heavy on offense and not so much on defense or movement. Without many backwards steps being taken in this fight, I expect a high-impact encounter that is exciting, but one that ends before the 8th round.