Benavidez vs. Andrade: WBC Super Middleweight Title Betting Odds & Prediction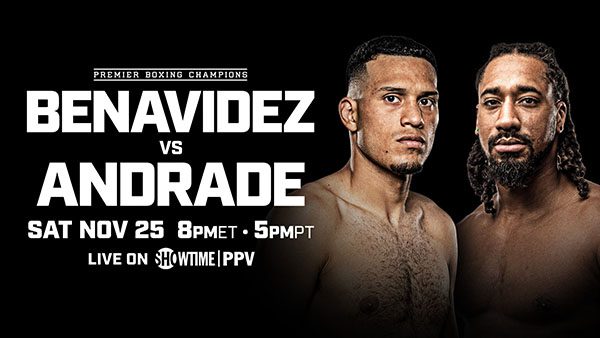 David Benavidez (27-0, 23 KOs) vs. Demetrius Andrade (32-0, 19 KOs)
When: Saturday, November 25, 2023
Where: Michelob Ultra Arena, Las Vegas, Nevada
TV: Pay-Per-View
Weight Class: Super Middleweights: 12 Rounds 
Betting Odds: David Benavidez (-365), Demetrius Andrade (+275) — Odds provided by Bovada (Home of the 50% real cash bonus and boxing/UFC in-game live betting!)
Fight Analysis:
David Benavidez will defend his WBC interim Super Middleweight Title against Demetrius Andrade on November 25 in Las Vegas. It's a top-notch bout, with one of the best young champions in the sport taking on a veteran standout looking to make a big mark. Combined, these fighters are 59-0 and represent the pinnacle of the super middleweight class, with Canelo also in contention. The winner of this fight secures a significant accomplishment for their résumé, along with the opportunity for numerous big-money fights that a victory would enable. Let's break it down!
Benavidez, at 26, is already a decade-long pro, having turned professional at 16. He has consistently been a fighter to watch, recently securing significant victories at 168 pounds, including a decision over Caleb Plant in March in his last outing. A win over Andrade, 35, would cap off a stellar 2023 for him, marking two major victories. It has been a slow journey for Benavidez, who is only now getting the fights he has long sought after being on the verge for many years.
Andrade's career progression has been even more gradual. As a 2008 Olympian, he swiftly demonstrated his caliber with a succession of victories. An Olympic-level fighter who remains undefeated over 15 years should have a storied career, right? Surprisingly, that's not the case for Andrade.
For years, anticipation has built around Andrade. He's certainly a top talent and a skillful, experienced southpaw, but he's never faced a truly formidable opponent. It appears he's been waiting for the perfect opportunity rather than actively seeking challenging fights. This strategy hasn't led to a mega-payday; instead, it's brought him to a bout with a towering, undefeated champion in Benavidez, which might serve as a cautionary tale for fighters who play a waiting game for the "perfect" moment.
Andrade has not faced a significant opponent in years. His activity level has been minimal, just enough to keep his name in circulation. Having moved up in weight over the years, his record is impressive, yet it doesn't reveal how good he truly is—a question that also applies to Benavidez, who, despite being younger, has faced better competition than Andrade.
The crux of this fight is whether Andrade's deft southpaw style can counter the size and power of Benavidez. Benavidez is not only powerful but also a driven and aggressive fighter who competes with intensity. His ability to unsettle opponents with his strength and assertiveness is notable. Seeing Caleb Plant achieve moderate success against Benavidez suggests that Andrade's refined technique could be effective against Benavidez's physical dominance.
Being battle-tested is advantageous. Andrade's spotless record comes without the experience of enduring tough fights. Now, he might face the consequences of that sheltered path. Benavidez has been tested enough to understand the demands of intense competition. In contrast, Andrade has not developed the resilience needed to overcome mid-fight adversity, an unusual position for a 35-year-old.
There might be some bias against Andrade due to his unique career path, leading some to question his abilities. If his boxing skills were truly exceptional, he would have faced more challenging opponents by now. Although finding worthy adversaries for a fighter like Andrade is not simple, he hasn't seized opportunities to fight top contenders over the years, which might indicate a lack of self-belief.
Conversely, this fight could be the turning point for Andrade, an opportunity to unleash his full potential after years of less significant matches. From a motivational perspective, everything has led to this moment for Andrade. One defining fight could lead to the lucrative bouts that have eluded him.
I'm skeptical that Andrade has the fortitude to endure Benavidez's onslaught for 12 rounds. It seems improbable that Andrade could suddenly develop the punching power at 168 pounds needed to deter a fighter like Benavidez. Therefore, he's likely facing a long fight with little chance of avoiding the brunt of Benavidez's assault. Part of me feels I may be underestimating Andrade's skill, but his lead-up to this fight seems ill-prepared for a challenge of this magnitude. My money is on Benavidez as the safer bet.
My Prediction to Win the Fight:
I'm placing my bet on David Benavidez at -365 odds. Considering size, power, youth, and the right sequence of preceding fights, it all points to Benavidez. While a skilled southpaw like Andrade might reveal some simplicity in Benavidez's approach, I expect the pressure and punishment from Benavidez to be overwhelming for Andrade. Bet your Benavidez/Andrade picks for FREE by scoring a massive 100% real cash bonus on your first deposit of $100 to $300 when you use bonus promo code PREDICTEM at BetUS Sportsbook!