Canelo Alvarez vs. Gennady Golovkin Picks & Analysis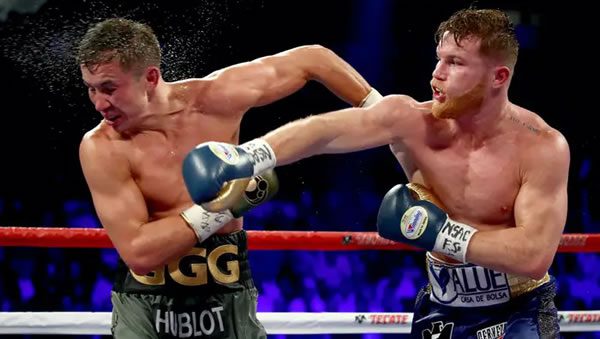 Canelo Alvarez (57-2-2, 39 KOs) vs. Gennady Golovkin (42-1-1, 37 KOs)
When: Saturday, September 17, 2022
Where: TBA
TV: PPV
Weight Class: Super Middleweight Championship: 168 Pounds
Betting Odds: Saul "Canelo" Alvarez (-450), Gennady "GGG" Golovkin (+300)—Bovada – Get a 50% bonus on your first deposit up to $250 in free bets!
Fight Analysis
In a trilogy fight, Saul "Canelo" Alvarez and Gennady "GGG" Golovkin battle for the unified super middleweight championship. Their previous two fights in 2017 and 2018 were memorable and hotly-contested battles, with many people feeling Canelo was gifted a draw in their first fight, followed by a majority decision win in the rematch. A lot has happened since, and after two fights at 160, this will be at 168. Let's break down what is likely the final chapter between two of the signature middleweights from this era.
They still match up the same, similar physically, with GGG being a smidge taller, with both having a 70-inch reach. One difference is GGG is now 40 and palpably slowing. He has continued winning since the second fight, but it has been Canelo who has had his nose to the grindstone, winning titles left and right and adding a series of big nuggets to his already expansive resumé.
Even those who acknowledge the age of GGG might use Canelo's loss to Bivol as ammunition against the Mexican star. And while Canelo is on the wrong side of 30 now, a man whose ring-age might surpass his chronological age based on the amount of time he has spent in the world-class waters of boxing, I'm not sure how solid that reasoning will end up being. And regardless of what his naysayers might say in regards to things like how Canelo seemed to wait GGG out before granting him a third fight, Canelo has taken on a load of good fighters. On his record are dozens of tough matchups across several different weight classes. Maybe there is some erosion to speak of in this case.
Then again, a loss against a mobile, prime, and unbeaten light heavyweight titleholder could just be a case of Canelo biting off a little more than he can chew. Ideally, 175 pounds is not a great weight for him, and only his ambitiousness allowed him to tackle the best from that weight class. When it comes to the qualities Bivol possesses that allowed him to beat Canelo, GGG, at 40 years of age, doesn't have a lot of those same assets.
What we saw from the scorecards after what appeared to be a thorough victory by Bivol also reflects another very realistic problem for GGG—whether he can get a fair shake on the scorecards. After two fights, each of which went the 12-round distance, it was clear that the playing field was not even for Golovkin. The first fight, in particular, stands out as an egregious miscall by the judges. A lot of people thought GGG won the second fight too. And all he could muster out of those two efforts was a draw and a loss.
Since those two fights, we've seen Canelo score a gaggle of big wins. GGG, however, has been more sporadic in his appearances. The third fight will be almost exactly four years since their last fight, and GGG has been in the ring four times, at no point looking like the same guy who put in all that great work from 2006-2018, following a stellar amateur career.
Therefore, a bet on GGG now at age 40 is saying that he's going to be able to do something more that he couldn't do in their first two fights. After all, he didn't get the nod in either fight, despite having his way during large stretches of those bouts. Can he realistically increase his effectiveness now? Did Bivol soften Canelo up for this third fight? Or has the Canelo team calculated correctly, waiting until GGG got old, now swooping in to pick the bones?
A contrary stance that might hold some water is the thought that GGG is a case of "out of sight, out of mind." Maybe at 40 and after such a demanding career, a more sporadic schedule has kept him fresh or at least has slowed the depreciation. It's not like he's still in the learning stage. Meanwhile, Canelo has been taking on the best the world has to offer from 160-175, and while he wasn't in many wars during that time, there is mileage accrued from taking on a lot of tough fights while division-hopping at the same time.
If Canelo's loss to Bivol is more than an aberration, why not fancy a guy like GGG who has seen his style work well when pitted against Canelo previously? Maybe GGG has lost a step, but could the same be true about Canelo? Sure, GGG has been around forever, but let's not get hypnotized by Canelo's seemingly innocuous age of 31 (he will be 32 by fight night). When looking through boxing history, there aren't many fighters around this weight who are still ultra-bankable after a dozen or so years on top. In any event, the idea of shelf-life doesn't apply solely to GGG.
With all that said, there are certain unassailable facts that seem to figure squarely into this fight. At the top of the list is the total inability of GGG to get any love from Vegas judges against this superstar opponent. Fans were rightfully aghast at the scorecards from their first fights, and the fact that Bivol needed to win the last round against Canelo to edge him on the scorecards shows what you really need to do to Canelo to get the decision. You have to win 9-10 rounds, and you might still just get a draw. And after waiting for GGG to get even older, it seems unlikely that he could find something more at this stage. I'll take Canelo in this one.
My Prediction to Win the Fight:
I'm betting on Canelo Alvarez at -450 betting odds. The tactic of waiting four years to give GGG his third match will likely work, as the once-fierce GGG has ebbed some in recent years. Combine that with how hard it is to beat Canelo on the cards, and a +300 return seems meager to take a whirl on Golovkin.