Deontay Wilder vs. Tyson Fury Fight Analysis & Predictions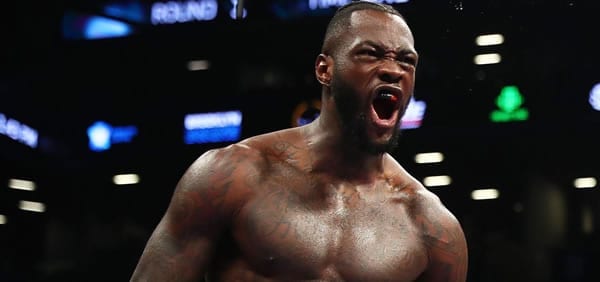 Deontay Wilder (42-0-1, 41 KOs) vs. Tyson Fury (29-0-1, 20 KOs)
When: Saturday, February 22, 2020
Where: Las Vegas, Nevada
TV: PPV
Weight Class: WBC World Heavyweight Championship
Betting Odds: Deontay Wilder (+105), Tyson Fury (-135)
Deontay Wilder defends his WBC Heavyweight Title against Tyson Fury in Las Vegas on February 22. The eagerly-awaited rematch is a sequel to their unforgettable 2018 bout, which was controversially ruled a draw. The still-linear champion Fury, 31, looks to put together a solid 12 rounds and get credit for beating Wilder this time. Meanwhile, the 34-year old champion looks to have his power surface earlier this time around. Who will get the upper hand in Part 2?
Fight Analysis:
I think some key people in the press entirely mishandled the narrative of their first fight. If you want to say Deontay Wilder blasting Fury to the canvas twice earns him a draw in some golden-rule kind of way, I suppose there is some credence to that. But this isn't what governs the sport, as the scorecards were way off the mark. Two knockdowns accounts for four points on the scorecards, and there were ten other rounds. To say that Wilder won one of them is charitable. To say he won two other rounds besides the ones where he floored Fury would be a stretch. And even then, Fury is still two points ahead of Wilder. I feel it was the worst high-profile decision in heavyweight championship boxing since Lennox Lewis got only a draw against Evander Holyfield in their first fight two decades ago.
Therefore, a backer of Fury has to wonder what he needs to do to get a decision. He boxed Wilder's ears off and soldiered through the power and still didn't get the "W." Is it something about him being an Englishman fighting an American stateside? The problem for Fury is that in a best-case scenario for him, he still didn't get the win. Can he really be expected to do better than he did the first time around? Would they dare rob him twice? Or will what allowed the judges to give Wilder a draw resurface with more resounding effects this time?
Since their first fight in December 2018, the nod goes to Wilder for the better work. Granted, Fury was active, fighting twice in the interim. First came a routine TKO win over Tom Schwarz in June. But in September, in a decision win over Otto Wallin, Fury was battered some, with his face looking pretty bad by the end of the fight in a victory that was a little harder than maybe it should have been. In November, Wilder scored a repeat KO win over Luis Ortiz, which followed a quickie KO over Dominic Breazeale in May.
Bet on the winner, distance, TKO Y/N at
MyBookie
The thing is—Wilder really isn't much of a boxer. His work on a minute-to-minute basis leaves a lot to be desired. He loses rounds. He doesn't work like most champions, whose dominance is more spread out over the course of a fight. Wilder looks pretty average for long stretches of bouts. And then that right-hand starts landing. It's a freakish punch, wielded with otherworldly leverage and landing with an impact seldom seen in the annals of heavyweight boxing.
Fury, in contrast, is a pure boxer. What he does well controls fights and wins rounds. He works consistently round after round, piling up points. And say what you will about Wilder's power, but Fury survived to the final bell. When he rose from that 12th-round knockdown and got up and kept out-boxing Wilder, it was a wondrous thing to see. At the moment he went down, it looked certain that he was finished. Rising up like Lazarus and getting to the bell in style really tells you a lot about the guy.
On one hand, it never feels great to bet on a fighter who can do only one thing. Wilder can wield a useful jab. His left hook does damage. But at the end of the day, he's banking on power. That's a pretty limited scope of weapons to have in the ring, until one realizes Wilder has been near the top for a while now, defending his title ten times. So sure, we might see a limited fighter in the ring. We might see him lose a lot of rounds for a champion. But that power has never failed to surface in his fights in a major way. It's hard not to consider that power to be a bankable trait, being that it has always delivered.
Another key to this fight is Wilder's grit and toughness. A lot of people heap praise on Fury for getting up from that final-round knockdown and rightfully so. But what about the guy who was getting his ears boxed off round after round finding that extra gear in the last round? And that's nothing new. In a lot of Wilder's wins, things aren't really going his way, and he always has the wherewithal to make what he does best count in a big way. The storyline from the first fight may have shortchanged Wilder, whose grit, resolve, and ability to stay composed under fire were key parts of his success.
Who can improve on last time? That's a hard equation to figure out. Fury is more-removed from that bad period of his life, where drugs and mental illness caused him to abdicate his throne and threatened his career. A lot of people said they would have liked him to have a few more fights in his comeback under his belt before he fought Wilder in 2018. Well, he has now had those fights, and there are no excuses now.
I see a more-fairly administered bout this time, with Fury now having the ESPN machine behind him and more familiar in America with two more U.S. performances since the first fight. Fighters can also get a little extra juice when they were robbed the first time, with judges conscientious of that. While there is at least a chance that Fury can escape Wilder's power, there isn't much of a chance that Wilder can assuage the superior boxing skills of Fury. While the -135 price on Fury isn't as good as some may have wanted, I think he's the more-bankable choice in this matchup.
My Prediction to Win the Fight:
I'm betting on Tyson Fury to win at -135 betting odds. He dominated the first fight, handled Wilder's power, and made it to the end in a win in which he didn't receive credit. This time he will. Bet on fights using your credit card at a sportsbook where it WILL work for depositing and receive a generous 50% bonus on your first deposit of up to $1000 at Bovada Sportsbook!