Haney vs. Kambosos Title Fight Analysis & Picks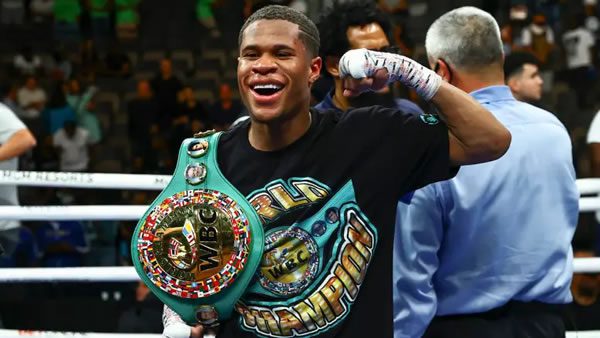 Devin Haney (27-0, 15 KOs) vs. George Kambosos (20-0, 10 KOs)
When: Saturday, June 5, 2022
Where: Marvel Stadium, Melbourne, Australia
TV: ESPN
Weight Class: World Lightweight Championship
Betting Odds: Devin Haney (-185), George Kambosos (+140)–MyBookie
Devin Haney takes on George Kambosos with the World's Lightweight Title in the balance. This bout will take place in Melbourne, where they will come out in droves for the unbeaten Kambosos, a national star who in November became world champ with a big upset win over reigning champion Teofimo Lopez. But with becoming a star comes certain obligations, including taking on better and better fighters. With Haney, a blue-chip 23-year-old with his own laurels, Kambosos would appear to have his hands full. Let's break it down.
Fight Analysis
This won't be easy for Kambosos, 28. Haney is in many ways the ideal lightweight, well-proportioned at 5'8: with an expansive reach. He was a multiple-time national amateur champion before turning pro at just 17. Over the last six years, he has been winning, gradually raising the level of his opposition, and is now ready to take on the best of a packed 135-pound weight class. After winning the WBC belt and racking up some nice wins, now is Haney's time. But having to go to Australia to take on an unbeaten champion is a tough way to go about it.
Kambosos is unquestionably a top lightweight. His energy and doggedness make him a tough out for anyone. And not that Australia is more over-the-top than other hosting countries that might have a vested interest in keeping their meal-ticket winning, but it's never easy to dethrone a well-liked champion on their home turf. Haney might have a tougher time pulling this off than he would have in a more-neutral site. He not only has the opponent to deal with but also some pretty tough conditions. Other than some formative bouts in Tijuana, Haney has fought all his fights stateside.
Beyond the individual matchup and whatnot is the notion that Haney is more the proven property despite Kambosos having the best win on paper with the title-winning upset over Lopez. Haney, long seen as a blue-chipper, has been steadily climbing the ladder and has done everything asked of him. Not that the same can't be said for Kambosos. But maybe the argument has less teeth overall.
It started with Lomachenko reigning as the lightweight champ, in addition to being a pound-for-pound candidate. Beaten in a stunner by Lopez, a lot of that shine went to the new champion. And by rule, Kambosos beating Lopez allowed him to absorb those accolades. But let's face it, something changed with Lopez from the time he beat Lomachenko to the time he got in the ring with Kambosos. Between his weight-making troubles, the numerous postponements, and the anticlimax following his career-defining win, Lopez seemed somewhat of a shell against Kambosos.
This is not intended to put Kambosos in what amounts to a no-win situation where he doesn't get full credit for doing what he set out to do. It's just that when you start off with a dominant and well-regarded champion who is fancied as one of the best in the world and he gets upset, then that guy gets upset, it's not easy to really determine what you have. And all these one-off upsets don't necessarily indicate that you're getting a superior fighter with each successive dethroning. Even if Kambosos beat the man who beat the man, Lomachenko would still be a robust favorite if matched up against Kambosos.
Kambosos actually matches up well against Haney physically, and at nearly five-ten, he has a little height on Haney, despite Haney having a reach advantage. But one of the reasons Kambosos' win over Lopez came as such a surprise was that Kambosos wasn't exactly dominating up until that point, entering the Lopez fight on the heels of two straight split decision wins. With the win over Lopez also coming by the same route, Kambosos enters this fight coming off three straight split decisions. In contrast, Haney has been completely dominant.
But again, Kambosos has a tremendous opportunity here, a fight that would galvanize his credentials above reproach, where his opponent has to come from halfway around the world. Kambosos has a busy style, one that can have him in the good graces of the judges, who will hear a huge crowd roar whenever Kambosos does anything good. Haney can hurt opponents, but his calling card is boxing with skills more than brawn. In other words, Kambosos can try to employ his frenetic style without the crippling fear that his opponent can stop him at the drop of a dime.
It's important to gauge what Haney will realistically need to do in order to garner a decision in these conditions. A sort of evenish boxing match where Haney even has a small edge might not be enough. He may need to be more dominant, perhaps even drop Kambosos or do something dramatic. And again, this isn't to paint the Aussie boxing scene as being appreciably more antagonistic to visitors than anywhere else in the world. But that doesn't mean that visiting fighters in foreign locales are on a totally even playing field, either.
Fortunately for Haney, I think his skills and other assets are going to be advanced enough to quell Kambosos in a fairly-thorough fashion. Kambosos won't be fighting a man struggling with weight who has grown stale or has some other outstanding issue that could compromise his performance. And barring some ridiculous occurrence with officiating or some other unforeseen circumstance, I see Haney outboxing Kambosos en route to a nice decision win. I'll take Haney.
My Prediction to Win the Fight:
I'm betting on Devin Haney at -185 betting odds. The Bovada line has some upside for those willing to overlook the hometown advantage for Kambosos and instead opt for the beautiful boxing skills and pedigree of the unbeaten champion Haney. Bet your Haney vs. Kambosos pick for FREE by taking advantage of a 100% real cash bonus on your first deposit up to $500 when you use bonus code PREDICTEM at Betnow Sportsbook!