Jake Paul vs. Anderson Silva Fight Analysis & Predictions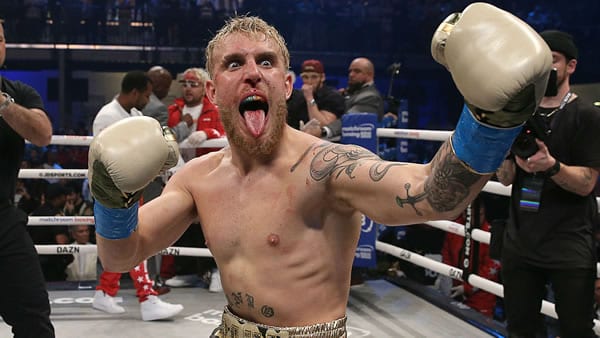 Jake Paul (5-0, 4 KOs) vs. Anderson Silva (3-1, 2 KOs)
When: Saturday, October 29, 2022
Where: Desert Diamond Arena, Glendale, Arizona
TV: PPV
Weight Class: Cruiserweight
Betting Odds: Jake Paul (-134), Anderson Silva (+113)
Fight Analysis:
Internet star turned boxer Jake Paul will battle MMA legend Anderson Silva in a cruiserweight boxing match in Glendale, Arizona, on October 29. Paul has won all five of his fights, including a knockout of former UFC champ Tyron Woodley at the end of 2021 in his last fight. Now he steps it up against a bigger former UFC champ in Anderson Silva, who breathed some life into his fighting career with two impressive showings in the boxing ring in 2021. There are a lot of dots to connect in this one, so let's get started!
We have a lot of contrasting information, as one would suspect is the case with two fighters with a 22-year age difference from different walks of life converging in a boxing ring. With Paul, he has looked impressive. He jumped into this with no experience, and to be flattening MMA champs, even if it's in a different sport, carries some weight. And as long as he's not tangling with legit boxers who are trying to build a career in a real way, there's no need to analyze how real his boxing career is. We should just perceive it for what it is—a shrewd marketing move that has paid off thus far. The young man can punch, is sure of himself, and has certainly put the hard work in to make this whole thing fly when a lot of people thought it would fall flat.
While Silva sure looked impressive in destroying Tito Ortiz in a boxing match last year, Ortiz is as bad at boxing as anyone Paul has ever fought. But Silva's previous fight against Julio Cesar Chavez, Jr. was impressive in its own way. Of course, the son of the Mexican legend had long ceased being relevant, and his heart was no longer in it, but for a neophyte who's closer to 50 than 40 to pull that off was eye-opening. In a boxing ring, we see Silva looking pretty slick—quite unusual in a stutter-start pro boxing career that actually started 25 years ago, with a lot of things happening in between.
Until last year's mini-surge in a boxing career, the calls were almost unanimous for the now 47-year old Silva to quit. A once-invincible Middleweight Champion, Silva ended his MMA career with just one win in his last nine fights. So let's not get carried away with heaping praise on Silva for starching an easy mark in Ortiz and winning a split nod over a version of Chavez, Jr., who checked out mentally years ago. He's an old fighter who would need a telescope to see his prime at this point. He won a few gimmick fights, but when it really mattered, he showed that he didn't have it anymore.
So now we're forced to gauge how far Silva needs to fall before he's duck soup for a fighter on the level of a Jake Paul. And make no mistake, a version of Anderson Silva anywhere near his prime beats Jake Paul 100 out of 100 times in any fighting sport you'd care to name. But as we move through our forties, we have to say goodbye to certain things. It's like that in all forms of athletics, where you might see some people thriving in their forties. But as they get near 50, it falls off a cliff. Youth is almost always served in boxing, and when the 25-year old Paul has a 22-year advantage in that category, it's worth mentioning.
The thing about Silva is that he still does have some magic. He might not have made it work against the better fighters in the UFC he was taking on at the end of his career, but maybe in this sort of reduced level of pro boxing, he's still in his element. The odds seem to reflect that. If Silva were pitted against a real pro, whether it be boxing or MMA, you'd have a hard time getting behind him. But this hybrid form of cross-sport celebrity boxing? You'd tend to think even a great operating, mostly from memory like Silva, could hang in there in that context.
What Paul offers is a hard-working attitude and a good handle on the sport. He obviously has athletic gifts. Not everyone hops off a computer and is able to knock former NBA slam-dunk champs and former UFC titleholders out cold. He has displayed an aptitude that suggests he could have been a real fighter had he started earlier in life. As of now, we know what he can do, but do we know if he could beat a half-decent prospect who is a real boxer? Or is this sort of goofy corner of so-called pro boxing his ceiling? Does it even matter in this spot? After all, we've seen him dominate in this context previously, so what's to stop him this time?
Silva faces enough obstacles with his age and the incredible mileage on his tires. Paul, conversely, has escaped mostly unscathed in terms of sustaining the kind of punishment that sticks with a fighter. Not that this is even a genuine boxing match in terms of credibility, but you likely can't recall many fighters at 47 and up winning notable fights, and that's because it rarely occurs. In terms of fighting talent, Silva has reached heights Paul can only imagine. But he's 47 and not a boxer. In addition, when conflicted in boxing, follow the money. There is no major upside in a boxing push for Silva at this point. The money is all with Paul and whatever he can milk out of this quasi-pro boxing career. While not ruling out the possibility that even a distant shadow of Anderson Silva, not even in his main sport, can still put this kid to sleep, I'm going with Paul.
My Prediction to Win the Fight:
I'm betting on Jake Paul at -134 betting odds. The Bovada line on Paul to win has some clear upside in a spot that is engineered to progress his career. While it's almost sacrilege to pick Paul over a fighter of Silva's prestige, Paul's youth, size, power, and being the A-side in an event where he has a financial interest might be too much for Silva to overcome.